Critic's Review
Lucarella's is one of those old-time Florida restaurants with a web site that's out of date; they claim that their hours are 9am-9pm but they close at 7pm, which explains why my last few calls went unanswered. No voice mail or answering machine either.
Lucarellas claims to be a pizzeria and a deli and a bakery. One thing that is isn't is a restaurant.
On a strip of Dixie highway that you hope you don't get a flat tire is Lucarella's. Its really a pizzeria. They have the standard pizzeria items and some italian specialty baked goods. They do deliver but I've heard that their delivery is very slow, so you might want to consider picking up.
They have lunch and dinner bundles for most of their offerings; lunch includes pasta and garlic bread and dinner adds a salad. I'd ordered the eggplant parm for lunch about a year ago.
You can see that these are NY Italians based on the amount of sauce they give you. The bread is stuck into the cheese which isn't ideal; they could have wrapped it in some foil. The eggplant is breaded a little heavily for my taste, but overall it was pretty good. I'd give this a 4 with a bit more sauce and a bit more cheese. I dressed it up at home and it was really good. But I shouldn't have to fix it.
I finally called early enough to get a pizza. They have 18" pizza here, which is always a plus. They also know enough to cut it into 8 slices instead of 12.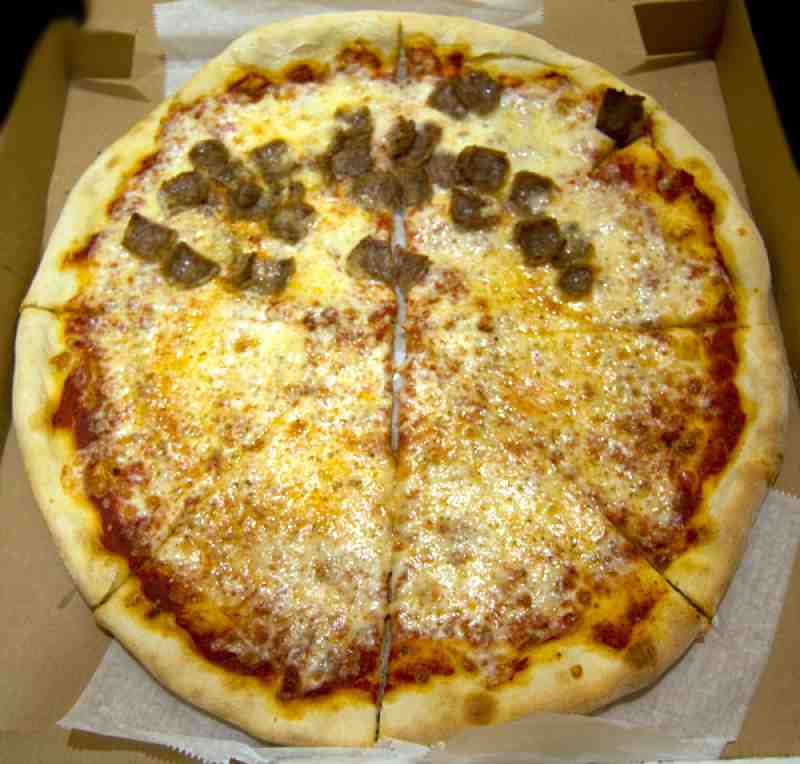 Lucarella's Half Sausage Pizza
At first glance, it was obvious that the sausage was a bit short. It was cut a bit wonkily to try to make it seem ok, but I wasn't fooled. They did use the good sausage. I also noticed that the cheese had bubbled-up. which isn't a good sign. I'm not certain how the price broke down; the pizza came to $15.49.
The crust on this pizza was bad; I hate to use the term "mall pizza", but that's what came to mind. It didn't even taste like pizza dough; as if they'd formed some bread dough. There was hardly any sauce; certainly no sauce taste and the cheese was a thin layer. I was hungry and I couldn't eat this. I tried, but this was as bad a pizza as I've had in South Florida.