Critic's Review
As authentic Italian restaurants in Fort Lauderdale go, there are few that can match Cafe Italia. Don't mistake this place for the "other" 2 Cafe Italias; one is a pizza joint by Publix on Andrews and another is a little storefront on Hollywood Blvd in downtown Hollywood. This one is located in the Roselli Building, next to Kyojin Buffet. They're only open for dinner; the Open sign from Kyojin has fooled me more than once; and the people who run it have been running it for 20 years.
The cafe itself is very attractive; small with no booths or bar, but the tables are comfortable and the decor and music are pleasing.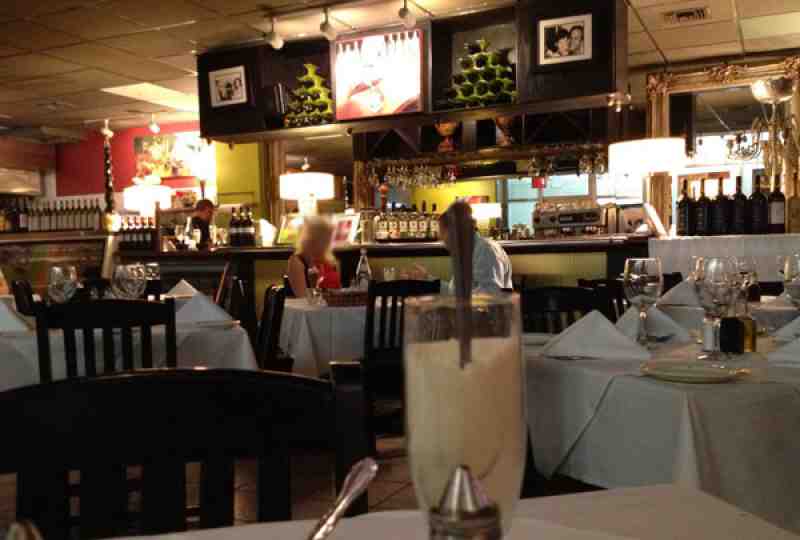 Cafe Italia Interior
It's clear that most of their customers are regulars, because they seemed surprised to see someone unfamiliar. "Your first time here", the owner asked. "Yes", I said. "By accident?" he surmised. No, nothing I do is by accident when it comes to dining out. "I heard it was good", I replied. jump-->
The owner delivered a menu and wine list and then passed me off to a staffer. I wasn't drinking, so I asked for sparkling water. For some reason they took the water/wine glasses from the table setup and brought me a large juice glass with a slice of lemon.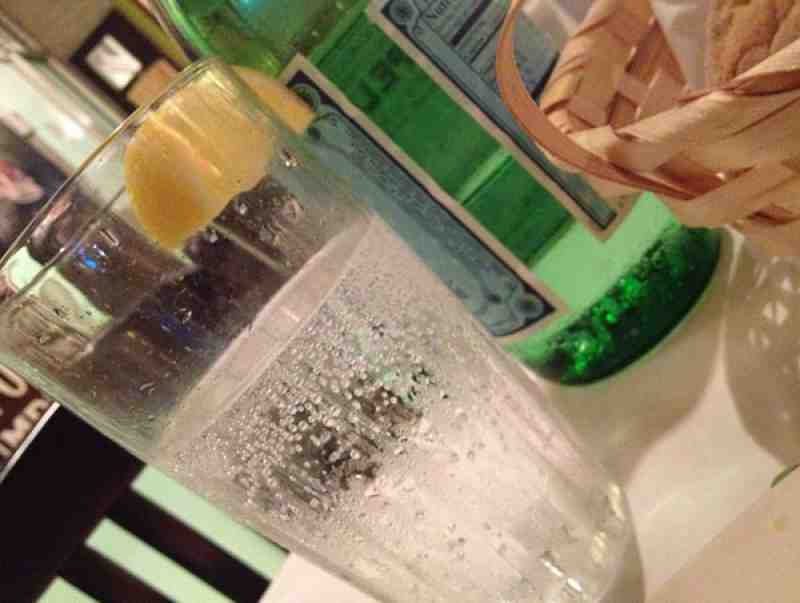 Cafe Italia Pellegrino
I asked for a lime, and my server answered "You already have one". "That looks like a lemon; Limes are green", I replied. He seemed disinterested, and he never did bring me a lime.
I'd seen the menu before I left, so I had a pretty good idea of what I wanted. I was waiting for someone to come over and tell me the specials or the Soup of the Day, but there's no such thing here. After too long a while, a girl came by and asked if I was ready to order. "What's the Soup of the Day?", I asked. "We don't have soup", she said. "Any Specials?". No, we don't have specials. The menu has "Soup of the Day" listed, oh well.
The menu says that entrees come with a salad, but there is no mention of what kind of salad, or choice of dressing. I ordered the Spaghetti Carbonara; I'd heard it was very authentic here, and that was that. No mention of a salad.>
A few minutes later, she came out with an arrangement of ingredients; it's sort of a make your own salad thing. The tomatoes where semi-ripe; and anyone who reads this site knows how I feel about field greens (ie weeds). Peeling the cucumber was too much trouble for them also, apparently. There was no dressing, so I was momentarily baffled. Then I saw a bowl of brownish black liquid on the far side of the table; it could have been a balsamic dip; I asked before putting on the salad to be sure. Not my kind of salad; weeds with the vinaigrette of the day.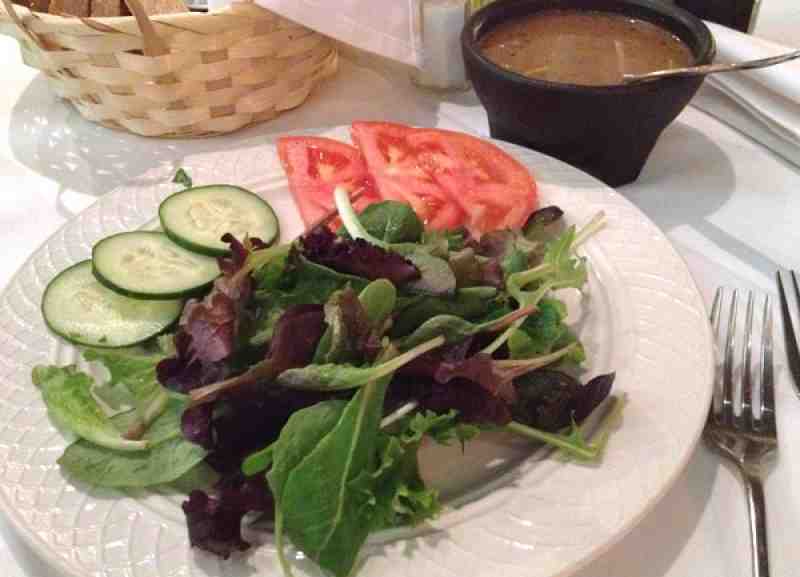 Cafe Italia Salad
While I was eating the salad, the dude brought over some bread. It looked like a nice crusty bread, but the Land O'Lakes butter pats seems a bit dineresque. They had cheap olive oil and balsamic on the table; I had to use that, but it wasn't very fruity. Very good bread; they really couldn't provide a decent dip for it? I ended up using the butter.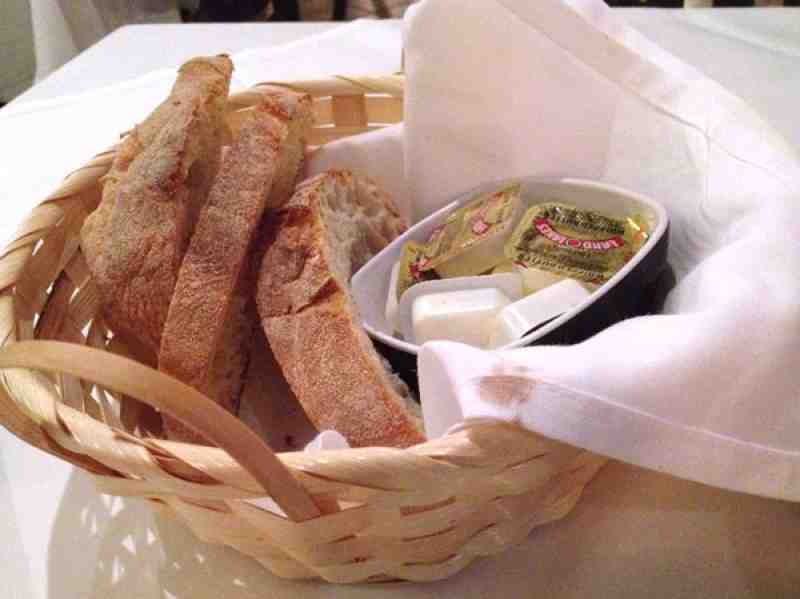 Cafe Italia Bread
By now the other tables that had been occupied were cleared (about 8:45pm) and the owner and the servers were yakking at a table in the back. The entree came out and I moved the salad to make room in front of me for it; she tried to take the salad away. "I was going to finish that", I said. She seemed confused, but ended up leaving it for me.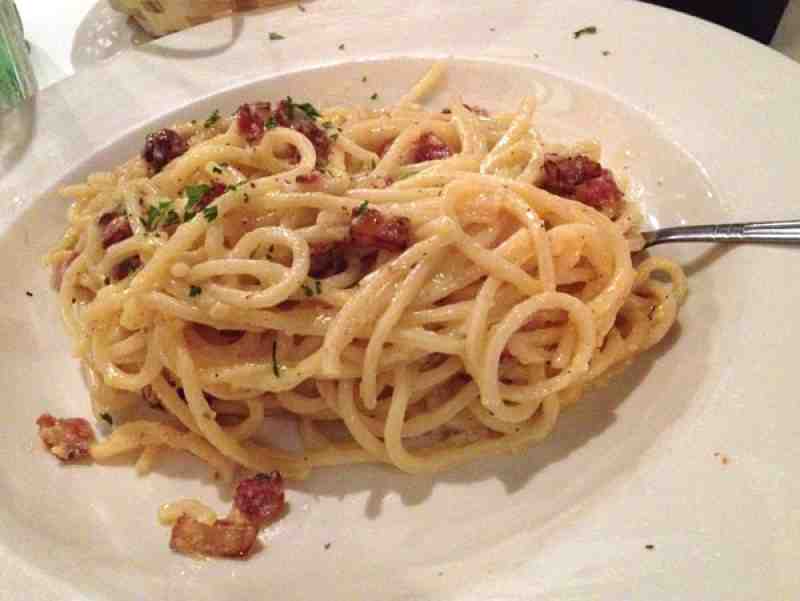 Cafe Italia Spaghetti Carbonara
The carbonara was deftly made; it was just the right consistency; sticky but not soupy. I think this was Pellizzoni; too thick to be regular spaghetti; perfectly cooked. They use pancetta, which isn't as good as guanciale, but that's fine and expected. If I got this at most restaurants in Fort Lauderdale, I'd be thrilled, but here I expected something better. The dish was bland; great carbonara can make your eyes rolls back into your head, but this lacked seasoning. I prefer it with Pecorino Romano; they use Parmigiano here; but there was really a lack of taste at all. Not enough salt, not enough flavor from the pancetta and no great flavor from freshly ground Parmigiano-Reggiano. No hint of pepper or freshly ground cheese on top; I suspect some corners were cut with ingredients. It wasn't nearly as good as I'd hoped. Perhaps raised expectations played a part; but I wouldn't order this again nor would I recommend it.
While the staff chatted nearby, my plate was completely empty. I still had some Pellegrino, so I fiddled with my phone. It was quite some time before the dude came over and asked how I was doing. I guess he didn't notice the completely empty plate. "I'm done", I said. So he grabbed my plate and dashed off. To my surprise, he then sat back down at the table as I sat there at an empty table. Usually when you're finished someone will ask if you want something else, right? Or maybe some coffee?
More than 5 minutes went by; by now i was stewing; "Coffee or dessert", NOW he asks. "Just the Check please". I was thinking "Do I really have to tip these people"? I did, reluctantly, and sped away.
The Entree and the Pellegrino came to $24.83 with tax, which is fine. I had a coupon for a free dessert, but I just wanted to get out of the place, and I was pretty full.
To call the service "amateurish" would be a raging compliment. You can't have service like this in a real restaurant; it just ruins the entire experience. Everything about this place just seems like they're not trying hard enough to deliver the full experience; I would gladly have paid $2 more for a good olive oil dip and a better salad, and it would have made a huge difference. And servers who understand the difference between a lemon and a lime. It may be the first time that I've ever been to an Italian restaurant that didn't have some sort of Pasta Fagioli or Italian Wedding soup; and maybe that just tells you everything you need to know all by itself.
If you do decide to try it, chef Valeria doesn't work on Mondays, so come some other day.