Critic's Review
When I was just getting started with this site, I'd heard about how great Dona Raquel was from one of the many sources of misinformation here in South Florida. I was mostly doing take-out back then; I grabbed some tacos. I don't quite remember how much I liked them, but I haven't been back in over 3 years.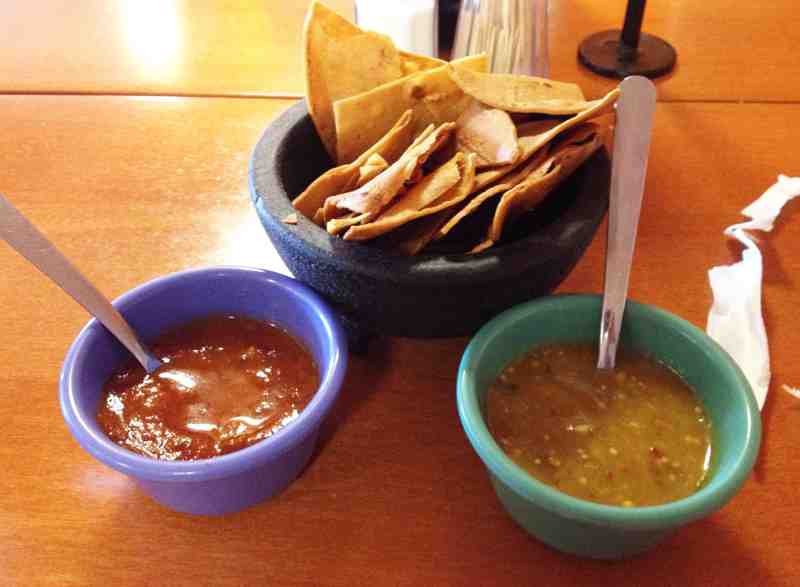 Dona Raquel Taqueria Tacos
I've since discovered that most Tacos around here are about the same; why people go so nutty for them is beyond me. Now that I've been to just about every restaurant in town, I thought I'd see how they measure up.
The place is hard to find; it's on that part of Dixie Highway where the North and South segments are separate roads. So if you're coming from the South, such as Cypress Creek Road, you have to go past it and circle back, as the restaurant is on the Southbound road.
Once inside, there's a big open kitchen with rows of steam tables, with 2 women cooking away.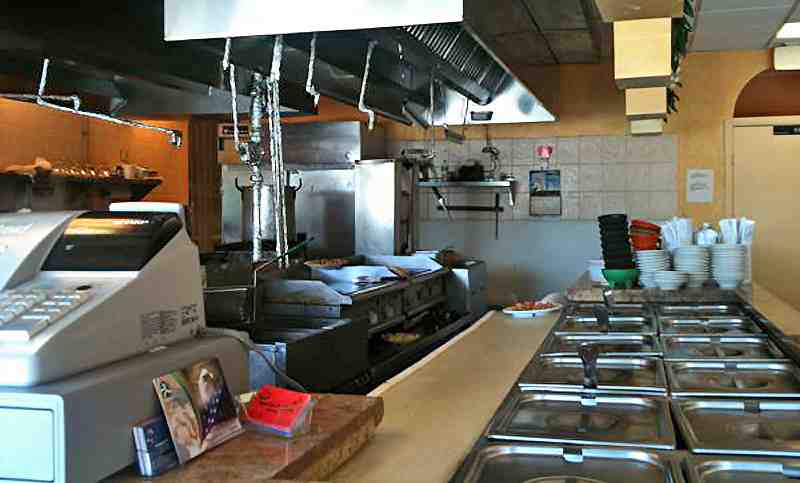 The dining room is a bunch of wooden tables and chairs; no booths. The most interesting thing is that they have marionettes hanging from the ceiling.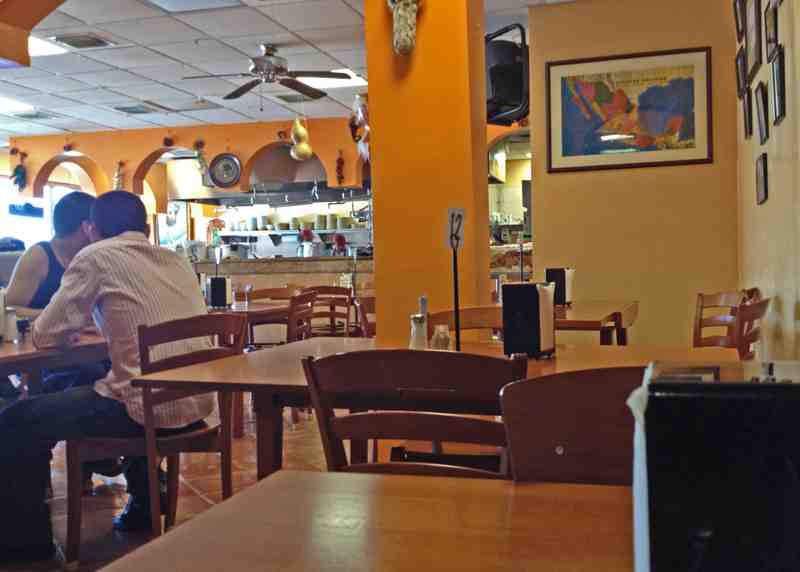 Dona Raquel Inside
I grabbed a table in the back and a server brought me a menu. Loud festive music filled the air: Sergio Vega and Espinoza Paz. The menu is quite extensive, including a full breakfast. I didn't feel like steak, so I ordered the Chile Relleno, a favorite. The menu says it's a large stuffed poblano with rice and beans. >
I asked for iced tea but they had none; I can't remember the last time a place didn't have any iced tea in any form. No seltzer or sparking water. So I just got a water. She brought the water and a bowl of chips and salsa.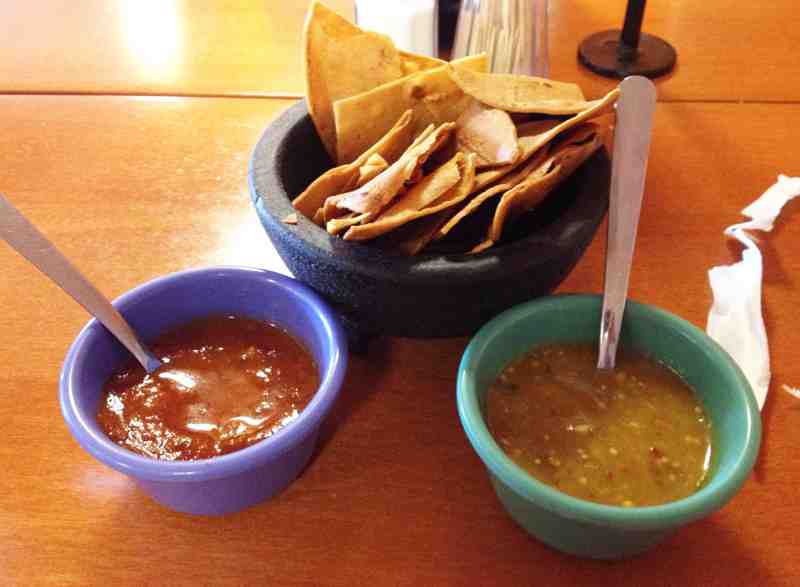 Dona Raquel Chips and Salsa
These are clearly home roasted chips; I didn't like them. They just don't taste like tortillas, at least not the one's that I'm used to. I also didn't like either of the salsas. Probably authentic.
The food came out in about 10 minutes. One thing different was that they give you warm tortillas.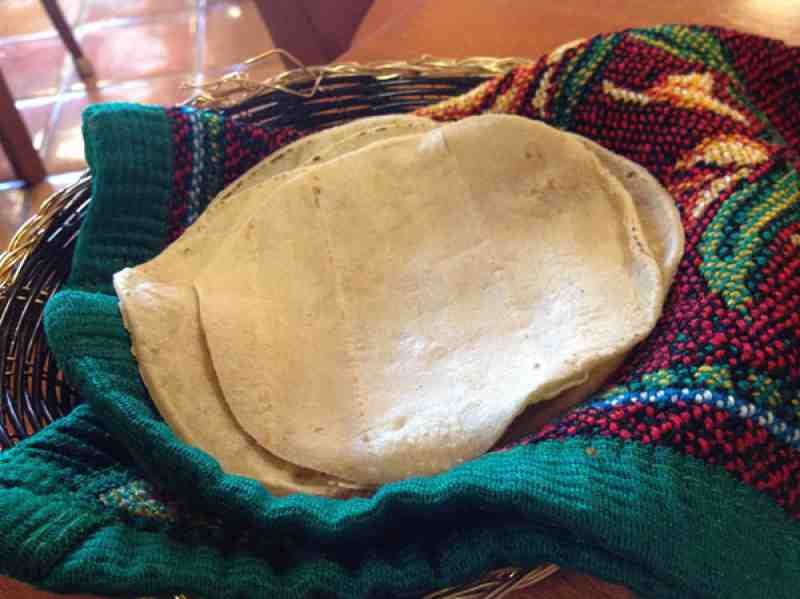 Dona Raquel Warm Tortillas
Great for fajitas or moo shu pork, but I don't eat plain tortillas. So these has no utility for me. The chile relleno was different also; no refried beans and no cheese over the peppers. I cut one open and the cheese oozed out.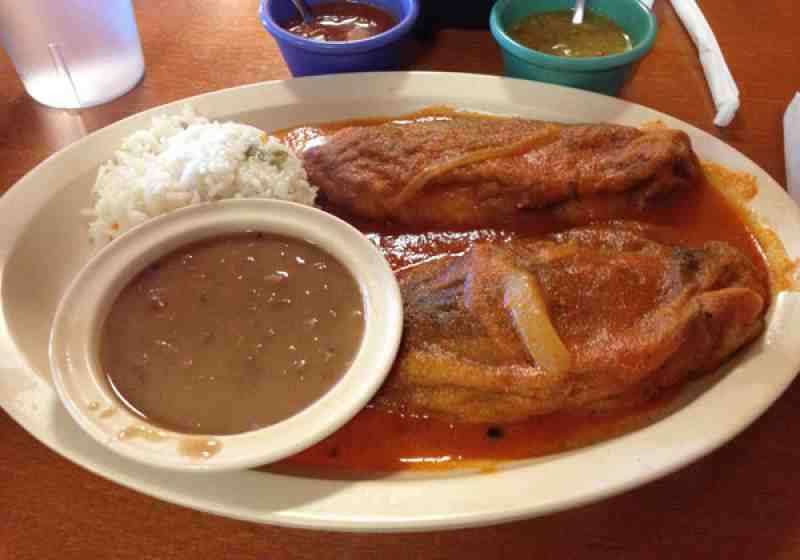 Dona Raquel Chile Rellenos
The beans weren't the usual kind and the rice was uninteresting. I got about halfway through the first Chile and my fork hit something hard. I did some surgery: toothpicks. 4 of them inside the pepper. I've had a lot of Chile Relleno and this is the first time I got toothpicks. Toothpicks are used to close the pepper; after roasting them the skin is peeled and it's sliced open, filled with cheese and then held closed with toothpicks as they're battered and fried. But the toothpicks should be removed. Ok, I guess they got inside somehow.
I sliced into the second pepper and the cheese wasn't melted at all. There were blocks of sliced cheese inside; this cheese was never melted. I fished around a little more and found 3 toothpicks. Fantastic. I guess they're part of the recipe.
I can't say that I really liked anything I had here today. It seems like home cooking; but not all home cooking is good food. Maybe I just like the "Americanized" food better, but there was nothing here that would make me think that this is better. I never got an under-cooked Chile Relleno at La Bamba.