Critic's Review
The Olive Garden is one of those places that people use as a joke when referring to a bad Italian Restaurant; of all of the chain Italians, to me Olive Garden is by far the worst.
Their menu is curiously offbeat; it's very easy to make some standard Italian recipes to fill your menu, but Olive Garden seems to try to expand the traditional recipes into something completely different. The menu has some recipes that don't even seem like Italian food.
This is also one of the ugliest restaurants in Fort Lauderdale. The entire place is yellow, and it has table and chairs that look like they're right out of my Grandmother's kitchen in the bar. The bar here is to be avoided; it's very uncomfortable and the guy that was working the last time I was here was downright nutty. I opted for the dining room this time.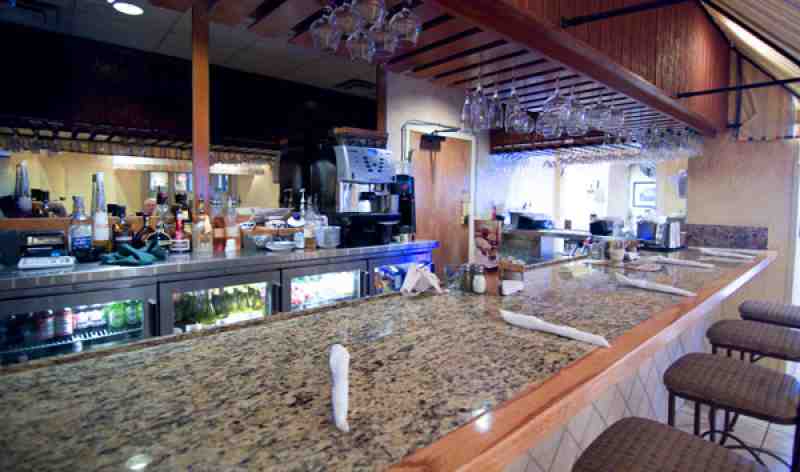 Olive Garden Fort Lauderdale Bar
The dining room isn't much better, and the lunchtime clientelle here is blue hair city. It's also packed at lunch time; I'm not quite sure why older people always seem to go for bad Italian food, but they do.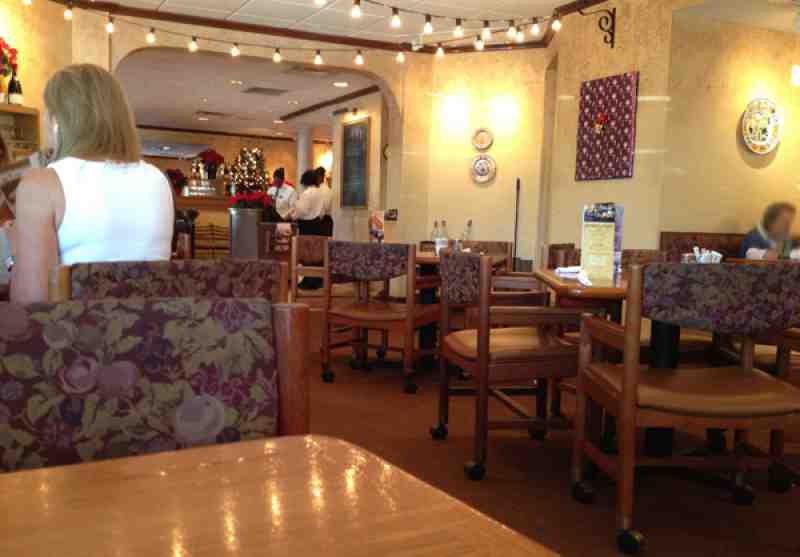 Olive Garden Fort Lauderdale Dining Room
The big thing that people talk about is the bread sticks; they're nice and soft but there's no butter to spread on them or marinara sauce to dip into. The breadsticks are, in fact, the best thing that they have to offer.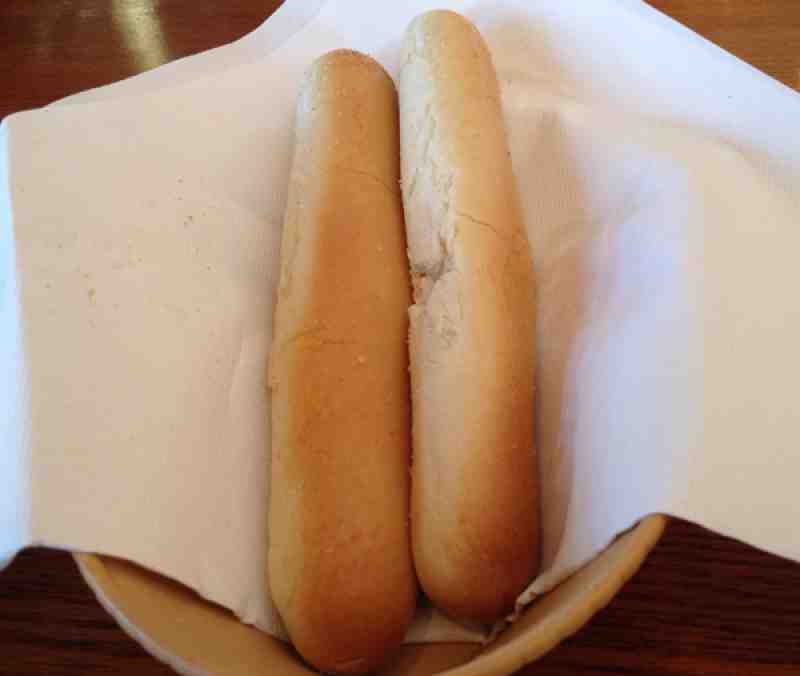 Olive Garden Bread Sticks
I didn't seem much that caught my eye on the menu; everything sounded breaded and saucy. A fallback is the chicken caesar salad, but you can get one of those almost anywhere. Their "special" menu had Stuffed Chicken di Mare, which sounded halfway decent; described as Chicken stuffed with a special blend of cheeses and sun-dried tomatoes with shrimp in a seafood cream sauce. It comes with soup or salad; the only salad choice is a garden salad with italian dressing; I ordered the Pasta e Fagioli.
The soup came out immediately in a very heavy bowl and saucer set.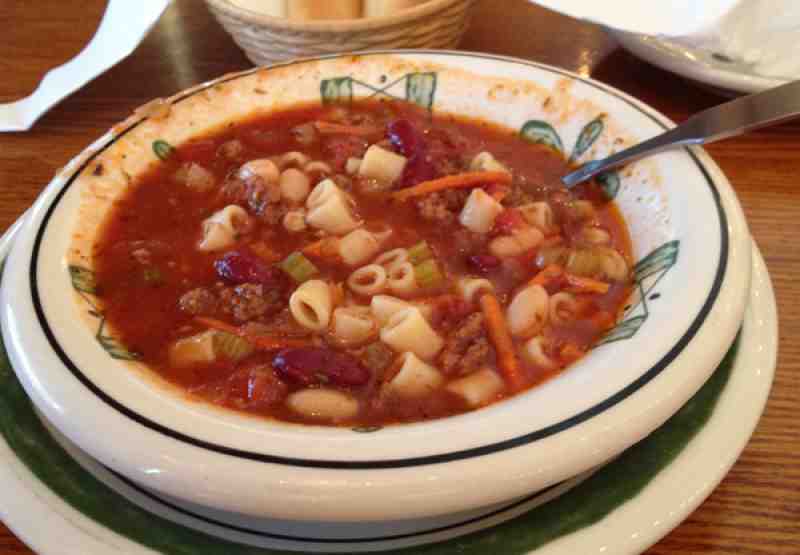 Olive Garden Pasta E Fagioli
Now this was a pretty aggressive soup, with rough cut vegetables, meat and lots of pasta and not too many beans. I usually pick around the pasta; this was more soup than I wanted. It tasted more like minestrone; I have a feeling that their minestrone is a variant of this. The soup wasn't terrible; as good as Campbell Chunky; I left most of the pasta and about 1/3 of the soup.
While I waited for the chicken, I unwrapped the utensils. They have some pretty scary looking mini pitchforks here.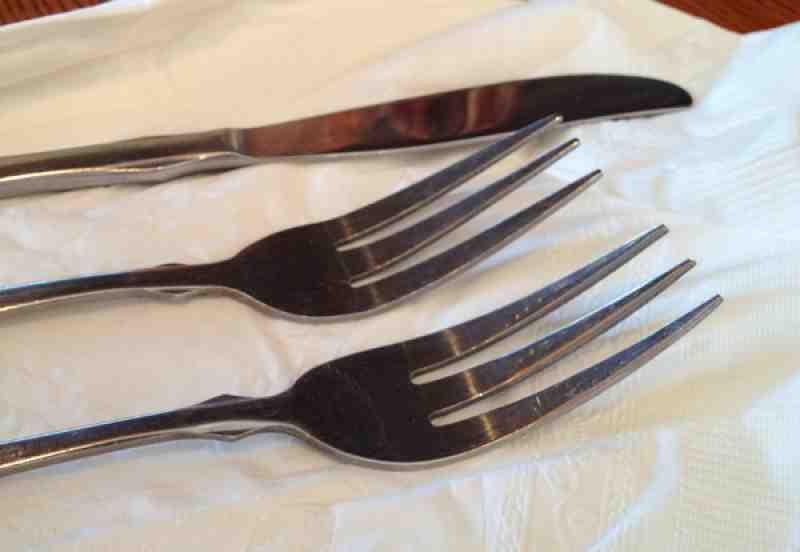 Olive Garden Utensils
When my server brought out the chicken, my heart sank a bit; it looked like a disaster.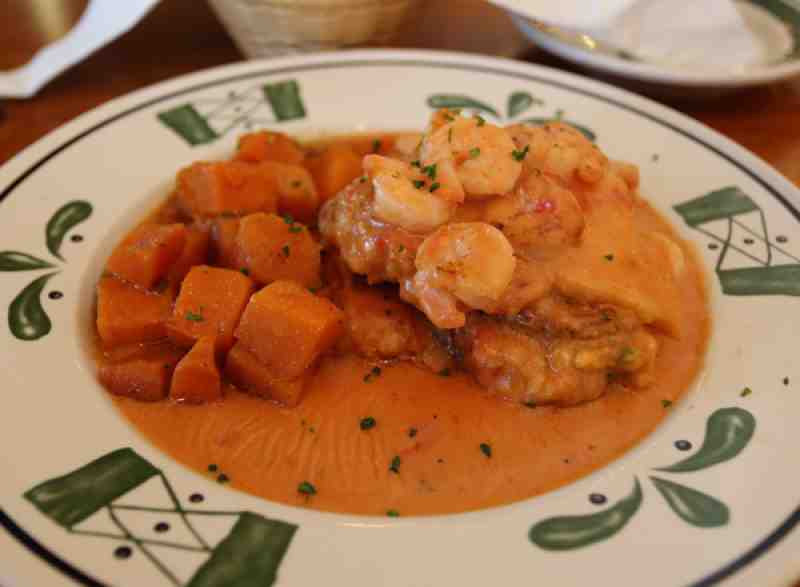 Olive Garden Stuffed Chicken di Mare
My choices for a side were all bad choices; mashed potatoes, pasta, fettucini or butternut squash. The squash was awful, with some sort of sweet glaze. The "stuffed" chicken wasn't really stuffed; there were 2 pieces of chicken with some stuff in between; there was some cheese, but it was mostly breading.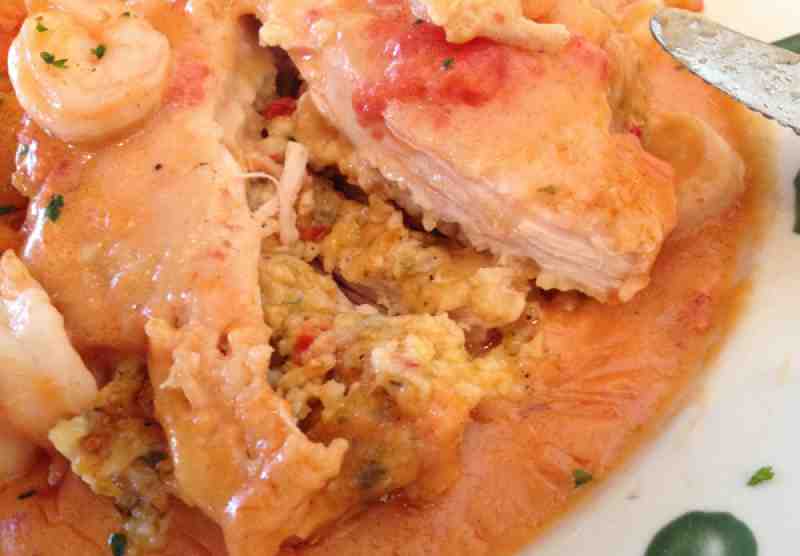 Olive Garden Stuffed Chicken Di Mare
Bad, tasteless shrimp probably borrowed from another Darden loser, Red Lobster; and some sort of orange sauce that coagulated somewhere between the kitchen and the table. I basically separated out the chicken and shrimp and made a go of it; it didn't taste bad but it wasn't good either. This wouldn't have been bad with a simple white sauce. Whatever they did was just plain incompetent. It reminded me of a newburg sauce you might get at a bad diner.
Darden's stock has been tanking recently due to poor earnings; CNBC has been speculating that Red Lobster and Olive Garden are underperforming because they've fallen out of the culture in the low end dining niche. I have another idea; maybe it's because their food sucks? Their recipes don't sound right, the pictures of the food don't look that good, and it's even worse in person. Why does anyone come here at all? I can't answer that. I guess some people will eat anything if it's a deal; they certainly give you a lot of food.
Photo Gallery