Critic's Review
I hadn't gotten a pie from Pauli's in a while, and I needed some debate-watching food, so It was time to try again. Pauli's is located next to Jaxson's and just across from Grampa's Diner.
They said it would be ready in 15 minutes; it took me longer than that to get there, and it was ready when I arrived. We chatted a bit about the debate; I think Pauli is a Democrat. But we agreed that the economy sucks currently.
The pie was very light; maybe I'm getting used to 18" pizzas, which I like to order whenever they're available. I like the bigger slices.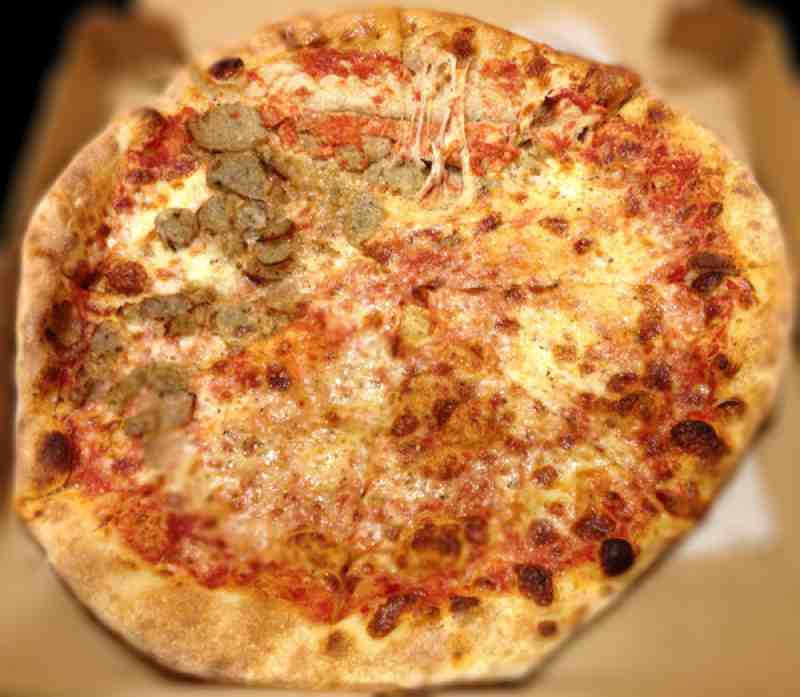 Pauli's Pizza 1/2 Sausage (2012)
The first disappointment was that the far edge was folded over about 4", which ruined two of the slices. The wobbly pie was too big for the box. Also, there was only sausage on 3 of the slices; it didn't seem like a full half topping.
Pauli's pizzas have a very thin crust, but this pizza had less sauce and less cheese than the pie I had before. In fact, I could hardly taste the sauces at tall. On Tuesdays, they have a large pizza with 1 topping for $8.95; this was $14.45, but this is what I'd expect to get for a special pizza. This pie wasn't worth $14.50. If you want a pie with hardly any sauce and cheese, you might as well just get a lower priced pie from Isabella's.
I was disappointed in Pauli's. This wasn't a very good pizza.
Photo Gallery