Critic's Review
Vienna Cafe and Wine bar is a bit out of place stuck between a Dunkin Donuts and Char Hut. From the outside it doesn't look like much, but its really quite a nice place inside. There's a wine bar up front and a somewhat elegant dining room with paintings and flowers.
Cafe Vienna Interior
I'd spotted this place a while back and was intrigued by their brunch menu, which is served on both Saturday and Sunday from 9am to 2pm. Its a bit out of the normal coverage area, but where else can you get andouille hash in Broward County? I swung by on my way out at about 11am and the place was deserted. I had a few errands to run, and when I came back at 1pm there were 2 cars. So I guess the Saturday Brunch thing hasn't really caught on. Too bad, as its nice to go out on Saturday. Needless to say I had no trouble getting a table, checked the menu for differences from their web site, and then ordered the andouille hash, which comes with whole grain toast and 2 eggs the way you want them; over-easy in my case. It took a little while to get some coffee as they were brewing a new pot. After a short while, the food arrived.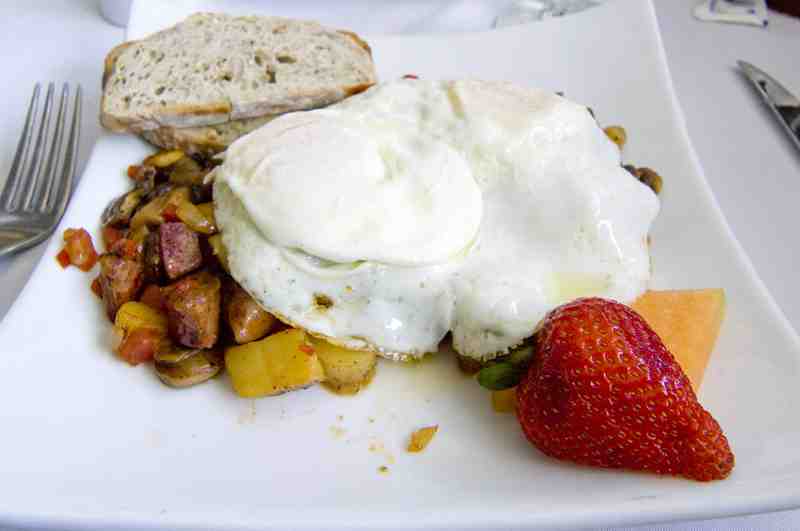 Vienna Cafe Eggs
You can just tell from looking at food sometimes that the people in the kitchen know what they're doing. The food was just beautiful; the eggs perfected cooked, and the hash well proportioned with quality ingredients. The portion was large enough so that I had plenty of food with enough to take home to make an omelet as well.
Eating here is pleasant in that this is a real restaurant where they don't scrimp on ingredients. I received a big tub of butter for the toast, a small pitcher of half and half and some home-made preserves (not in a package) for the toast as an alternative.
We have their brunch menu here; its a nice menu, particularly if you're a fan of Andouille sausage as I am. Andouille is a spicy smoked sausage most notably used in Cajun cooking such an authentic Jambalaya. It pairs well with potatoes and eggs. This is about the only place you can get it for brunch.