Critic's Review
Tom Jenkins is BBQ fast food and has been a fixture in For Lauderdale since 1990. The small house on the side of the road sports a kitchen full of Rapper/Chefs and 6 picnic benches. There's no table service; as I said, its basically fast food. You place your order and wait and then either sit down at a bench with a bunch of strangers, or you take the food home.
The first impression is that the place is noisy. This is NOT a place for a date, or to take your Mom for Mother's day. The clientelle can be a bit seedy, so take out is recommended if possible. If you plan to eat at your office, make sure you have napkins, because the little setup they give you is far from sufficient for eating ribs.jump-->
The first time I went here I had sky high expectations, and the food was good but not great. I had the babyback ribs, and they weren't as meaty as I've heard, the cole slaw was too watery and the mac and cheese was pretty good but not very cheesy. On a subsequent visit, I tried the chopped beef brisket, which New Times had listed as one of its 100 Favorite Dishes.The brisket had a nice smokey flavor, but was too fatty. It was an annoyance to eat. And not that great overall. The beans I had were soft and swimming in too much sauce. The collard greens were pretty good as collard greens go; but they're not my favorite food.
On a stormy day, I decided to try the spare ribs. I remember the first time I went to Jenkins thinking that they were pretty expensive. 3 years later, the spare ribs are still $12.99 with 2 sides, which is at the low end of the price spectrum.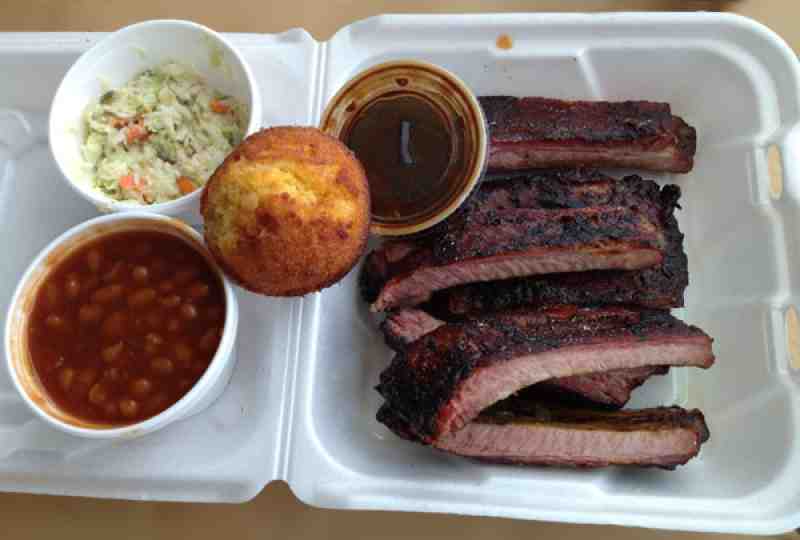 The cole slaw is still lousy; too watery and I think it has pickles in it. The beans were OK, not too bad but nothing particularly memorable. I liked the ribs, smokey and semi-meaty. The big thing at Jenkins is that they don't put any sauce on the ribs; the sauce is on the side. And the sauce is good; not too sweet.
A food rating is tough for this; 3.5 stars for the ribs but only 2 for the sides. So I'm going to leave it at 3 stars.
The problem with this place is that from all of the raving reviews on "other" sites, you expect the food here to be out of this world. But its really not. Its an OK place for lunch and the kids should enjoy it, but its not the kind of place I'd want to go for dinner. The sides are pedestrian at best, and it's not a comfortable place where I'd want to eat in.
Photo Gallery