Critic's Review
It seems that there's an Il Mulino in every city; it translates to "the mill"; I guess there's a lot of mills in Italy? Anyone from NY knows about Il Mulino in Greenwich Village; it's one of the most noteworthy, and expensive, restaurants in the city.
This location is nothing like the one in New York. The first time I came here I was wholly unimpressed with the food. The Sun-Sentinel had just published the recipe for their eggplant parmesan, a personal favorite. I sat at the bar in an empty restaurant; the spaghetti was rubbery, the sauce bland and the eggplant overbreaded.
2 years later I thought it was time to give them another try. I've been to 400 restaurants or so since, and I have a much better idea now of the balance of quality in this town. It's not fair to compare restaurants down here to say, Il Mulino in New York.
This time I got a table. It's a pretty nice restaurant, with granite tables and comfortable booths. The place is pretty roomy so you're not 4 feet from some gabby group of 4. There's pleasant music playing. I asked for a Pellegrino, but my server said they had "something else". I ordered an Iced Tea.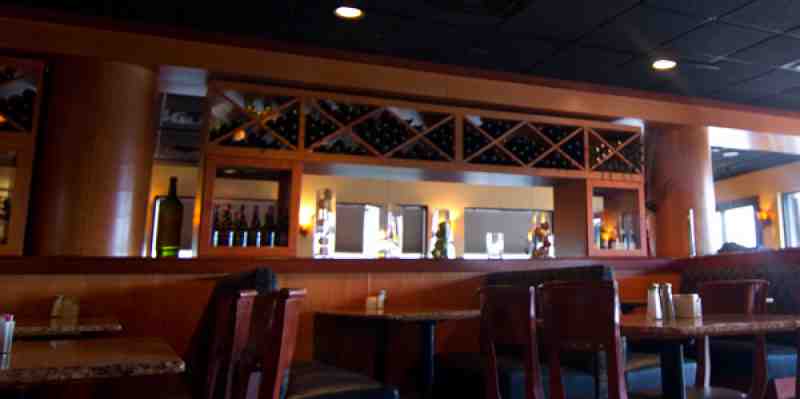 First they brought out the garlic rolls, which are lathered with garlic. I'm not a huge fan of this type of roll, but they weren't as messy as some I've gotten. The rolls themselves where mostly air; not worthy of the calories.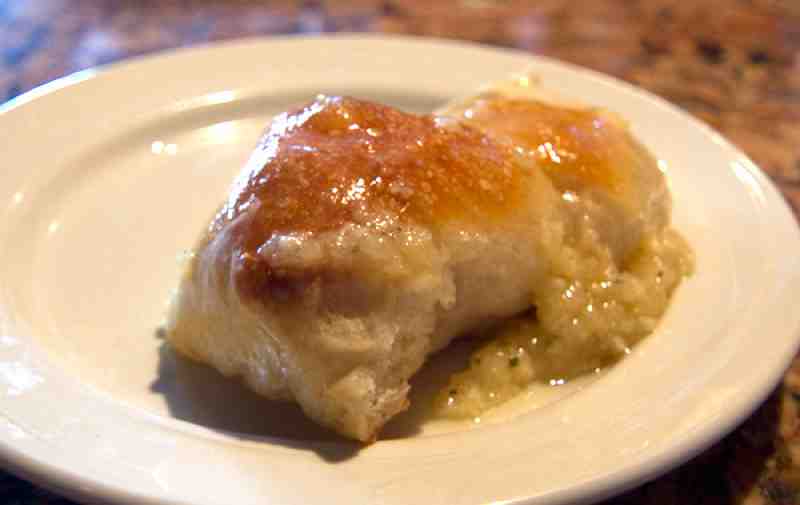 Il Mulino Garlic Rolls
The soup came out instantaneously; it reminded me of the soup I'd gotten at Carlucci's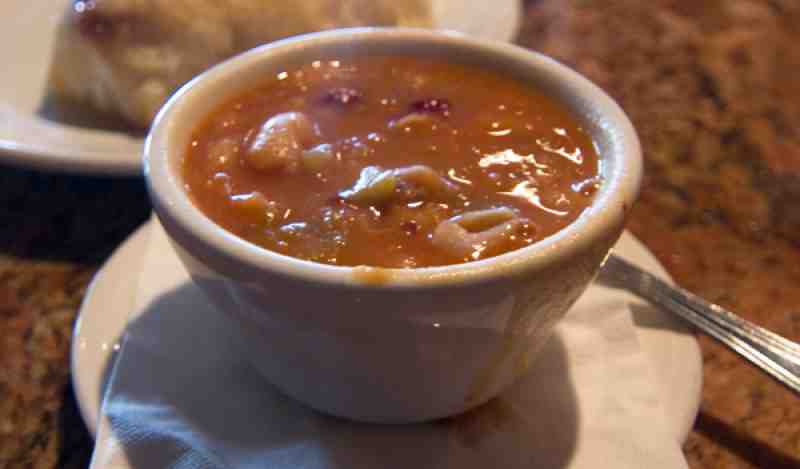 Il Mulino Pasta Fagioli
It had more stuff than the Carlucci version; it was certainly loaded with beans (this would almost bite me later, but I digress). Not great, not bad. When I was done with the soup I just pushed it to the end of the table and settled in with the NY Post Mobile while I waited for the next course. A runner brought the eggplant out shortly thereafter; but he had no interest in taking my empty plates.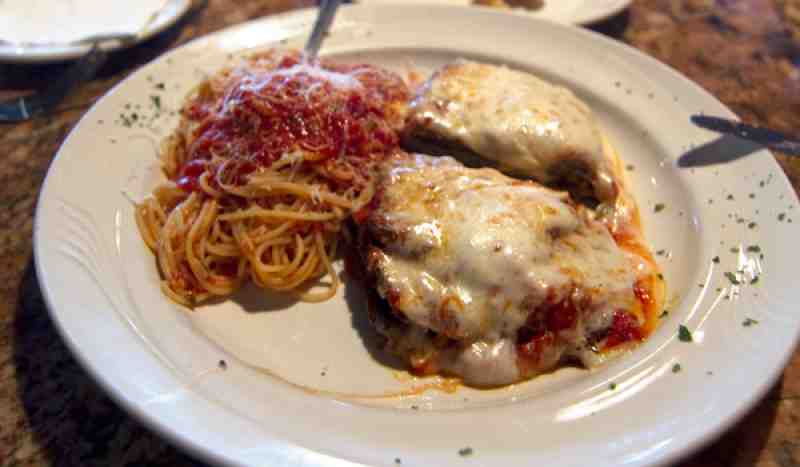 Il Mulino Eggplant Parmesan
Now perhaps in 2 years my palate has settled, or maybe I've just come to terms with the fact that Fort Lauderdale isn't Manhattan, but this wasn't bad. The sauce was better, and there was more of it. There was more cheese also; the eggplant was a bit overbreaded; about the same as Carlucci's. But all in all pretty good. The spaghetti was just right also; I have to say that this was pretty good.
Il Mulino Eggplant Parmesan Ingredients
• 1 / 3 cup all-purpose flour
• 3 large eggs
• 2 tablespoons water
• 2 cups breadcrumbs
• 3 / 4 teaspoon dried oregano
• 3 / 4 teaspoon garlic powder
• 1 cup plus 1 1 / 2 tablespoons fresh-grated parmesan cheese
• Fresh-ground black pepper, to taste
• Vegetable oil, for frying
• 4 cups marinara sauce
• 12 ounces thin-sliced mozzarella cheese
Going back and looking at the pictures from Carlucci's; this was very similar. Carlucci's gave me more of everything for less money, but it's not quite as nice a place. Il Mulino feels more like a restaurant.
The tab for all of this was $18 before tip; not cheap but a lot of food.