Critic's Review
With the big Presidential debate in Boca Raton, I thought I'd take a drive up to Boca and cross a big restaurant off of my to-do list; I've been meaning to check out Abe & Louie's for a while. With crushingly high dinner prices, and largely the same food available for less at lunch, lunch was a better option.
The same company that took over Timpano's bought out Abe & Louie's; I don't like what they've done with Timpano's menu, but I'd never been to this place under the previous ownership, so I can't say what they've done. They have raised prices across the board.
My concern about bumping into some big shot's motorcade were assuaged by the general lack of traffic and so few cars in the parking lot that I wondered if they were even open. Upon entering, I was seated at a huge table set up for 6 diners. My server came over, tilted her head, and asked if I might be more comfortable at a smaller table. She seemed to imply that I had selected the table myself or something, but I agreed. The big table had big posts that inhibited leg room; the smaller table for 4 was in fact more comfortable all around.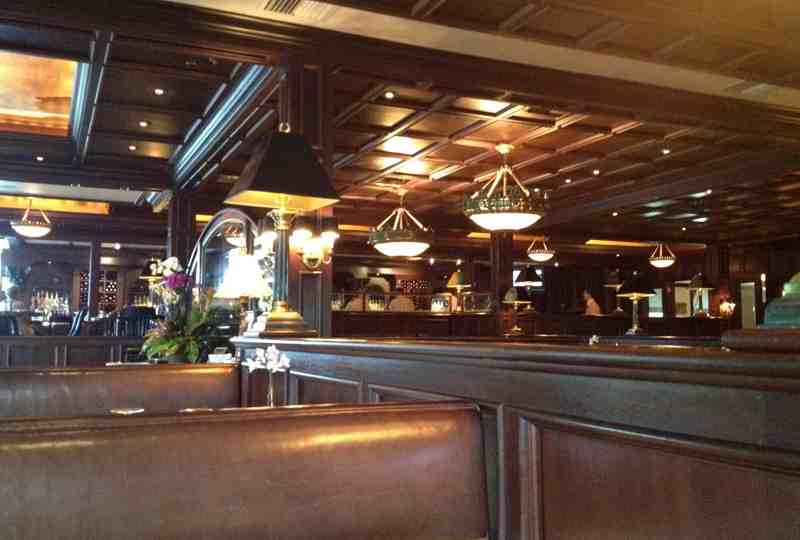 Abe and Louie's Inside
Abe & Louies has an old-time club like atmosphere; it seem's less clubby when you're the only person in the place at 2:15pm. Music from old timers like Mel Torme, Rosemary Cloony and Dinah Washington fills the air.
My server racked off some specials, minus the prices, which made them non-starters. I asked about the Stone Crab pricing; Jumbo Claws were $23 per claw. I'll never be paying that price for Stone Crab.
The bread basket for 1 is impressive, but I didn't really like the choices. They had a crisp wafer with cheese, pumpernickel that was coated with sugar, and another pumpernickel with raisins. The only thing I remotely liked was a sourdough rye. The bread seemed more gimmicky than anything else.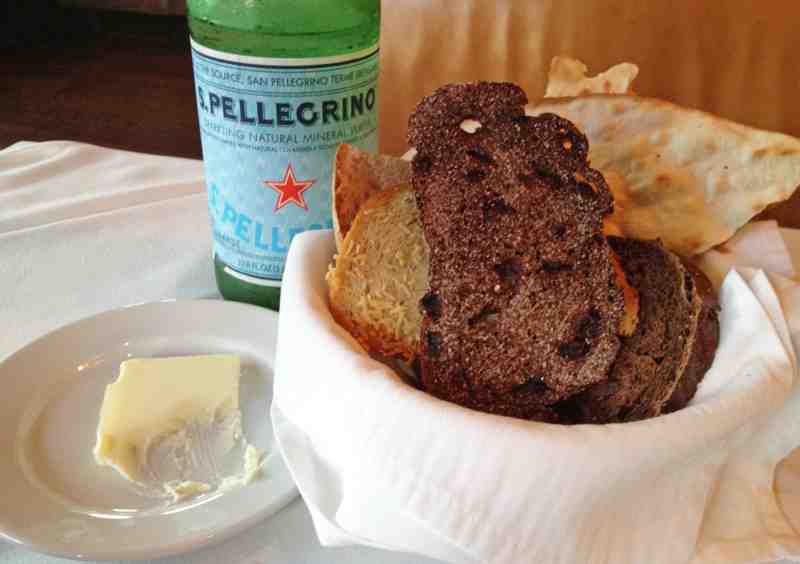 Abe and Louie's Bread Basket
I decided on a house salad with blue cheese dressing ($8), the bone-in filet ($38) and a side of creamed spinach ($8). My beverage of choice was a large bottle of Pellegrino ($6.75). My server suggested a 1/2 order of the spinach, which isn't on the menu, as she said the sides were quite large. I agreed, hoping that they wouldn't charge me $6 for half as much.
A runner brought out the salad in a few minutes.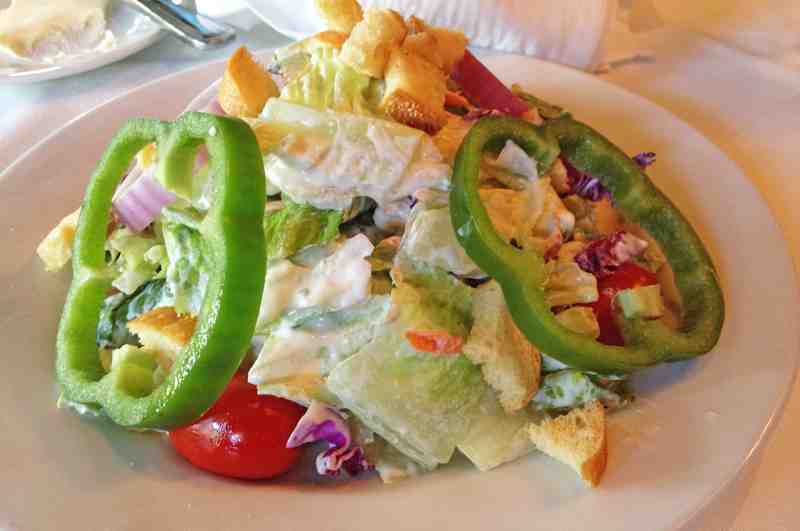 Abe and Louie's Salad
In today's world, $8 isn't outlandish for a house salad, although it should be. The green pepper garnish served no purpose, and I didn't want croutons. But the thing that ticked me the most was the grape tomatoes; I don't expect to get thick-skinned grape tomatoes at a restaurant like this. There was a lot of red cabbage in the salad; it would have been fine with a stellar blue cheese dressing, but it was surprisingly bland with hardly any blue cheese chunks. I don't like it when expensive restaurants are cheap with tomatoes and blue cheese.
I was done with the salad for quite a while before the filet was brought out; pictures of this that I'd seen had it with a much more substantial char.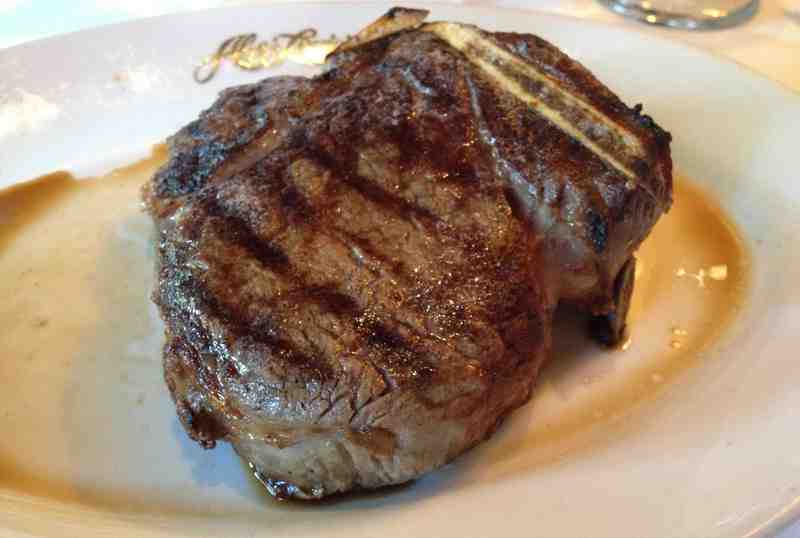 Abe and Louie's Bone-in Filet
It was a pretty thick filet, and as suspected, it was not even close to the medium rare that was ordered.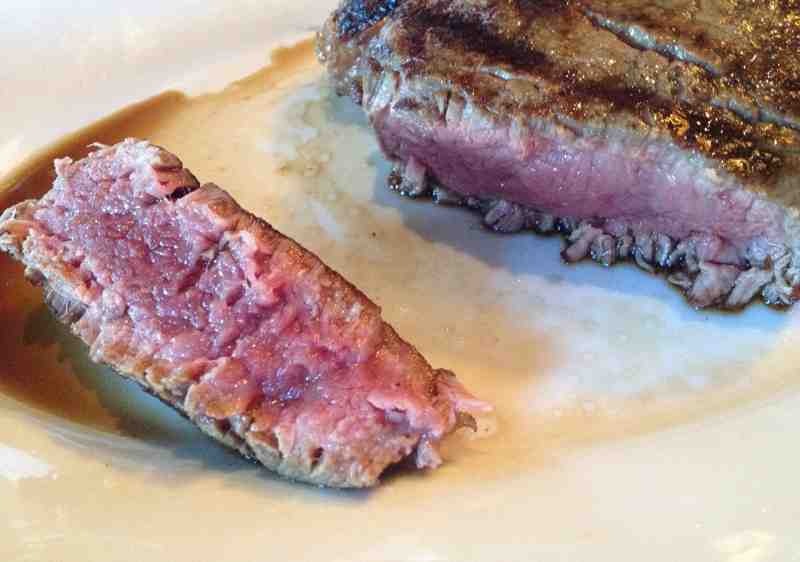 Abe and Louie's Filet (very rare)
I ate a few pieces; I'm not completely against rare meat, but it's hard to enjoy it. My server came over and asked how everything was. "This isn't close to medium rare", I said. She offered to "throw it under the flame for a minute", so I let her take it away. She also took away the creamed spinach, which I would have liked to have while I waited.
Five minutes later, my food re-appeared.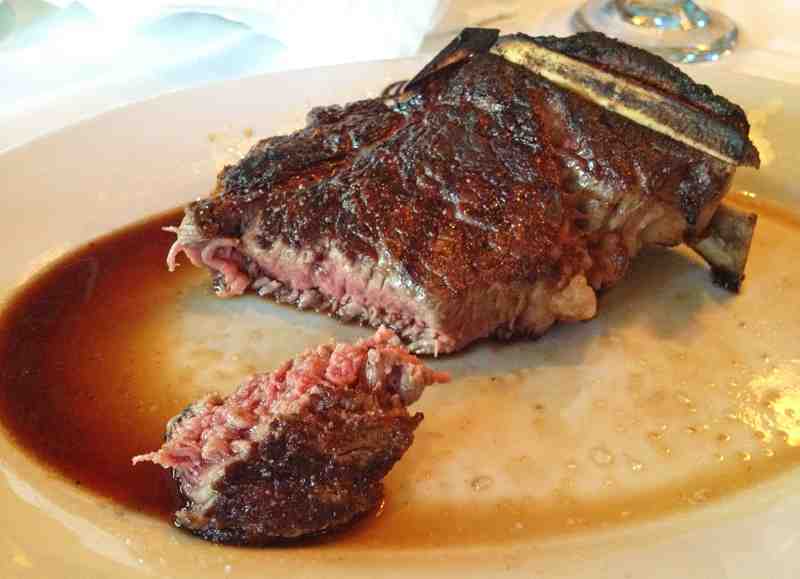 Abe and Louie's Filet after Return
This was much better. It appeared that they pounded it thin, but this was more the way I expected it originally.
The filet is supposed to come with a "portobello demi glace", but the sauce on the plate seemed like nothing more than aus jus. Filet mignon needs something more flavorful. I salted the beef, tried it with the "sauce", and even tried the Abe & Louie's steak sauce, until I saw that it was mostly vinegar and high fructose corn syrup. No matter what I did; there was just nothing amazing about it.
The creamed spinach half order certainly was enough; they billed me $5 for it.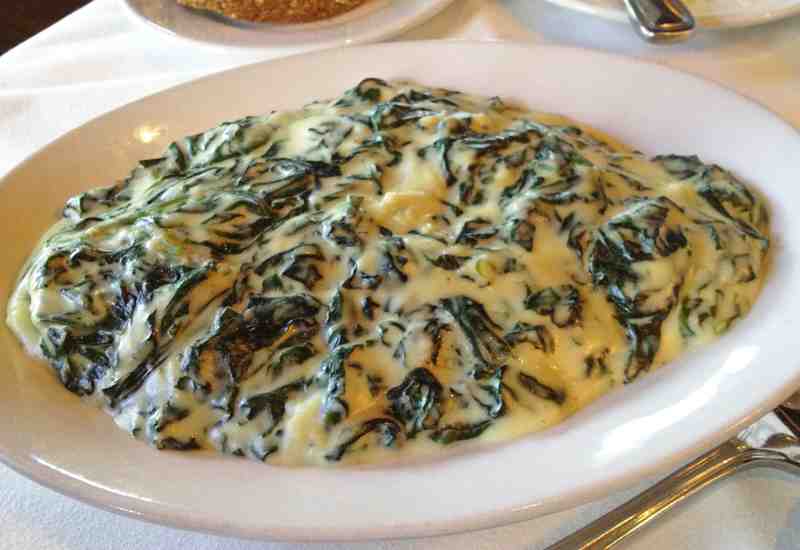 Abe and Louie's Creamed Spinach
The word "gloopy" fits here; this certainly didn't look like the great stuff you get at Ruth's Chris. I can't even guess at how they made it; it had very little taste. It didn't taste like cheese or sour cream. Just plain bland and disappointing; I should have just gotten the sauteed spinach.
So the bottom line here was that when you pay over $70 for lunch, it better be something really special. There isn't one thing that I had here that I'd recommend, and the fact that they botched my steak certainly doesn't score any points. I can't attribute a change in quality to new ownership, but getting nickel and dimed on tomatoes and blue cheese in a $70 lunch is a bit insulting. I don't know how a restaurant can get a good reputation serving food that isn't more dazzling for the prices here; but with other prime steakhouses in the neighborhood I can't see not trying the others before returning here.