Critic's Review
Now Closed
Review 11/2/12
Dickey's claims to be the largest BBQ franchise, which doesn't necessarily tell you anything. It means that there that they have a lot of locations.
One good thing about franchises is that they're usually not dreary spaces that open with no printed menus and only part of their menu available; part of the franchise deal is usually decorations and posters, printed menus, and inventory.
Dickey's is slightly subterranean; it's a small place with blue plaid tablecloths and a real, fast food look.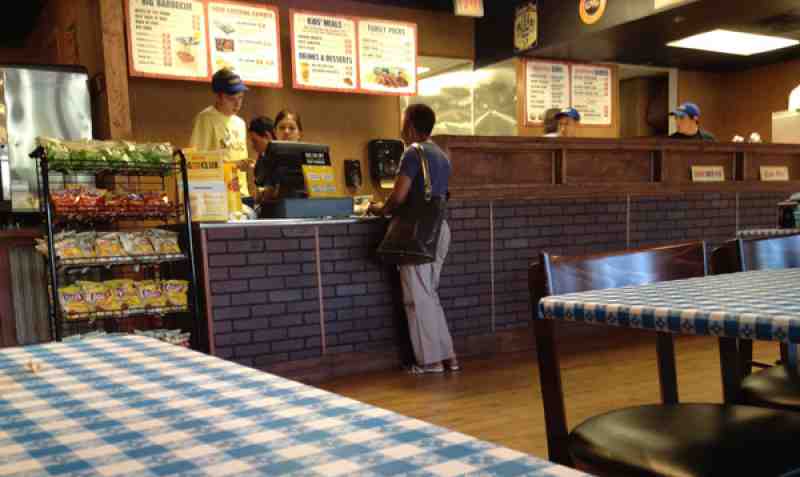 Open only 2 days, disorganization reins here. They weren't quite sure who was going to serve me, they didn't tell me whether I was supposed to wait, or pay, and they had to come over and ask me again what sides I ordered. I ordered the pulled pork plate, with beans and cole slaw, to go; they have 1 special each day, and the pulled pork plate is $7.95 on Friday. I'd just eaten at Anthony's so this was just going to be a snack later in the day. A few minutes later they told me that they were out of the regular baked beans, and I reluctantly agreed to take the "jalapeno beans" instead. Service will improve over time.
When the order came up, it wasn't to go, and a woman who seemed to be in charge told me that it was "like chipotle" in that I was supposed to walk down the pick out my stuff and pay at the end of the like. But unlike Chipotle, you can't see over the partition unless you're 6'5", so I'm not sure how that's supposed to work. When I got home, I opened it up.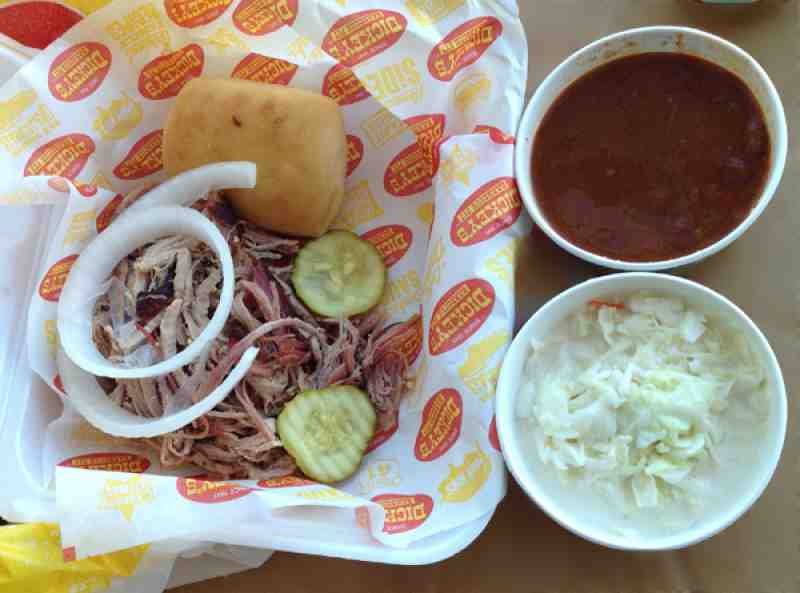 Another characteristic of the franchise is that they have custom containers and packing paper with their logo on it. The styrofoam container wasn't very good, thought; it's one of those that don't have a very good locking mechanism, although the containers that hold liquid are pretty tight so there's little chance of spillage. Apparently the raw onions are something of a trademark ingredient; I removed and discarded it.
A lot of times pulled pork is mixed with (or cooked with) sauce, and you're kind of stuck with their sauce even if you don't like it. This pork was served bare; but itself it was dry and had a slight smokey taste. It was good with the sauce they provided, but better with the Shorty's BBQ sauce I had in the fridge. Dickey's has 3 sauces so maybe one of the other ones is better. But if you're taking out you can use whichever one you know that you like.
As I mentioned, they were out of beans so I got the jalapeno beans; in a word, the beans were awful. Not sweet, not spicy, they tasted like pinto beans in a benign brown sauce. I ended up tossing the whole thing. The cole slaw was overly creamy for my taste; I repaired it by draining the liquid and adding pepper and celery salt, after which it was passable. This cole slaw is from a jar, which is never a good thing. I didn't touch the biscuit or cornbread or whatever it was supposed to be.
Dickey's seems like BBQ fast food to me, sort of like the Taco Bell of BBQ. It doesn't seem to measure up to the top notch smokehouses, but it's measurable less expensive, so feeding a family here is much more practical and economical. They also have free ice cream when you dine in, so that's a big hit with the kids.
You can try a pulled pork sandwich for about $5, so you might as well try it for yourself if you're in the area. It's not the kind of place I'd go too far out of my way for.
(NOTE: The menu here is not from this location, so prices may vary).