Critic's Review
I hadn't been to a Friendly's since I was in high school, not because there weren't plenty of them back on Long Island, but because I never really think about eating at places like this. When I was a kid and we wanted to spend a summer afternoon having some food, we'd either bike it to McDonalds or Friendly's, because that's where 13 years olds went to eat. There weren't nearly as many other choices in those days.
When I walked in, the first thing I noticed was the oder. Sort of a sterile smell; like whoever makes the buying decisions has really bad taste in air fresheners. The place screams fast food; it's sort of a cross between Denny's and Ruby Tuesdays aesthetically.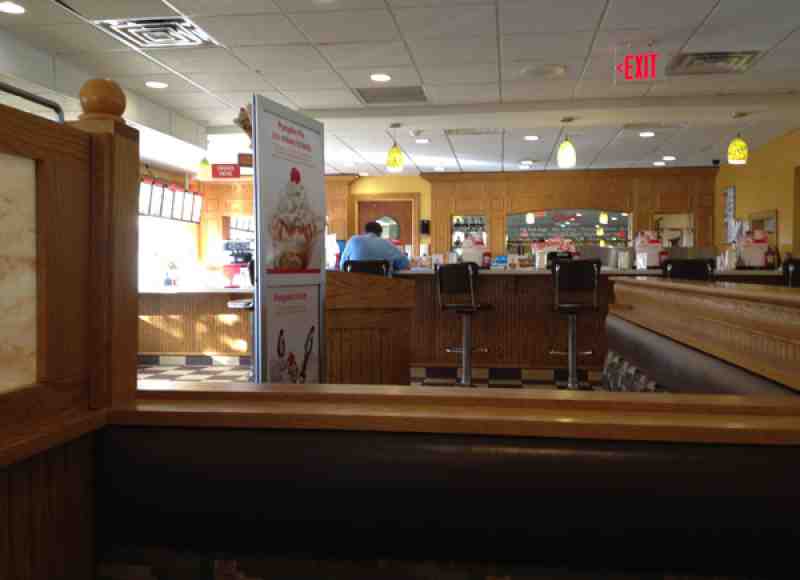 Friendly's Delray Beach Interior
The booths are clean, with laminate tables and the old time plastic salt and pepper shakers. They do have Splenda.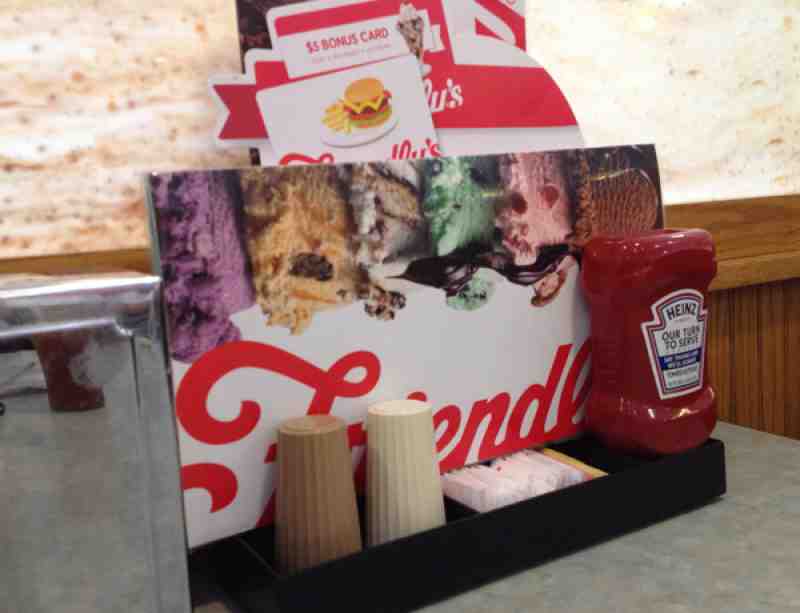 Friendly's Table Set up
I wasn't coming all the way up here without getting some ice cream, so I went for the $9.99 lunch promotion, which give you a choice of 9 items, mostly sandwiches, a drink and a 2 scoop sundae. Just what I had in mind.
Melts were also big here, and I was thinking of a patty melt. I saw that they had a tuna melt, which was something I used to order way back when.
The music seemed ill-advised for Western Delray, where the clientele was either families with young children or the extremely elderly. It took about 15 minutes for the food to come out.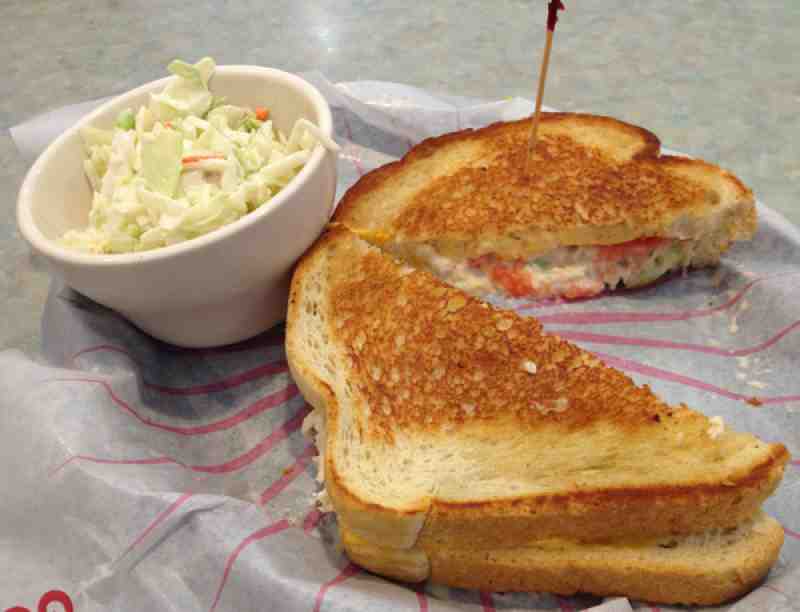 Friendly's Tuna Melt
I subbed out the fries with Cole Slaw. I was surprised at how good this was. It wasn't an overstuffed sandwich; after all it was only about $5. Too much food for too high a price has become the modern trick; Friendly's is about the same as it was 30 years ago. The slaw was good; freshly made and not overly sweet. I could have gone for some freshly ground pepper; something that you rarely had access to back in the day; but the canned pepper was fine. If there's anything that qualifies as comfort food it's a tuna melt at Friendly's.
After finishing the sandwich, I still had room for ice cream, which is the entire point of this place. You can get 1 topping, whipped cream and a cherry. My favorite ice cream was always Butter Crunch; I ordered that with just whipped cream.
While I was waiting, I was thinking about the last time I had butter crunch ice cream, and I wondered if it would have the same impact. In those days, you could ony get vanilla, chocolate or strawberry at the supermarket, so going to Friendly's was a special treat. With all of the flavors available now, there's still only 1 place you can get butter crunch. And don't try to tell me that Butter Pecan is similar, because I'll just punch you if you do. It's funny, because I usually don't like "maple" stuff. This was the exception.
A runner brought it out. Another good thing about Friendly's; they don't cheat you on the portions. This was a really generous 2 scoops.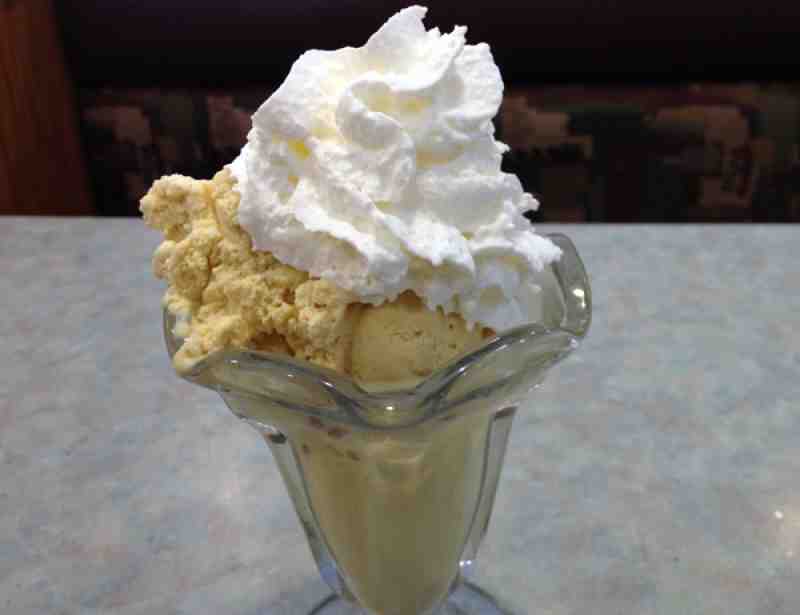 Friendly's Butter Crunch 2 scoop Sundae
Man oh Man is this good. I figured I'd just taste a couple of spoonfuls, but I'm not going to be having this again anytime soon. As good as I remember it; as much as my palate has evolved from my Mom's bland cooking to our occasional outing at The Ground Round, this is still great stuff.
Many times, you go to a place you used to love and you find that time and greed has withered it into something completely unrecognizable and disappointing. The Red Robin comes to mind. But Friendly's still delivers satisfying comfort food at a very fair price.
You can buy Friendly's ice cream to enjoy at home, and it's cheaper than Publix. 2 for $7. I'm glad they didn't have Butter Crunch, not that it would have survived the trip home.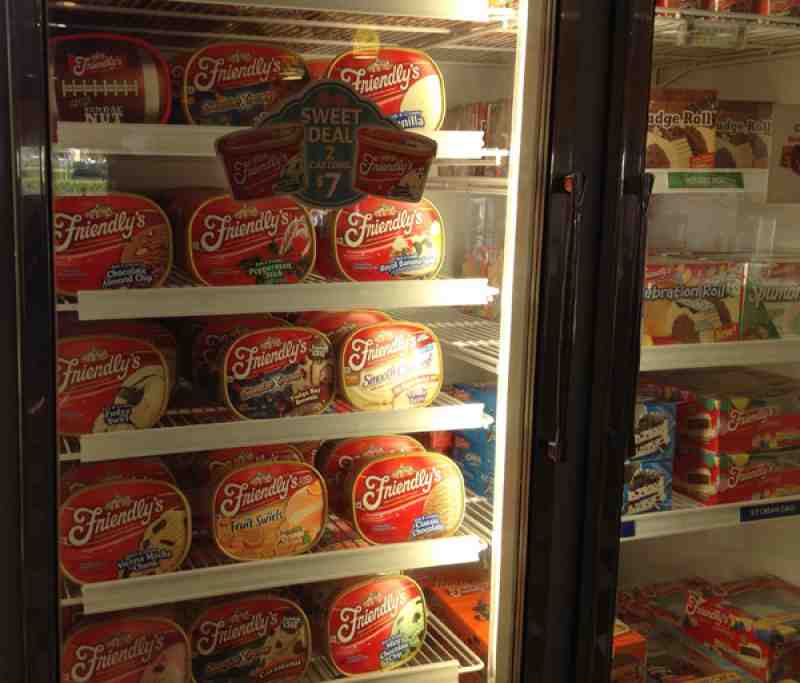 Friendly's Ice Cream Retail
They say you can't go back again, and in fact you can't. But you can head up to Delray to catch some childhood memories.