Critic's Review
Aside from fast food chains, there are probably more Flanigan's in South Florida than any other restaurant. Unlike some chains, Flanigan's vary from location to location. I walked into their Commercial Blvd location only to just turn and walk out. Small, dingy and not a place I wanted to see at the bar. There are a lot of Flanigan's in places where other restaurants don't want to be; but this location in Davie is in a very middle class shopping center.
Flanigan's looks like all of the restaurants looked in the 70s; dominated by weathered wood and local pictures. This one has a big fish tank at the entrance; but it's clean and well lit.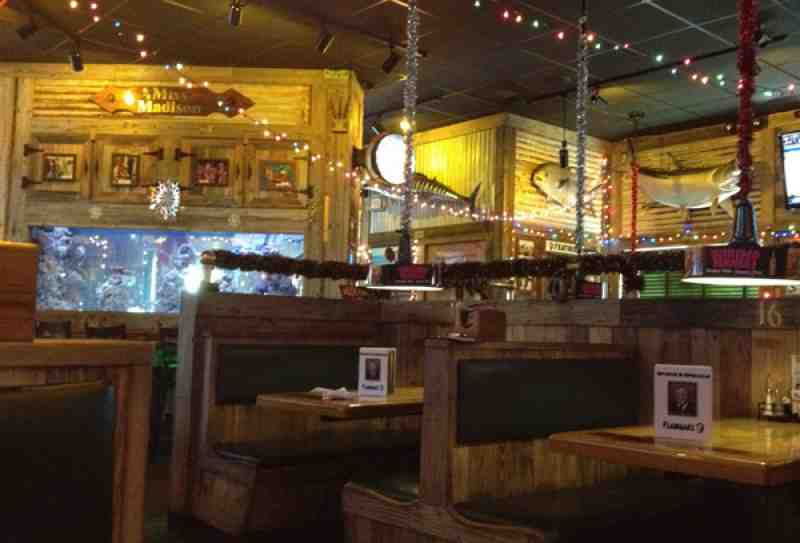 Flanigan's Davie interior
I was running late for lunch, about 4pm, and it was happy hour at the bar and on the patio. But I wasn't drinking, so I got a booth in the dining room. The bar didn't look like a place where I would want to eat.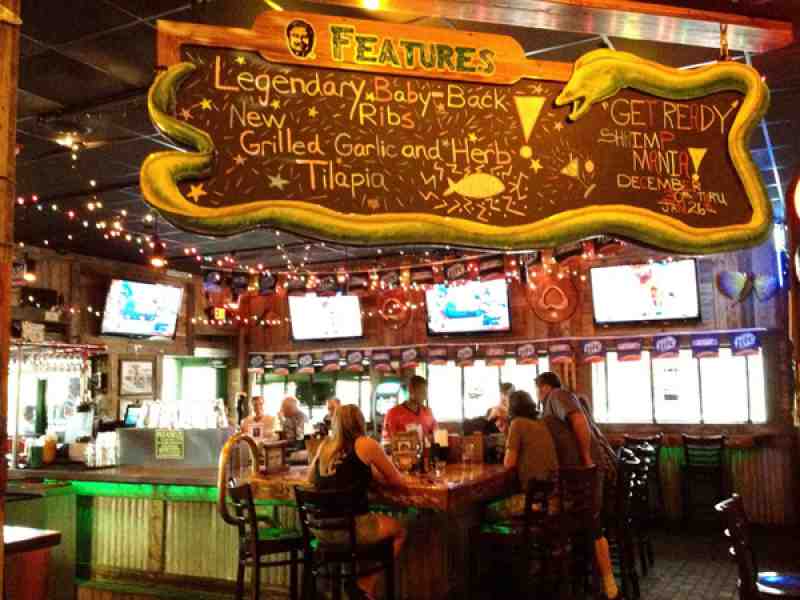 Flanigan's Davie Bar Area
My server mentioned that the Ribs were "Featured" and then ran off a few other things. "What does featured mean, I asked, is there a special price?". "No", she said they're just featured. I ordered iced tea while I pondered the extensive menu. Flanigan's is one of those places that have pictures of dishes on the menu; they seem more like a warning than any kind of marketing. They convinced me not to try anything that required much culinary skill.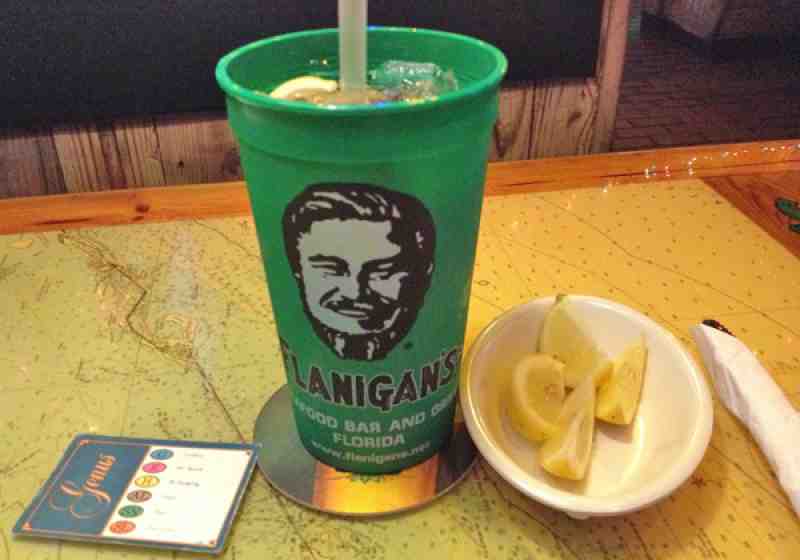 Flanigan's Iced Tea
The big plastic cup with Flanigan on the front seems to be an old Florida thing. Extra lemon was provided and they have Splenda.
They have all sorts of wacky specials, but I wanted to try the ribs. They have some deal where for $2 extra you can get a drink and a salad, but she was a little vague about the actual options. I wanted to try the ribs, so I orderd the combo with a half rack of ribs and 6 wings. One thing that I didn't like was that all of their sides are starches. You couldn't get a vegetable or a salad. The salad was $1.99 extra no matter how you configured it. So I just got rice and beans. After I decided on everything, she asked if I wanted to cole slaw that comes with it. "Why not"? I didn't get why the free side was optional, but I was tired of asking here stuff.
One thing about Flanigan's is that the music is excellent. Hendrix, ZZ Top, Zepplin and then Bowie's Suffragette City. Bad Company, the Stones, Styx and vintage Eagles. Even Chicago when they were good. I looked over at the young couple at the next booth with their young child and I figured that they probably weren't born when there was really good music. A runner brought out the food.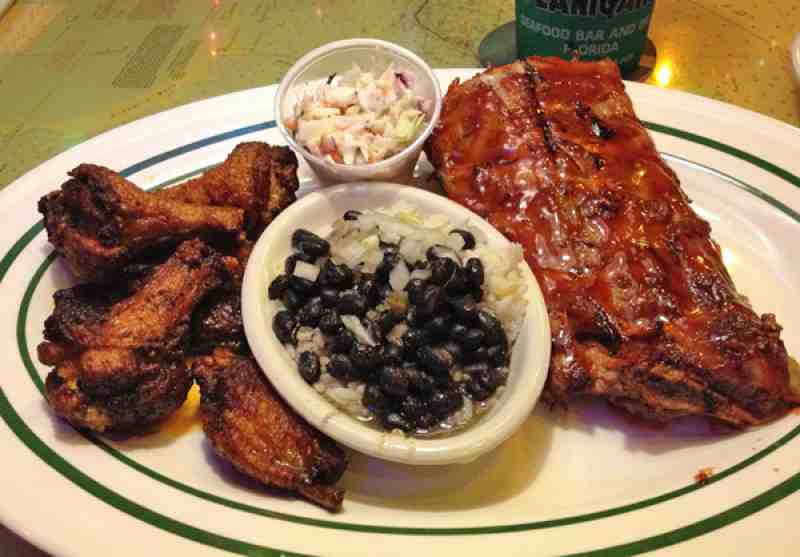 Flanigan's Rib Combo
They initially forgot the Blue Cheese. The Rice and Beans were obviously disappointing, but I hacked off a rib and thought it was pretty good. The wings weren't freshly made but they were good; typical bar grub but any time wings are a bit spicy without swimming in sauce I'm happy. I scraped the black beans from the rice and it was a decent meal. The ribs are, indeed, fall off the bone, and the sauce is sweet but not too much. As restaurant ribs go they're at the top of the scale; they're not as good as ribs you get at a good BBQ. But I'd order them again.
With casual ambiance, great music and good sized portions, Flanigan's qualifies as an option for grabbing some grub at a fair price. Some of the locations are pretty grungy, and other are less grungy, depending on the neighborhood.