Critic's Review
The Fort Lauderdale Ale House is part of the national Miller Ale House chain; they've undergone a facelift since my last visit and everything is in pretty good condition. This place is the opposite of Las Olas; free parking, big portions, good specials and it's about 1/2 the price. The menu is extremely hit or miss; I had some really bad fish and chips here once, but you can find things that are at least half way decent. Remember that Bobby Flay isn't in the kitchen, and order accordingly.
I hate this place when there are a lot of people; it's a low brow crowd and the bar is loud and annoying at happy hour. Usually I ask to be seated away from the bar, but at 3:15 it was dead empty so I didn't say anything when I was seated in the game area near the bar.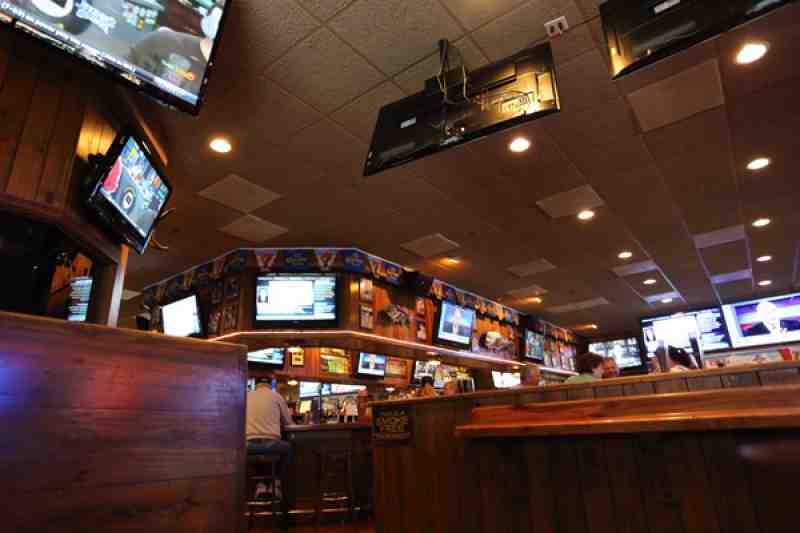 Fort Lauderdale Ale House Bar Area
On one side they have 4 rows of booths, and the other side is the bar and a big open room with lots of TVs. This is where you want to sit to watch football.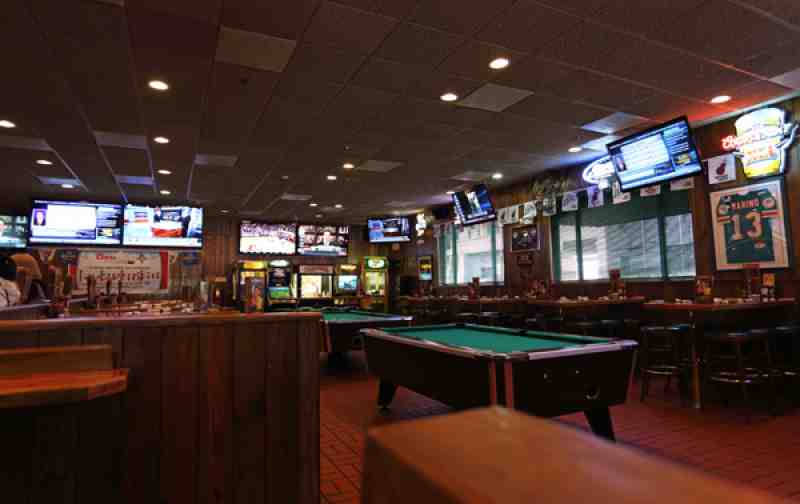 Fort Lauderdale Ale House Game Room
The have specials every day; on Thursday they have meatloaf and chef's salad for lunch for $5.99 and Prime Rib and a 1 1/4lb lobster for $12.95. I thought about the lobster, but 1 1/4 lbs is a small lobster and I was hungrier than that. The soup of the day is conch chowder, so I decided to break my boycott and order that with a blackened chicken caesar salad. And they had Splenda for the iced tea.
Music here is superb; U2, Adam Ant and Joan Jett, intermittently ruined by the BeeGees. The soup came out right away.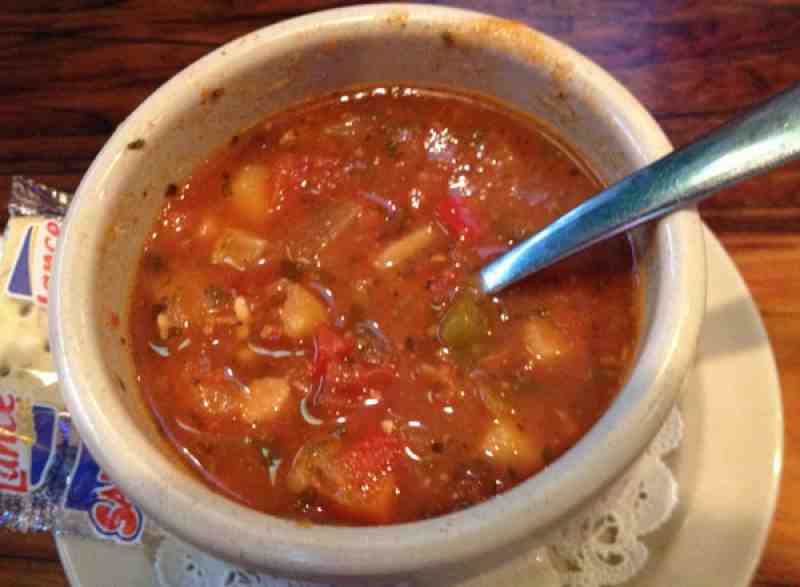 Ale House Conch Chowder
From the smell I could tell that this wasn't the usual musty stuff you get at the old time seafood houses; in fact, this was very good. Not Tony Sindaco good, but better than just about any other one I could remember. It tasted a lot like manhattan clam chowder, with tough conch instead of tender clams. They ought to give up on the conch already and just make clam chowder. It was a good portion and a good deal for $3.99.
I wasn't done for long when the salad came out.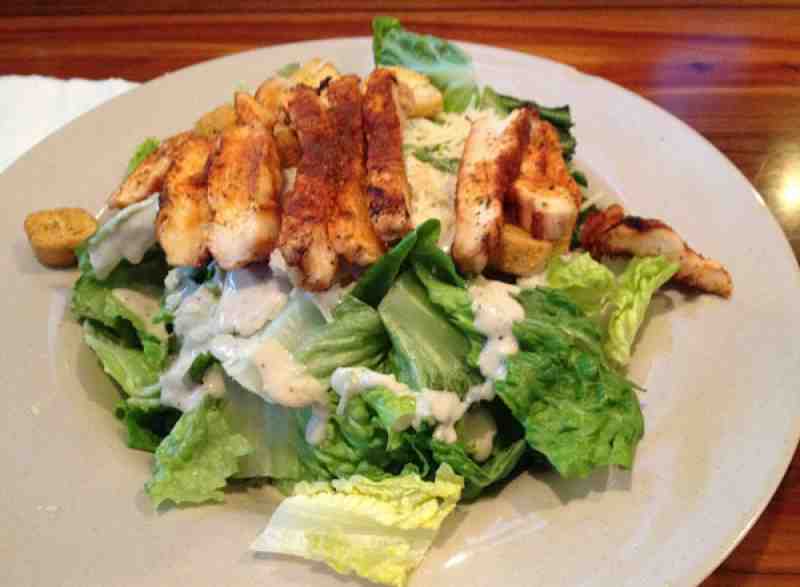 Ale House Blackened Chicken Caesar
$8.99 for this baby; it reminded me of the chicken caesars I used to get at TGI Friday's back in the day. Caesar Salad is all about the dressing, since I don't eat the croutons and romaine lettuce is, well, romaine lettuce. The dressing here is the good, creamy kind, not quite as good as the crazy garlicky stuff they have at the Boulder Creek on Long Island, but better than some of the stuff you get from the faux chefs on Las Olas. It was a big salad and I had to ask for extra dressing. I asked for "a little extra" and she brought me out enough for another salad.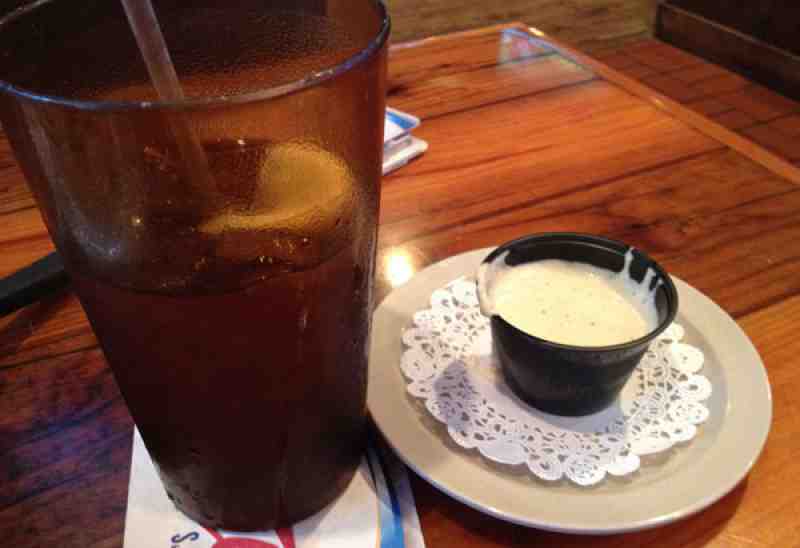 Ale House Iced Tea and Caesar Dressing
Everything is bigger at the ale house.
My server was very good until the end, when I wanted my check and she was no-where to be found. It was after 4 by then, and the place was filling up with the kind of people who come to happy hour at 4pm. So I needed to get out of the place.
Under $16 for soup, salad and an Ice Tea; I'd pay that much just for a chicken caesar on Las Olas and it wouldn't be as big or as good.
When I got home I checked the nutritional chart for the restaurant and I think it's out of whack. They certainly don't try to cheat; 2000 calories for Fish and Chips? The chart said that the salad was 1030 calories, but it didn't add up. A plain caesar was 430 calories with 19 carbs. The only thing with carbs is the croutons, which I didn't eat. Let's assume that's correct. They have the chicken caesar listed at 1030 with 35g of carbs. How can that be? Chicken has no carbs, and the chicken can't be 700 calories. They didn't give me a whole chicken. Somebody didn't check their work. Ok, so we can't rely on nutritional info at restaurants. We already knew that.
Photo Gallery