Critic's Review
Most people think of Sbarro as a mall pizza restaurant, and in some ways they're right. Those of us from Long Island have a slightly different perspective, as we've experienced not only their mall restaurants, but also Mama Sbarro's and their Boulder Creek Steakhouses, which are and were a rip-off of Outback Steakhouse.
When I go to Sbarro's its not for the pizza. I like the buffet. Its not a great buffet, but I like buffets because you can get just what you want and you can get a lot of different stuff.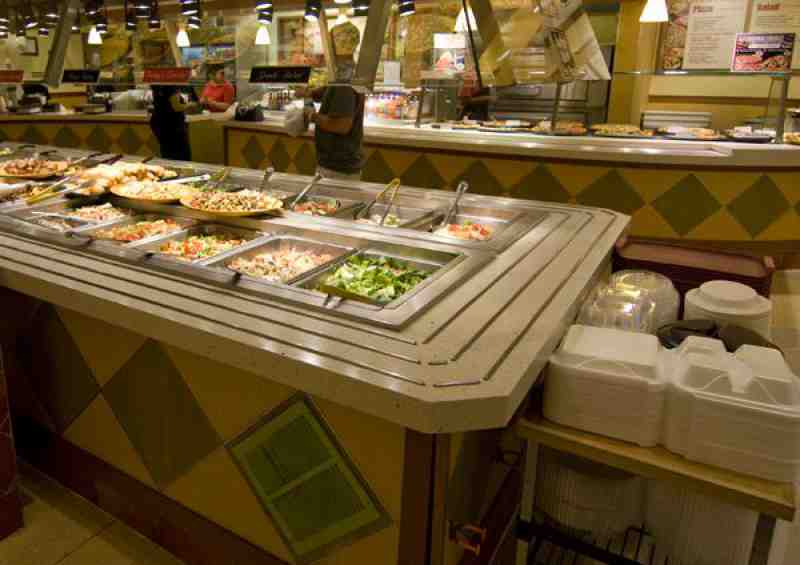 Sbarro Buffet
Back when I was a big low-carber, I used to eat at the Sbarro buffet once a week. I could load up on chicken and fish and sausage and brocolli. They have quite an array of salads, pastas and chicken dishes, and fish as well. Some of the stuff isn't as good as you'd hope; they have some weird recipes. But you can try a taste if you're not sure. The buffet is charged at $6.85 per pound, so there's a strategy to selecting food here. They have ribs and chicken wings, for example, but when you buy stuff with bones by weight you're not getting your money's worth. You want food that doesn't weigh much. Its strange, but if you don't pay attention you'll end up paying $12.
But for the first time in many years, 2 of their signature items are no longer included in the buffet. Chicken Francaise and Sausage and Peppers were always 2 items I put on my plate, but they weren't on the buffet. They had a lot of pastas; lasagna, penne, pasta salads. One new item was a greek salad. I had to break some rules to get enough protein. I got some tuna fish, and I got a rib.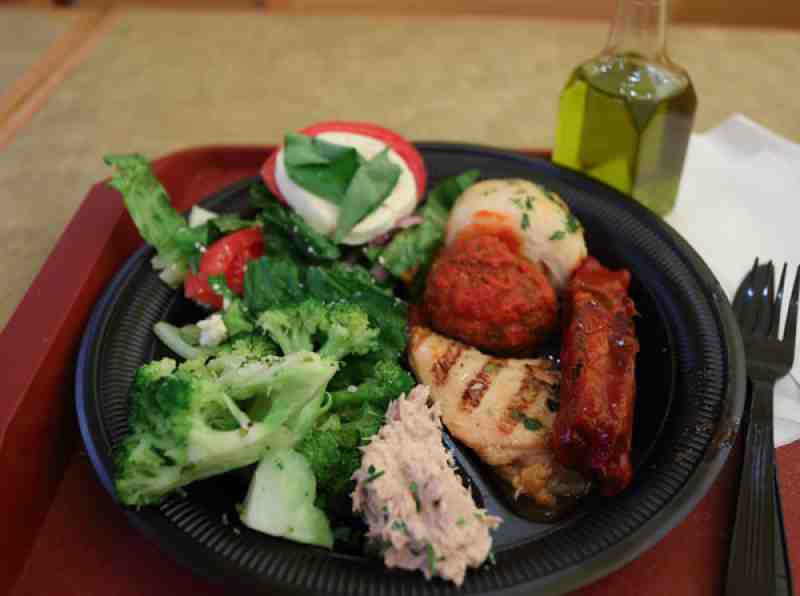 Sbarro Buffet Plate
What I had here was some tomato/mozzerella/basil (they have olive oil by the forks and knives), Brocolli,greek salad, fish, chicken "rosemary", a pork rib and a meatball. A low-carbers paradise. This place was $10.08 before tax.
I wanted to put some butter on my broccoli but they no longer have butter. Now they used to give you bread with an entree; so you can't get butter for your bread? The dude looked at me like I had 2 heads when I asked for it; it's not like I hadn't gotten butter here many times before.
The sausage and peppers were sorely missed; it was the only thing with real flavor. And the chicken rosemary tasted like plain chicken; a far cry from their chicken francaise. The rib was the best thing on the plate. Nothing else had much flavor.
This was more of a purpose meal than anything very enjoyable; like when you have chicken and beans for a snack. There's enough stuff on the buffet to find a few things to assuage your appetite, if nothing else. It looks like the bean counters have brought down the value of the buffet however.
Photo Gallery