Critic's Review
Harbor Cafe is as easy to miss as any restaurant on a main road in Fort Lauderdale. Its tucked in the corner of a deep shopping center that is populated with specialty stores that few have a need to ever visit. While it's one of only a few places for Breakfast in the area for nearby Hotels, this place is almost all local regulars.
The place is under new management and is registered with the name Blue Harbor Cafe, but all of the old signage remains. You'd never know on the surface that the place had changed hands.
Inside, its your classic coffee shop. Some green vinyl booths, lots of wood tables and a counter.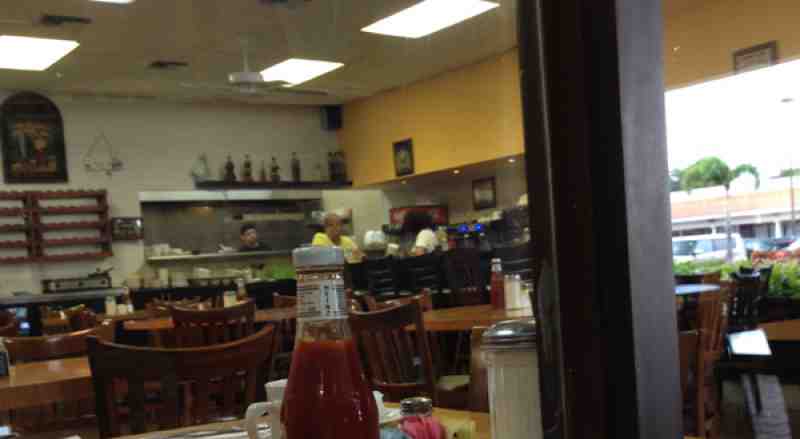 Harbor Cafe Interior
They have more tables outside than they did before; there was only 1 guy outside and he wasn't smoking, so I figured it was safe. Unfortunately, the this corner spot has an ally that serves as a smoking station for maintenance workers, who also frequently pass by with tools and garbage cans. I wouldn't sit outside here again; It's too bad because it's set back from the road so it's pretty tranquil as shopping center dining goes.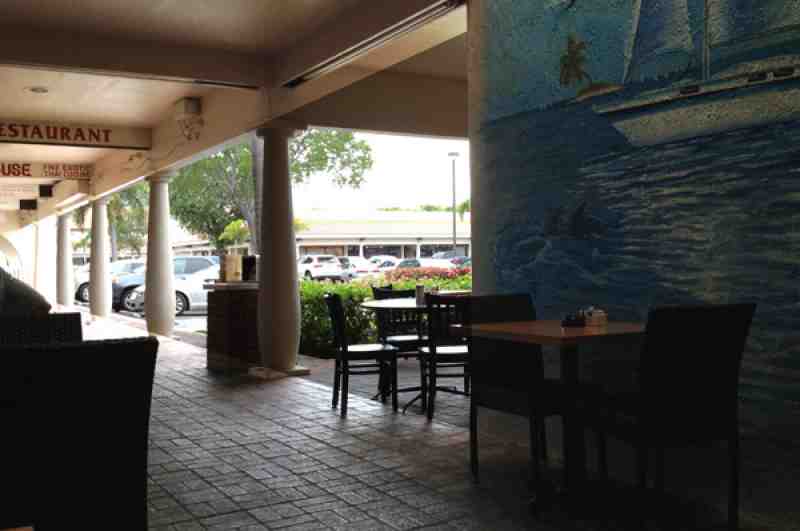 Harbor Cafe Outside View
There were the usual outside caveats as well; the salt shaker was largely non-functional and there were 2 sugar dispensers for about 8 tables; no regular sugar packets. Not a problem with only 2 tables occupied; hopefully they put out more if it's more crowded.
I'd had the Italian Omelet the last time I was here; the menu is largely the same. But I just ordered my regular favorite, hoping to get something better than my last few tries. Service was pretty good; the fully windowed cafe allows them to see what's going on outside so they see you when you sit down. Coffee was weak but not bad; typical diner coffee. The food came out in short order.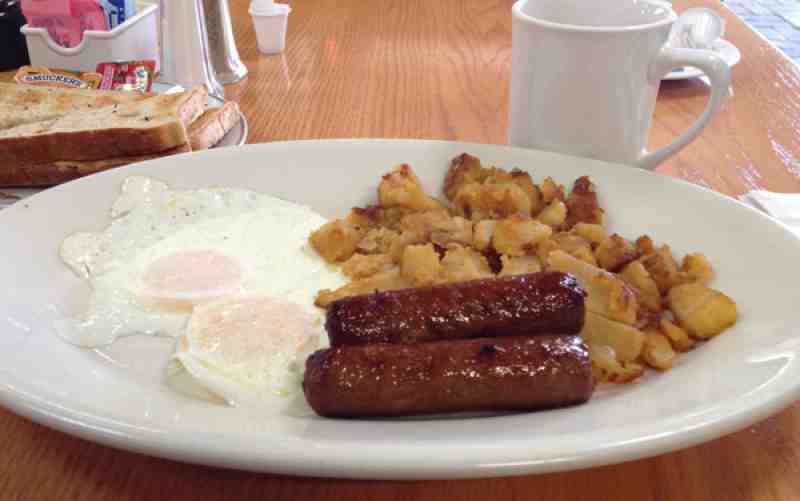 Harbor Cafe Eggs with Sausage
They're cooking on a clean grill here; this is no greasy spoon. a good portion of potatoes, the good sausages, eggs perfectly over medium (ordered overeasy; I've learned). They have rye toast. The only negative change is that they used to have big coffee cups; they have the standard, industrial diner cups now. But refills are timely, so no biggie. A good, solid breakfast, all for under $10 including tip. Free Parking is a bonus.
Photo Gallery