Critic's Review
For many years there was a place called Beef Eater Steakhouse; it just happened to be right across the street from this place. It also happens to be the same owners with the same menu; in fact everything is pretty much the same, except the place isn't as creepy as before. The Beef Eater was decorated with soccer jerseys and those diagrams of cows where the cuts of beef are outlined like the old game Operation. The had an oddly positioned bar that was just plain uncomfortable.
The new place is nicer, with dark wood tables and a nice bar in the front. There are still soccer jersey's, but they're nicely framed and the place is much more organized. But it was a beautiful afternoon, so I decided to sit outside. Sidewalk dining here isn't quite the same jump-->as Las Olas.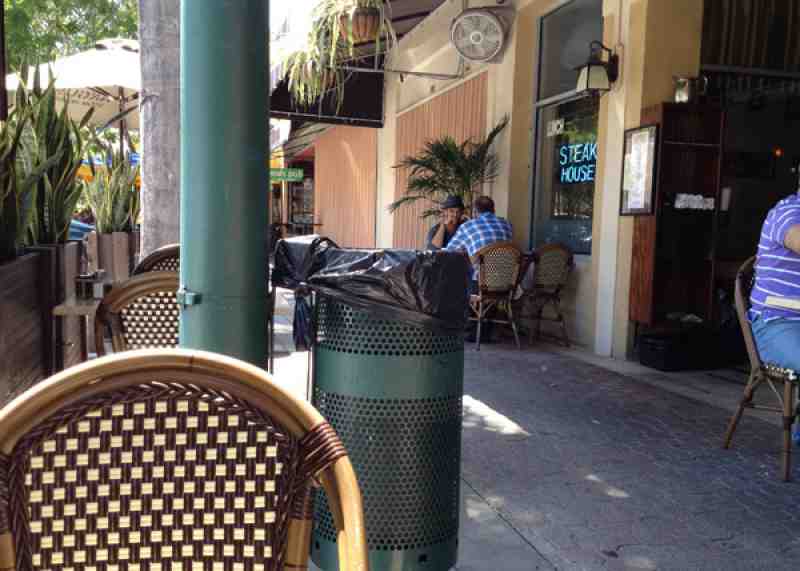 Angus Steakhouse Sidewalk View
My server asked what I was drinking and gave me a menu; by the time he brought my iced tea, I'd decided what I was having. They have what they call the "Executive Lunch", which has a few choices. One thing I remembered about Beef Eater was that the skirt steaks were great, so I went with the churrasco. For $7.95 it comes with soup or salad and a side; they had Asparagus soup so I went with that and ordered a salad as a side. Within 2 minutes, my table was filled; First some bread, butter and a bowl of chimichurri came out.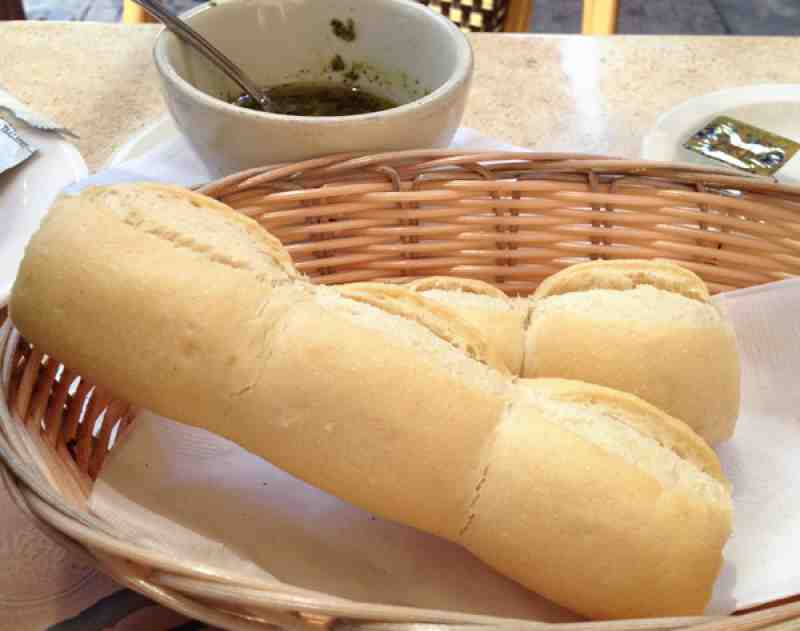 Angus Steakhouse Bread Setup
The chimichurri here is crazy garlicky; good for bread and skirt steak. A few moments later, a runner brought out the soup and the salad. The soup was a lot bigger than I expected.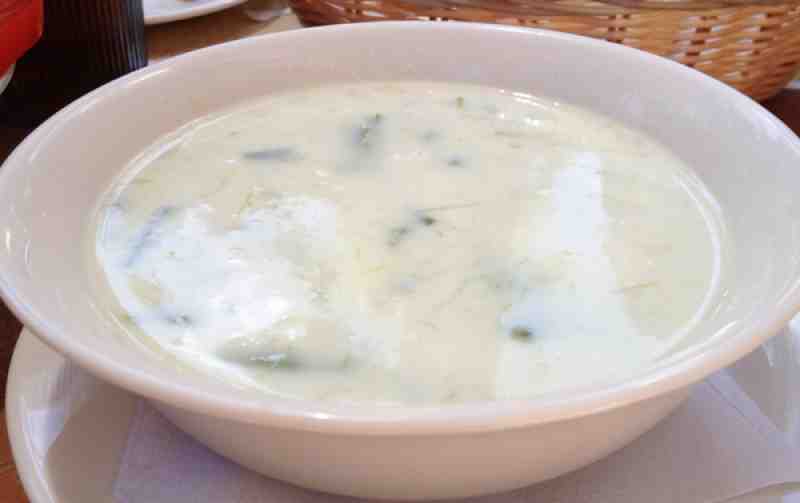 Angus Steakhouse Asparagus Soup
The soup was loose with a light broth that had a nice asparagus taste. There were asparagus spears cut up and floating around; some of it was a bit stringy; there's a reason that most places puree the asparagus. It was a pretty good soup.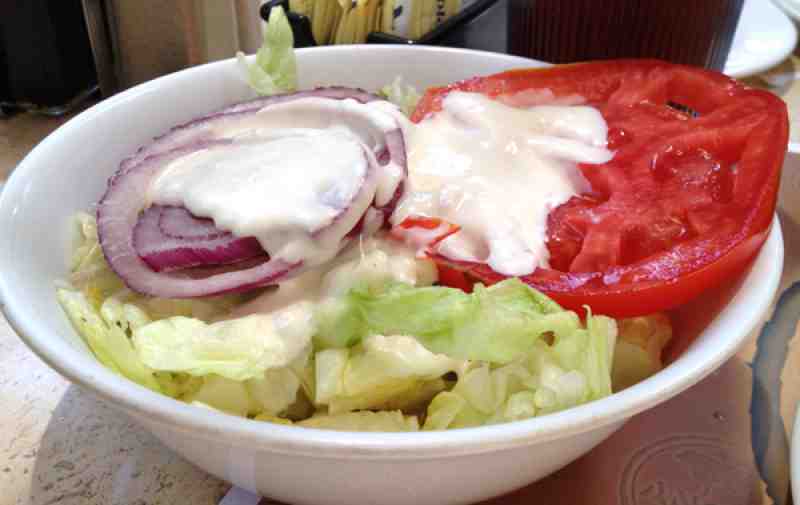 Angus Steakhouse Salad
The salad was a simple one with iceberg lettuce, red onion and a beautifully ripe tomato; not unlike the salads I make for myself at home. The server had dropped off a packet of Ken's Blue Cheese dressing; which is a pretty good version. The salad was good. As I finished it, I was thinking about the $9 that Capital Grille charges just for a cup of soup. Here I was getting a full meal for $7.95. Finally it was time for the main event. The Skirt Steak was served.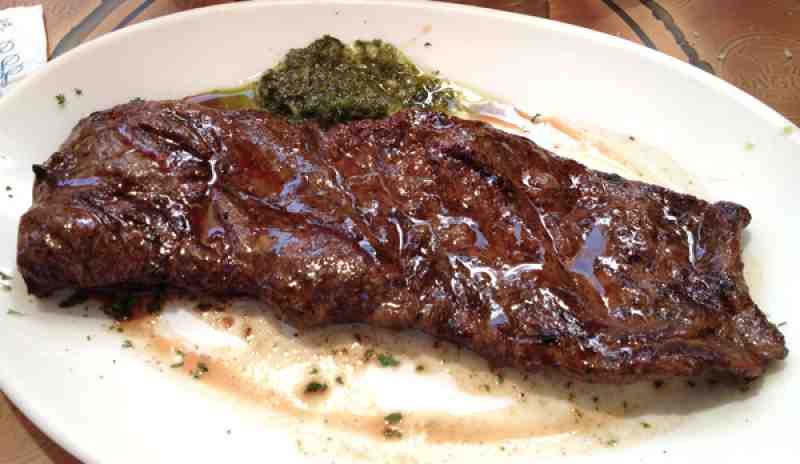 Angus Steakhouse Lunch Churrasco
A medium size steak, but bigger than most places like Las Vegas Cuban give you for the special. It was a fairly uniform thickness, so the whole thing was cooked just about right. The chimichurri wasn't quite as great as I remember from Beef Eater, but it was still better than most. I added some olive oil from the table setup to get it the way I wanted it. Also, the skirt I'd gotten at Beef Eater was very well seasoned and needed no salt; I had to salt this a little.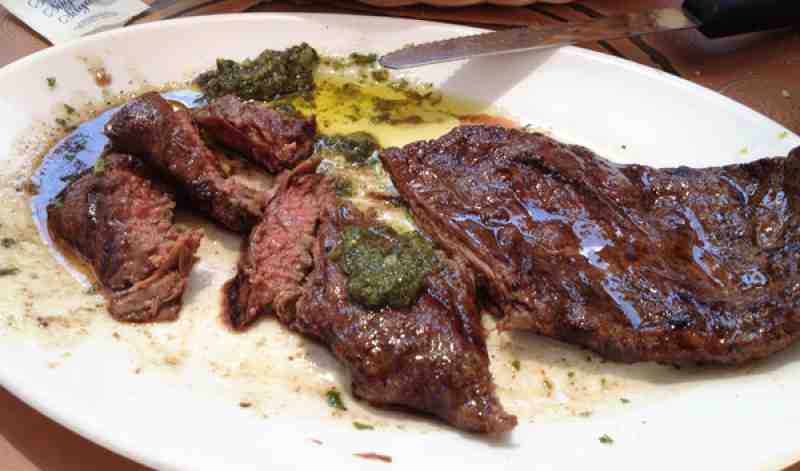 Angus Steakhouse Lunch Churrasco
This is good stuff; I'm still burping up garlic from the sauce 5 hours later.
All of this was $10.20.; and even the parking was free. While you don't get the ambiance of Las Olas, there are few places around where you can get a value like this. One disappointment was that they used to have a "3 meat" platter for $12.95, and it's now $17.95. Maybe they give you more, but it's too much for lunch.