Critic's Review
You know things are slow when the big news on Las Olas is that Bob and Wilson's has moved from the bowels of SE 1st to the bowels of 450 Las Olas Centre.
I originally found B&Ws when I was voting and I cut through the covered mall. I had a pretty good pastrami sandwich there, and we all know it's pretty hard to find decent pastrami in Fort Lauderdale, much less near Las Olas.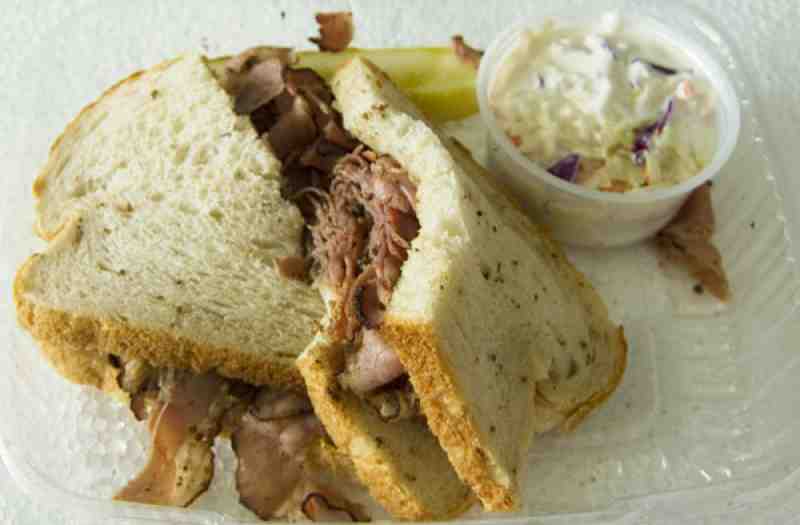 Bob didn't know who I was, initially, and I gave him a pretty hard time; making it clear that I wasn't going to be happy with second rate pastrami. But Bob was confident in his product. It was a pretty good sandwich with the kind of melt in your mouth pastrami, hearty bread and zesty mustard that I remember from New York.
I hadn't been back to B&Ws, mainly because I haven't had to vote again and I'm pretty much done with Slice and Charcuterie too. Just by chance, I was updating some menus, and I noticed that Bob was moving to Las Olas. With Quiznos going belly up, I figured that Bob had taken that space and they were opening up a full scale Deli.
But I was wrong. Bob and Wilson's has taken yet-another completely hidden space; at 450 Las Olas Blvd. The big problem with saying that you're at 450 Las Olas is that the entire block is 450; Jackson's Steakhouse is at 450; and so is Timpano. This place is in 450 Las Olas Centre.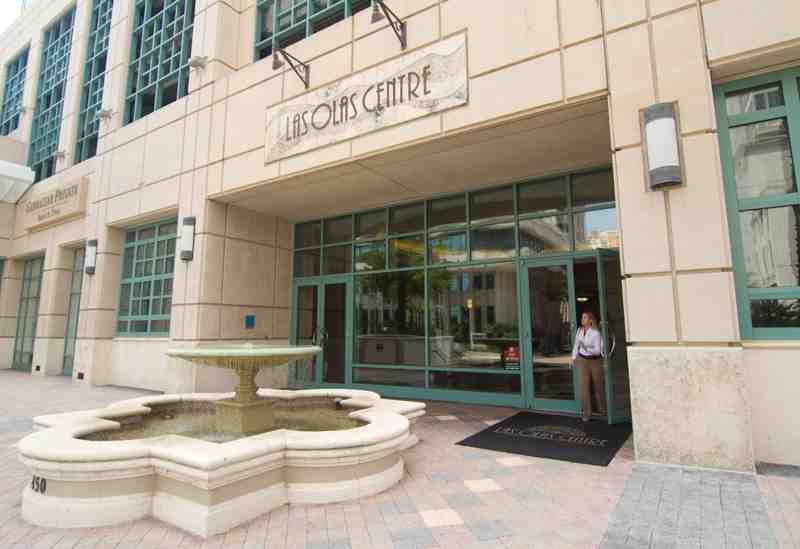 450 Las Olas Centre
Now if you think you're going to open the door and see a bustling venue with people snarfing down cole slaw and sandwiches, you'd be disappointed. Inside, there's just a lobby, with little sign of Bob or Wilson. I went to the right; nothing there. Then I went to the left and saw a sign. But the sign was in the corner and there was no door. There was a door further back with a sign that said "Sundry Shop"; this turned out to be the place.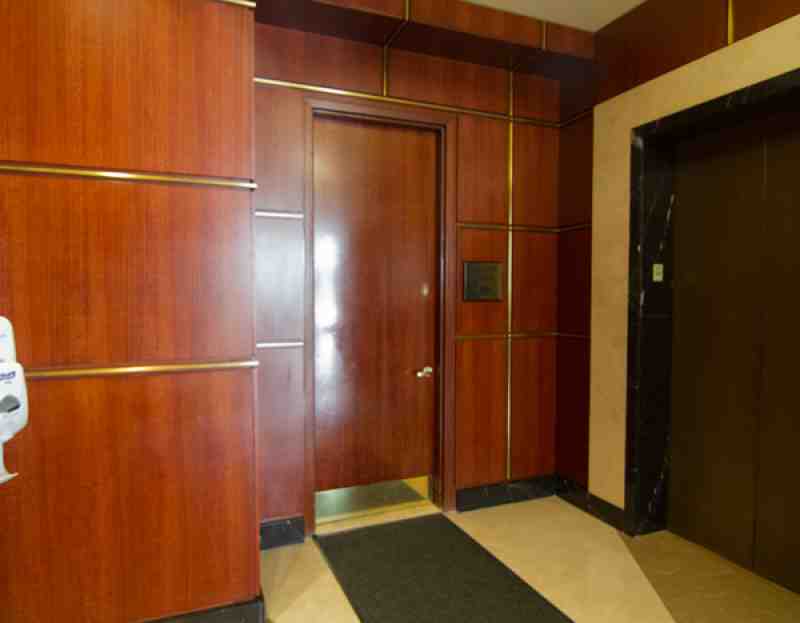 Inside looks like a corporate lunch room; you know, that room in your office with the coffee pot and the little refrigerator where you put your brown bag with the egg salad sandwich. I think I'm being pretty generous giving this place 2 stars for Ambiance. But you don't bring your family to Bob and Wilson's for a meal; this is a place to pick up some lunch or a breakfast sandwich. My only gripe is that they had CNN on the TV instead of CNBC.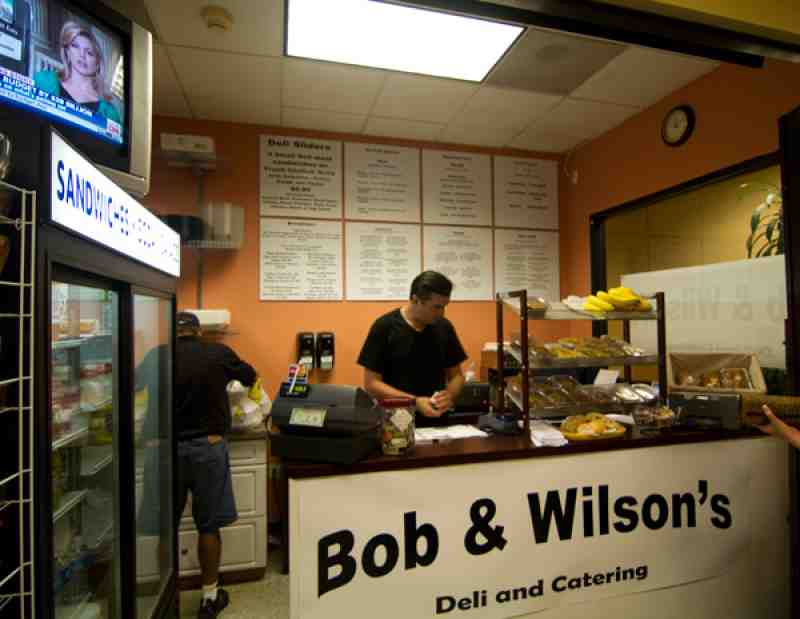 The Tuesday special is Stuffed Bell Pepper, which is the only reason I could think of to get dressed before 2pm. Bob's menu isn't too pithy, so I didn't know what he was filling his pepper with, but I thought I'd take a chance. My Mom used to make a pretty good stuffed pepper, and I consider it comfort food.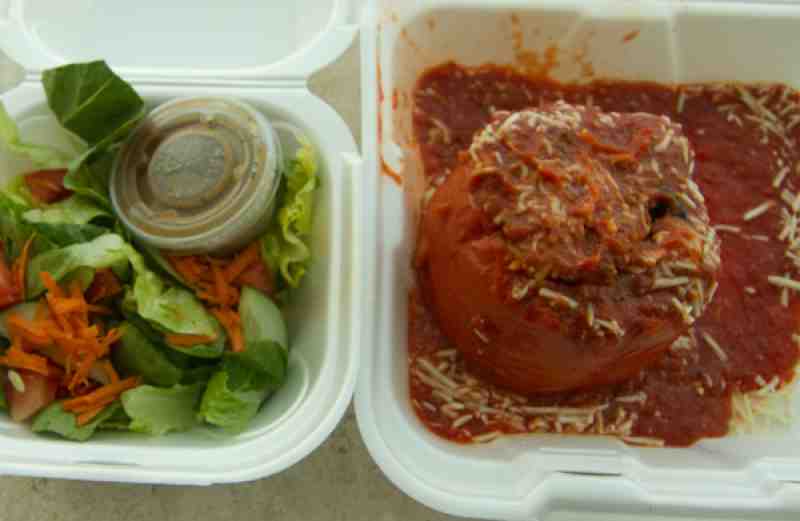 Bob and Wilsons Stuffed Pepper Special
The first impression was that it's a pretty big pepper; 1 big one instead of 2 small ones. And it's a red pepper and not a green one. I didn't know that it came with a salad; the dressing was pretty good but I didn't really want a salad. From the outside the pepper looked well constructed, with a nice thick tomato sauce and grated cheese. But you really don't know what you have with a stuffed pepper until you cut it open.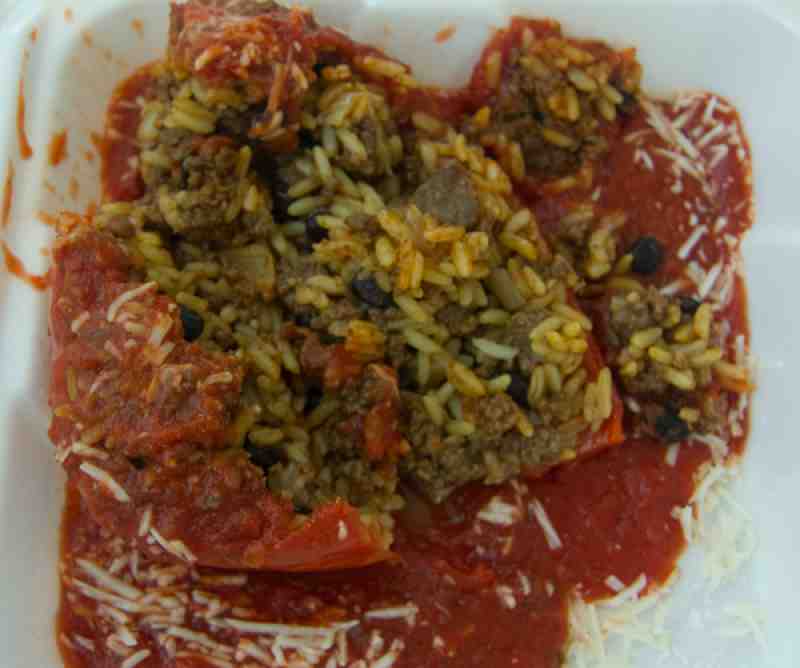 Bob and Wilsons Stuffed Pepper
Lot's of large grain rice and and freshly ground 90/10 Halal beef. Some onions and black beans as well. It's a pretty good version; the sauce was a little spicy and the peppers were done just right. Better than Stouffer's. Better than Quiznos. Not dirt cheap, but cheaper than Yolo.
Bob and Wilson's fills a badly needed niche downtown; a place to get a sandwich that isn't a chain sub shop. And unlike Quiznos, you can get a Cuban sandwich, Quiche or a Stuffed Pepper.