Critic's Review
Back in the day, Denny's was a place that people went when they were on vacation. There always seems to be one near the hotel; no matter where you may be staying. With all of the diners on Long Island, Denny's wasn't a place I ever went to when I lived there. It's also not a place I think about down here. But tourists do google for Denny's when they're in town, and I have to go to a lot of places that I wouldn't otherwise go to. It's part of the deal.
This place is a little cleaner and brighter than the one over on SE 17th, but the service is just as bad. A hostess is too buy wiping off menus to notice customers waiting. And then she just points to a booth when she does notice. My question is, why do they need her at all? Just let us sit where we want.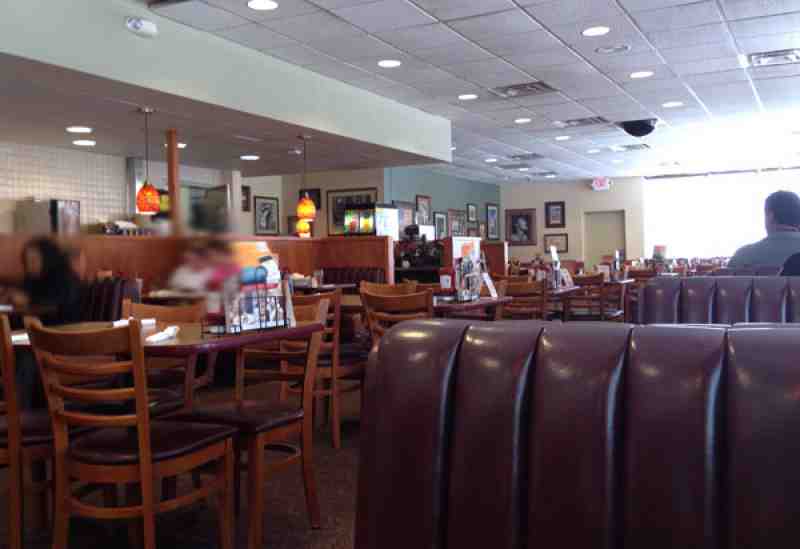 Denny's Commercial Inside
It was a while before anyone came over, which I expect at a place like this. Denny's is the home of the Slams; the 1520 calorie Grand Slamwich also, but the two items that caught my eye were the Philly Cheesesteak Omelet and the Meatlover's omelet. While I'm trying to decide, I get some coffee. Surprisingly, the coffee is pretty strong, which is how I like it. Pretty good coffee for a diner.
I decided on the meatlovers omelet, with hash browns and rye toast. It's about 10 minutes and another cup of coffee before it comes out.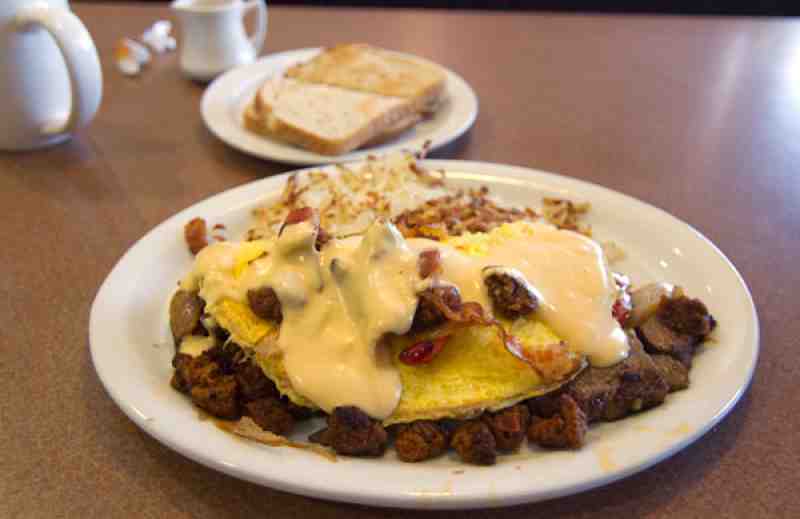 Denny's Meatlovers Omelet
There's something about the omelets in places like this. They're just not the same. I think they steam them in some sort of mold; an omelet should be a little wobbly to me. This omelet had "prime rib", chorizo, bacon, onions, peppers and cheese, and some sort of cheese sauce on top. The sauce hadn't coagulated by the time I was done, so it's not clear what it was. It didn't add much to the dish, so they could have just as easily left it off.
The omelet wasn't terrible. The beef was medium well which is never optimal; frankly I think that the recipe doesn't make a lot of sense. I probably should have gotten the Philly Cheesesteak.
There are better places east on Commercial at the beach, but if you're on foot you can get some calories here. It's about what you'd expect at Denny's.
Photo Gallery