Critic's Review
BurgerFI reminds me of those little bags of potato chips; you know, the ones that say 'just 100 calories' on them. As if sliced potatos fried in oil and covered with salt are some sort of healthy snack.
You go to BurgerFI's web site and when you walk into the place, you're hit with the hype; "Natural Burgers". As if cattle that are treated well before they're slaughtered somehow transform hamburgers into a healthy choice.
BurgerFi is in a building previously occupied by Burger King; This location is a prototype for a franchise model; because franchising is where the money is at. BurgerFI attempts to re-define the fast-food joint with eclectic decor and a menu that combines burgers with hot dogs, custard, microbrews and milk shakes. The problem is that 5 Guys, CG Burgers, Elevation Burger and BGR all have the same idea. And the other places have burgers that actually taste good.jump-->
From a physical standpoint, BurgerFI is a pretty cool place. With a multi-color scheme, there are natural wood, metal and painted wood tables.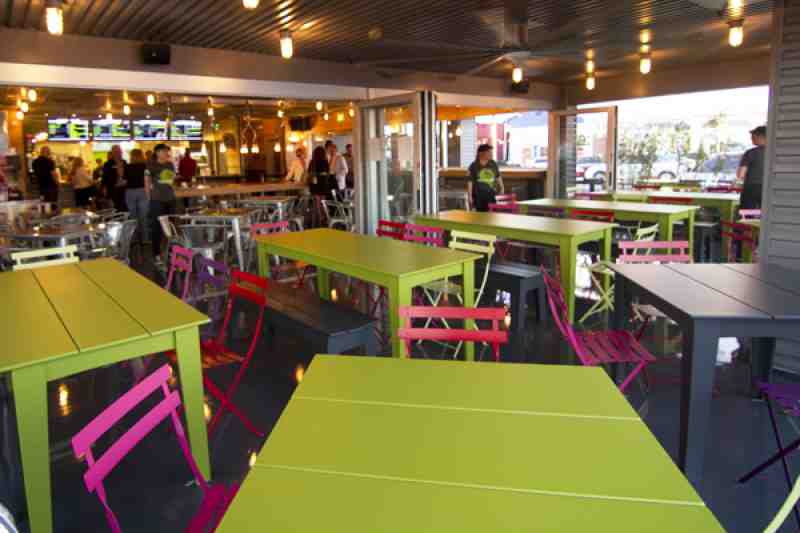 There's a slab table in the middle of the room, and counters along the side, all with fancy lighting. It's a very colorful place.
We have the menus here; as you can see they have a wide range of choices. On my first visit, I wanted to taste the meat, so I ordered a "BurgerFI" burger, figuring it was their signature item. I also ordered their hand-cut fries, without any additives. I tried to order it "medium-rare", but they told me they only cook them 1 way; "well done and juicy".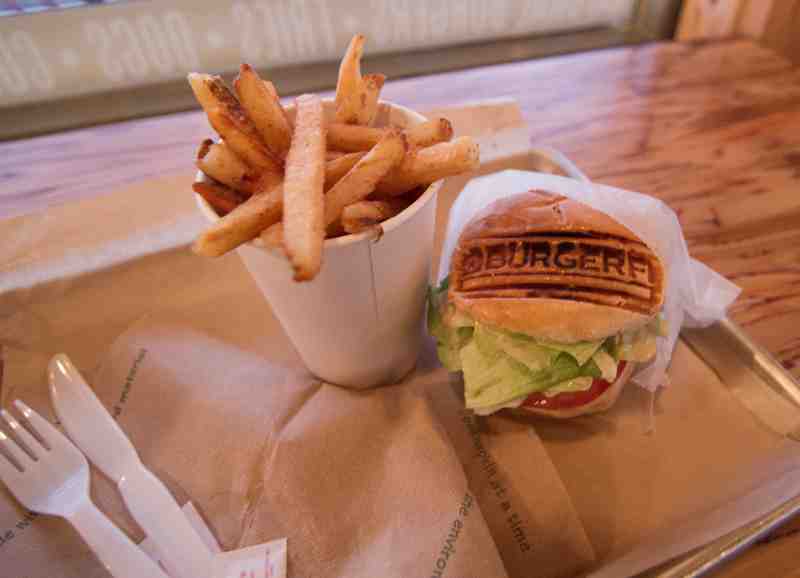 BurgerFI Burger with Fries
The burger buns are literally branded with the BurgerFi logo. I tried the fries first; pretty good. They're pretty salty by default so I'm not sure that they need any of the fancy stuff you can get on it. Then I took a bite out of the burger, which was 2 patties, lettuce tomato and a "special sauce". The bun was a bit stiff; it wasn't easy to take a bite of the full thing.
My first impression was that it wasn't very tasty. Nothing that I was hoping for. The problem was that the burger was indeed well-done; except it wasn't very "juicy". I disassembled it and ate the meat all by itself. Tasteless. A well-done, skinny patty doesn't give you anything that you want out of a burger. The special sauce was a thin spread on the bun; it tasted a bit like russian dressing. There wasn't enough of it to add much flavor.
On a subsequent visit, I ordered a cheeseburger, thinking that it wasn't fair to eat a plain burger since I rarely ever eat a burger without cheese. It's dripping with "cheese"; nothing like a "natural" burger which a nice glob of cheese-food on it. The cheese was good, but the burgers just taste like boiled meat.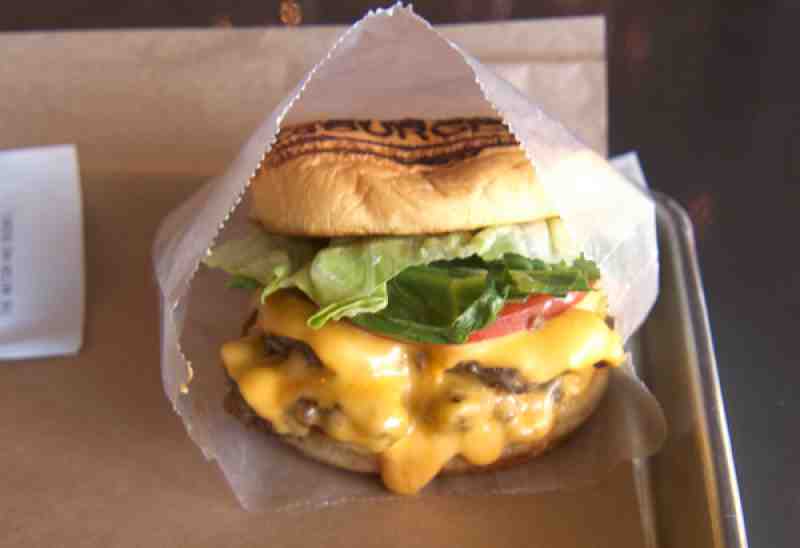 BurgerFI Cheeseburger
Conceptually, BurgerFI is pretty cool. But they've missed a key point; you need good burgers to start a burger craze. You can say the beef is grass-fed or spoon fed; but if you cook all of the flavor out of it it and don't season it; then it really doesn't make any difference. The point of "grass-fed" beef is that they marble better; but if you cook all of the fat out of the thing then what's the point?
Let's not forget that whatever you say about McDonald's and Burger King, the Big Mac and the Whopper are pretty darn good burgers. They didn't grow because of a fancy concept; they grew because people liked the food. A Big Mac with Fries and a Chocolate Shake. Are you kidding me? LIkewise, 5 Guys hasn't grown because of their decor; their burgers are better than "other" fast food at a good price point.
I went back to try some other items; this time I went for the hot dogs. While you can get a burger at any restaurant; there aren't really any hot dog joints in this part of town. I ordered a NY dog (deli mustard and 'kraut) and a loaded Chicago Dog and a Coffee Mocha Shake. An interesting lunch for $12.04.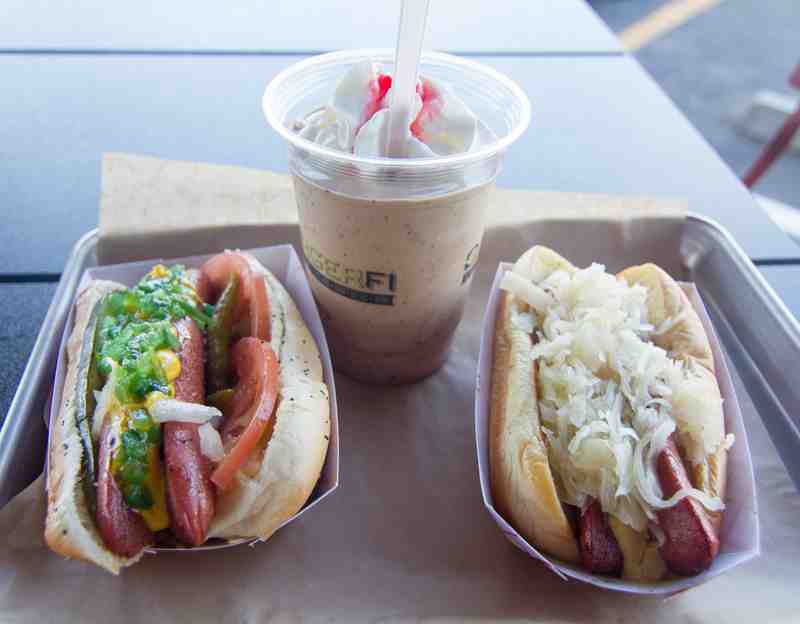 BurgerFi NY and Chicago Dogs
The Hot Dogs are good, plumb vienna dogs, split grilled. I'm not sure if it makes any difference to me whether a hot dog is split or not. Round is fine. The buns are nice and soft, and the dogs looked great. Both dogs were pretty good; but both were flawed as well. It took me a while to figure out what I didn't like about the NY dog. I had to taste everything by itself, and then I realized that it was the mustard. It was way too strong. Now I like a good deli mustard, but this had too much of a horseradish taste and it ruined the other ingredients. The Chicago dog was pretty good, but they use cucumber slices instead of a dill pickle spear; I never thought I'd care, but the pickle is an important flavor. Also, the sport pepper wasn't pickled well enough; it was nearly raw. And you just can't bite into a raw sport pepper.
Taste-wise, the shake was downright delicious. My next time by, I tried to re-create a bit of the shake magic; this time with a texas chili dog.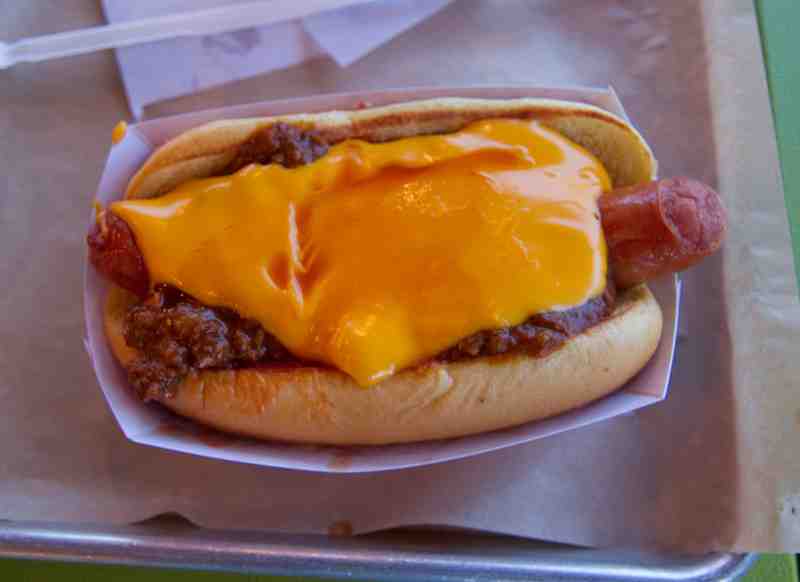 BurgerFI Texas Chili Cheese Dog
Now you look at this, and you have to laugh at the marketing hype with the "all natural dogs". This thing has a big ladle of cheese-food slobbered on it. Just how stupid are people? This hot dog is not made for eating; you need about 10 napkins for this and you really can't eat it without getting cheese-food all over your face. I had to wash up in the bathroom after eating this, and then scrub again when I got home. And like Manero's other hot dog recipes, this one is ruined by marketing. The dog includes "Rex Hot Sauce"'; obviously a marketing deal, and the hot sauce ruins what would be some pretty good chili otherwise.
My hope for a decedent shake was squashed as the Coffee Mocha shake I got was much different than my first one.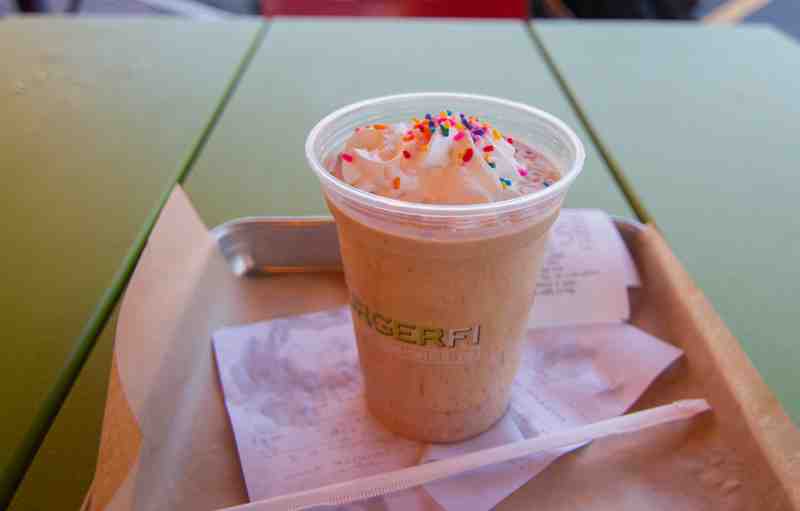 BurgerFI Coffee Mocha
This shake had no chocolate taste at all; it was like coffee ice cream; and they've replaced the cherry with multi-colored sprinkles that just don't go with the coffee shake. Chocolate sprinkles would make more sense. They've also raised the price to $4.47.
And they still only have the skinny straws, which simply cannot be used to drink the shakes. This is a place focused on marketing and not good food and a good experience.