Critic's Review
I was just about to order from At's A Pizza on Las Olas, but when I checked their price ($13.95 for a large), I remembered this place. They have large pizzas for $8.95 every day. Pete's is 4.5 miles from downtown Fort Lauderdale, and I'd gotten a pretty good pizza there a couple of years ago. So I gave Pete's a call and headed to Davie Blvd.
Neighborhoods just west of 95 tend not to be very upscale, and this area is no different. They have a couple of picnic benches out front for "eating in", but there is no inside; Pete's is more of a stand than a restaurant.
One thing that makes no sense here is that they have a menu and list the price of a large pizza at 10.95, but they have a "coupon" for $8.95 every day; and you don't need the coupon. Now a deal like that is fine, except it puts the rest of the menu out of whack. Are you going to order a medium pizza for $9.95? Or pay $5 more for an 18" pizza? The perpetual special just makes it stupid to order anything but a large pie, negating the entire menu.
When I got home and opened the pizza, I was roundly disappointed. This was a sad looking pizza.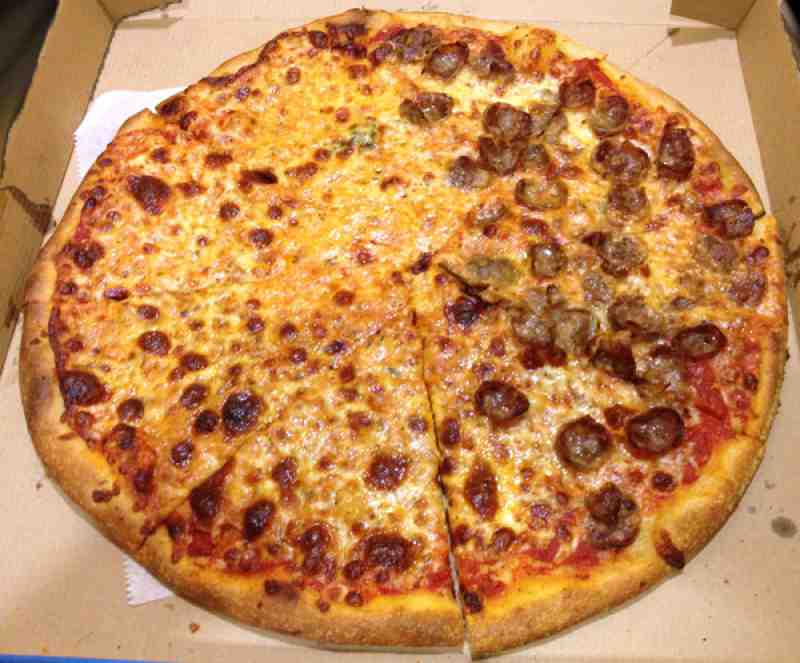 Petes a Place pizza (12/2012)
It looked nothing like the last pie I'd gotten here, the sausage was sliced differently and it had that orange glow that good pizza doesn't have. I grabbed a slice and wolfed it down, which is always how I eat my first slice. The sauce was so salty I found myself grabbing for water. So salty that it overpowered the sausage. This was as bad a pizza as I've had.
As good as the pizza I got here in Feb 2011, this was the polar opposite. While you might say that a 4.5 star pizza and a 1.5 star pie average out to 3 stars; recency overrides. You have to consider that maybe Pete's just isn't as good as it was before.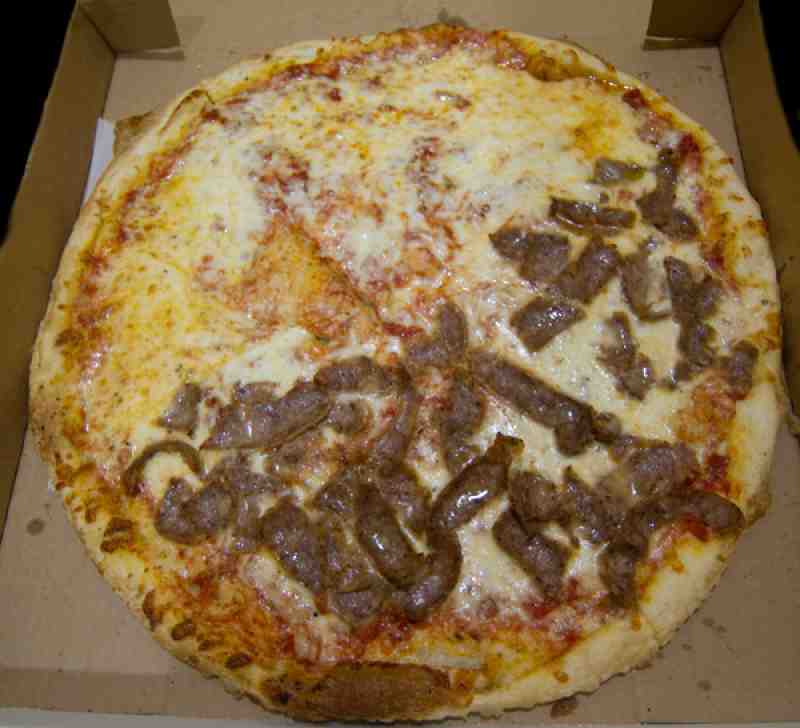 Pete's a Pizza Half Sausage with xtra Cheese (2/2011)