Critic's Review
SAIA, a clever acronym for Sunrise and A1A, is a new sushi restaurant in the B Ocean Hotel located at, you guessed it, the corner of Sunrise and A1A. Formerly a Holiday Inn, The B Ocean has gotten a facelift and it's very white; sort of like a new apartment. The restaurant entrance is at the east end of the spacious lobby.
They offer parking for $5 for the restaurants, or you can park in front of the Tattoo parlor on Sunrise Lane. I got a spot right on the corner near the driveway entrance.
It's interesting how you can read 5 reviews and still have no idea what to expect. The restaurant is a large bar that extends outside into the pool area. There are a few tables for smaller groups and a couple of really long tables. While you'll read about the "ocean view", you can only see the ocean at a handful of tables. Most of the restaurant has a view of the driveway. The picture on their website of the long table is cleverly done; that table has a wonderful view of the driveway.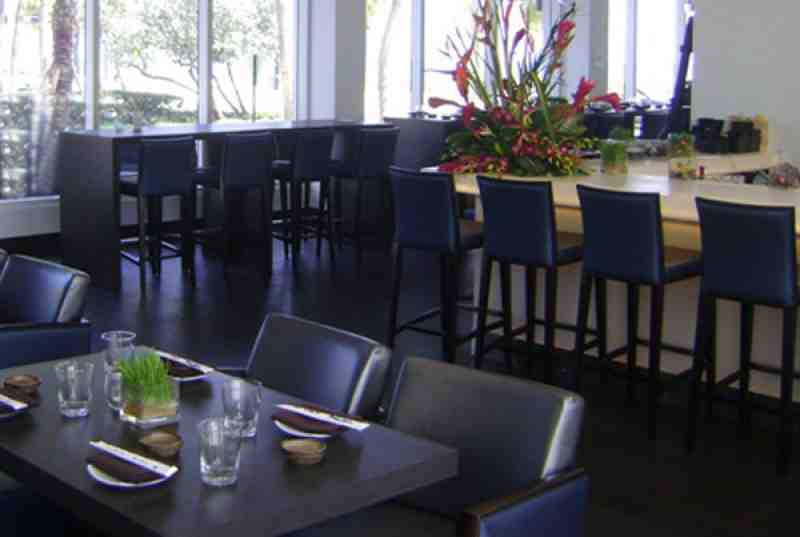 SAIA Fort Lauderdale
At 6pm the place was empty; they have no happy hour here. Just one couple was at the bar. I was given a drink menu, a one page sharing menu and a sushi/sashimi menu. The drink menu is larger than the food menu; you can get all sorts of expensive sakes and big drinks to share (as opposed to the massive margaritas you can get down the street). It was just snack time for me, so I ordered a beer and the Tangy Fish, just to get an idea of the quality of the fish here. The staff is still learning the menu, so my server had to check the menu to understand what I ordered.
I settled in with the beer and looked around. The bar is a bit cluttered; it's an open space behind the bar and they don't do much cooking here. The place doesn't really feel like a restaurant. It's quite a bit smaller than I expected. The fact that it's also the pool bar didn't help.
The food came out in short order, and they definitely know something about presentation.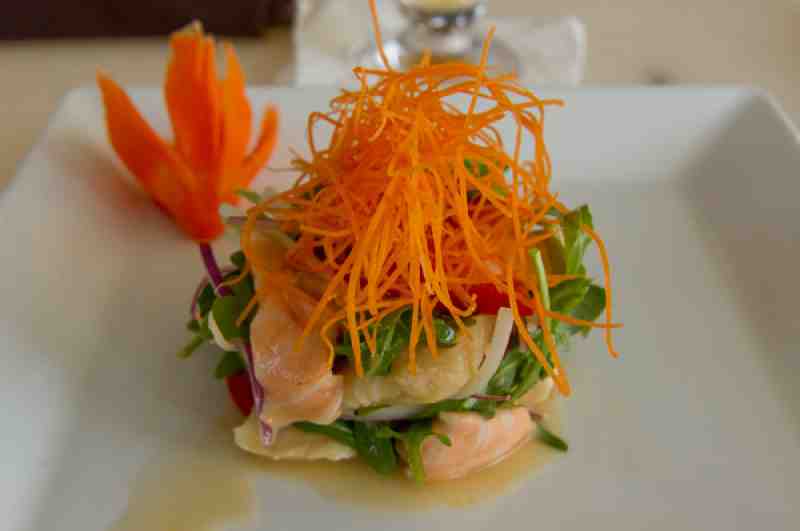 SAIA Tangy Fish
I can't say anything was great about this dish. The fish was unremarkable at best and it wasn't really very "tangy'. No explosive flavors. I'm not sure why they call this a "share" plate. It's pretty small. I suppose 2 people could pick at it.
The sushi and sashimi here is crazy expensive; about 2.5 times the prices at Asia Bay; a place that most people don't think is exactly cheap. A "chef's choice" of 12 pieces of sashimi will run you $40. Maguro $7 a piece.
To me, this place has the same problem as Tokyo Blue; yet-another high end restaurant in a mid-range hotel. The kind of people who stay at a hotel like this are more likely to be dining at Cafe Bluefish than SAIA; they don't want to spend more on dinner than their room. The neighborhood itself is seedy and isn't conducive to high end dining; they're not going to get any overflow from McSorley's or the Parrot Lounge here. In the Summer, when the hotel has to practically give away rooms to get anyone to come here; they're not going to get the kind of people staying here that want to pay $7 for a piece of tuna.
So what we here here is a high end restaurant in a medium end hotel in a corner of town where BMWs rarely travel. It's a tough sell, if you ask me.