Critic's Review
Sometimes your biggest enemy is your expectations. Months ago I scoped out Thai Spice's menu and I'd been drooling over the thought of their flame broiled prime skirt steak ever since. How could it possibly live up to my fantasies? Every time I planned to go there something came up; most recently the construction on E Commercial just west of the place. But today I made it there.
When I arrived there was no hostess; nor anyone else around. A gentleman finally came by and seated me in a corner table by a fish tank. You might think that's something special; but there are a LOT of fishtanks.
I'm usually a bit creeped out by asian restaurants and this was no different; it just seemed so 1980. With mirrored walls, glass on the table (with advertisements tucked underneath), fish tanks and blue pendant lighting it was about as different from the Brickhouse (where I lunched yesterday) as could be.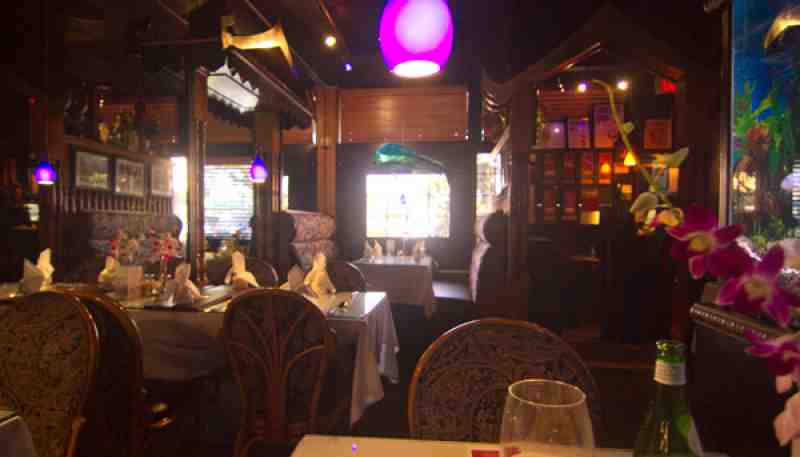 Thai Spice Interior
There's also music playing a bit too loud, which would be ok if it wasn't what is was. I was treated to 'Golden Days', 'Streets Ahead', 'Ready to Play' with 'Soul Food to Go' as a finale.
Unlike the hostess, my server Rey was the consummate professional. Everything came quickly, he didn't bug me, and he passed by often enough to make sure that I had everything I needed. I didn't have to ask for anything.
nextpage-->
The lunch specials include rice and either soup of the day or a salad with ginger dressing; the Thai salad isn't my thing so I opted for the chicken with rice soup (Kao Tom Gai). It had a load of rice in it, which I didn't want, not too much chicken, but the broth was good with just enough lime to keep my interest. I extracted the broth leaving a mound of rice in the bowl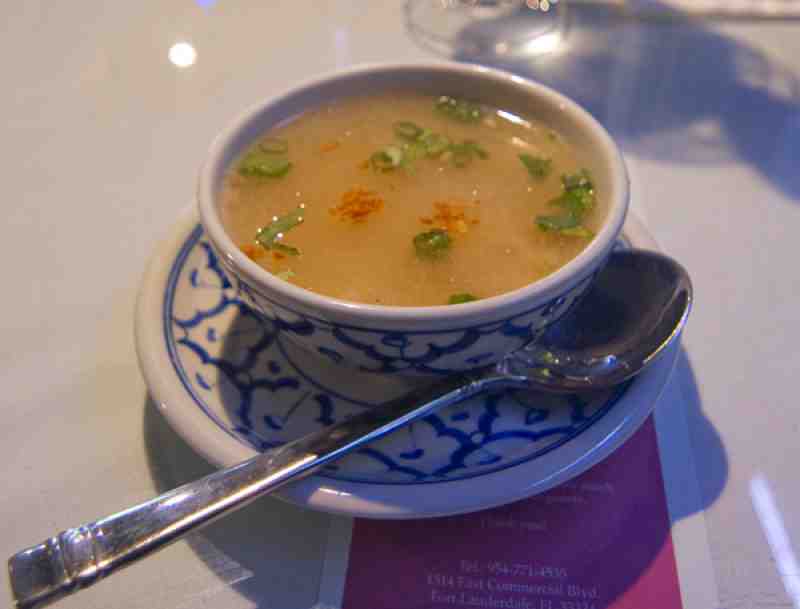 Thai Spice Kao Tom Gai (chicken/rice) Soup
I wasn't really interested in the soup anyway; the steak was the point of the visit. Shortly after I finished the soup it was delivered. My server had delivered a steak knife shortly before.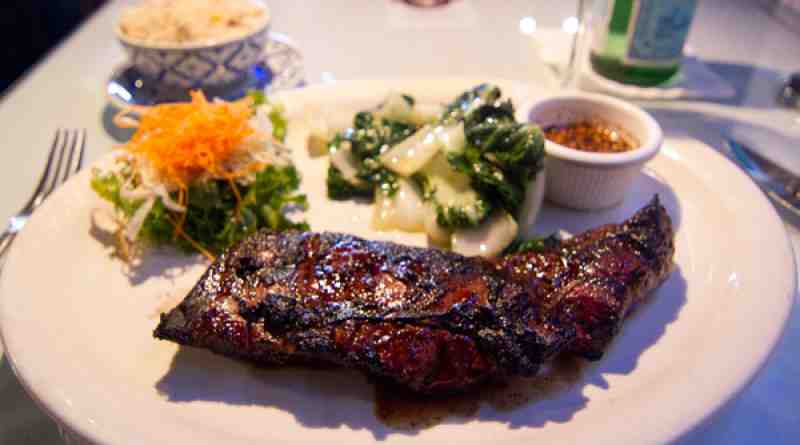 Thai Spice Skirt Steak Lunch with Bok Choy
The steak is a flame broiled prime black angus; a nice thick cut for a skirt, and absolutely perfectly medium rare. It has a slight hint of soy/garlic. I'm not sure if I've ever had a prime skirt before; skirts are pretty fatty without being prime. This steak was delicious. Skirts are usually expectedly a bit tough, but not this one. The bok choy, stir fried with garlic was a wondrous accompaniment; the kitchen folk at Big City should come here and learn how not to ruin this delicate vegetable.
I had opted for the egg fried rice, but after 2 tastes I concluded that it wasn't worth the calories. I'm not sure if I was supposed to eat the other leafy stuff on my plate, so I didn't. The steak and the bok choy was plenty for my meal. No take home today. I ate it all.
What's unique about Thai Spice is that it's a Thai Steakhouse, so if you're not into the usual curries and pad thai you can get yourself a flame broiled porterhouse here. Their dinner menu is quite extensive. And even with my comments about the ambience, it's a lot better than most other Thai places in Fort Lauderdale.