Critic's Review
If you've ever been to Charm City Burgers you know something about the owners of El Jefe Luchador, a new Mexican "street food" place that serves "authentic" mexican fare. I haven't been to Mexico since it became a war zone, but I remember that some of the best food I had down there was from some little taco stand; of course in Cancun the taco stands are in the food court of a mall, but it's the same concept. Here in South Florida, most places that serve mexican street food do it from a food truck. Charm City makes some awfully good burgers; I was curious to see what they came up with.
El Jefe Luchador translates to some sort of Chief Wrestler; apparently the wrestlers wear masks in Mexico, and there are masks used as decorations throughout the venue. None of it has anything to do with the food; it's an odd marketing angle that won't likely be understood by anyone but the people who thought it up.
Inside, the place has touches of a Mexican restaurant, but somehow it just feels like a fast food place. The front counter, the big plastic menu over the counter, the bench along the wall seating, the plastic trays; there is a chandelier and metal-look ceiling tiles, and some sort of caribbean music playing. It certainly doesn't remind me of anything in Mexico; maybe the mall in Cancun.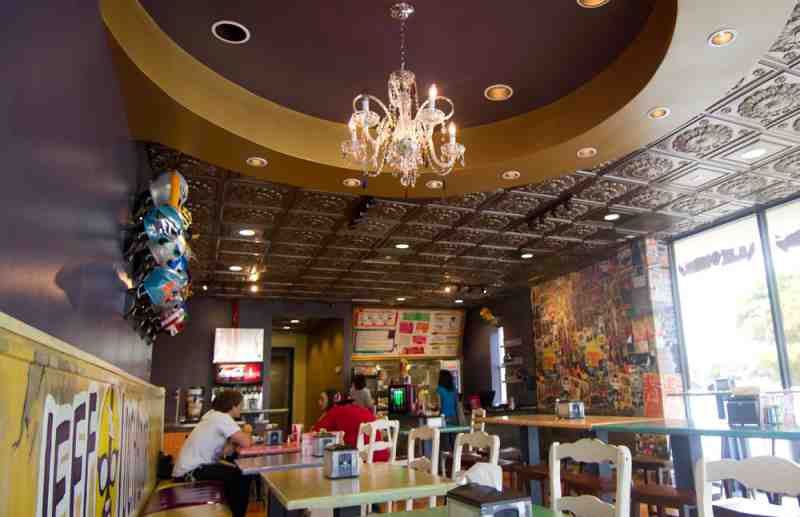 The menu has a lot of unique items, and if you're not up on your mexican fare lingo you might find yourself lost. There's been a lot of buzz about the Al Pastor, which is slow roasted pork that is cut from a "spit"; similar to Gyro meat. I'm not a big fan of pineapple in my tacos so I passed on that; I ordered 2 of their specialty items; an Ultimo Dragon, which is a carnitas taco with hoisen salsa and kimshee slaw. I'm also a big chorizo fan, so I ordered the Dos Locos Gringos Torta, which includes "house made" chorizo, carnitas, Queso Fonduta, Guacamole, refried beans and lettuce. I also ordered a water and a small guacamole; I wanted to try the guac; the cashier set up some sort of combo with chips; frankly I'm not sure if it cost me more or less. Like Charm City Burgers, you pay for your food and they give you a number and wait.
It took quite a while; longer than I expected. I had time to go to the bathroom and read 2 newspaper articles on my phone before it was ready. There's no service here; they put your tray on the counter and you come from your table and get it. They have a modest salsa "bar", which only had green salsa, red salsa and limes.
The total for all of this was just over $14. A lot of food, but not really cheap either.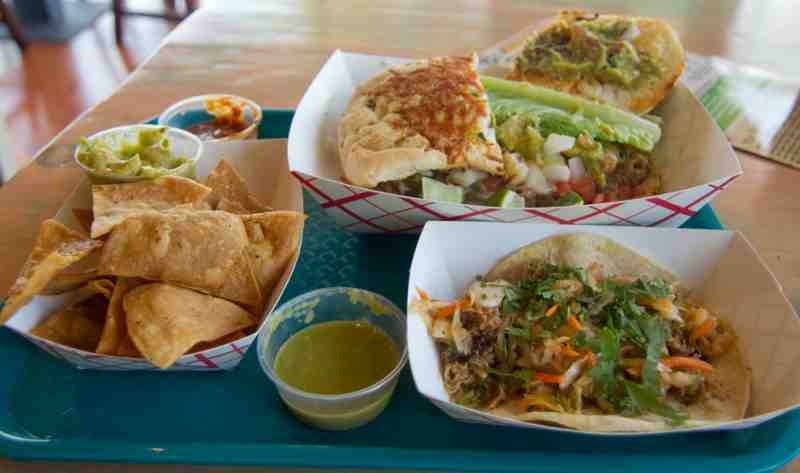 The thimble full of Guacamole is $2 and the chips are $1.50 which seems like a lot for what most people give for free; I didn't like the chips. They're supposed to be "just made", but they weren't warm and they were too thick and unseasoned. Salty or chili dusted chips pair well with guac; these were just hard to chew. The Ultimo Dragon was ok, but there were no flavors that really jumped out at me. The taco was very chewy; too chewy for my taste. This is the polar opposite of the "other" street food tacos I'd gotten from nacho bizness that fell apart; I like them in between, like the tacos I got at Alegria and Dona Raquel. I had 2 separate impressions of the Dos Loco Gringos Torta; it's split into 2 pieces and the right side had lettuce with no cheese or jalapenos. I ate that first and thought I had yet-another bland menu item. But the other half, which had no lettuce but was loaded with Jalapenos and cheese, was really good. Finally some flavor! I can't imagine that it was supposed to be made so lopsided. The chorizo wasn't particularly spicy or garlicky which was disappointing.
I remember the first time I went to a real Mexican Taco stand and I was amazed at how good it was. Flavors just jumped out at me. Every bite was a burst of pleasure. This experience was nothing like that. It's pretty good food; certainly different than you can get elsewhere; but it's not an experience that's worth the trip from Fort Lauderdale.