Critic's Review
First we had Rocco's Tacos, and now in a little shack in Lauderdale by the Sea we have JoJo's Tacos What are the chances?
For a shack, JoJo's is a pretty nice place. There are a handful of free parking spots and a few street metered ones nearby. They did a nice job decorating the place, however during the daylight hours the sun beats in and much of the lighting ambiance is lost. There's a big TV in the corner that's not on. JoJo works in an open kitchen behind the counter.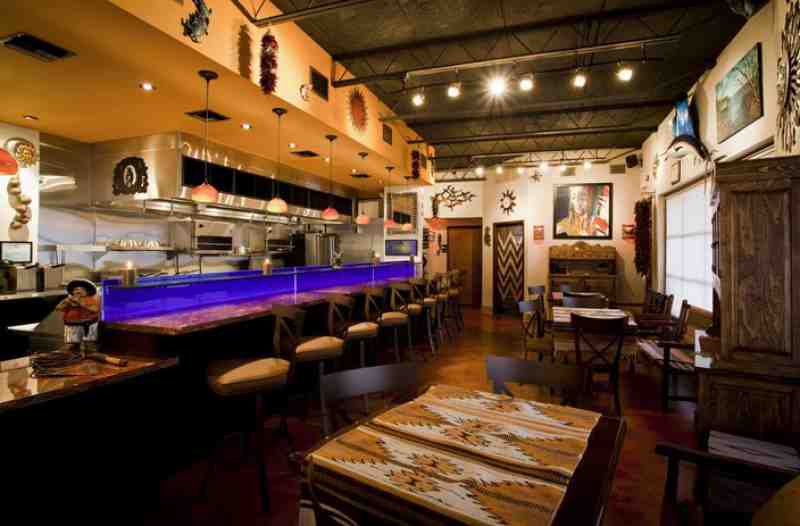 Jojo's Tacos Inside - Photo Courtesy of Woodbury Associates
JoJo's is one of those semi service establishments. You order at the register, tell them where you're going to sit, fetch your own drink and silverware, and then take a seat. It's a bit awkward, because you pay in advance and it's not clear if they expect a tip or not. You can't tip in advance; what if they mess up your order or drop your tacos in your lap?
The counter chairs are pretty big and heavy and seating is a bit tight. The place was empty at 5:30, but if the seats were occupied it would have been uncomfortable. There are a couple of small tables and bench seats that offer a bit more elbow room. Just after I sat down some chips and salsa were brought over; they were pretty good but there wasn't nearly enough salsa for the number of chips they give you.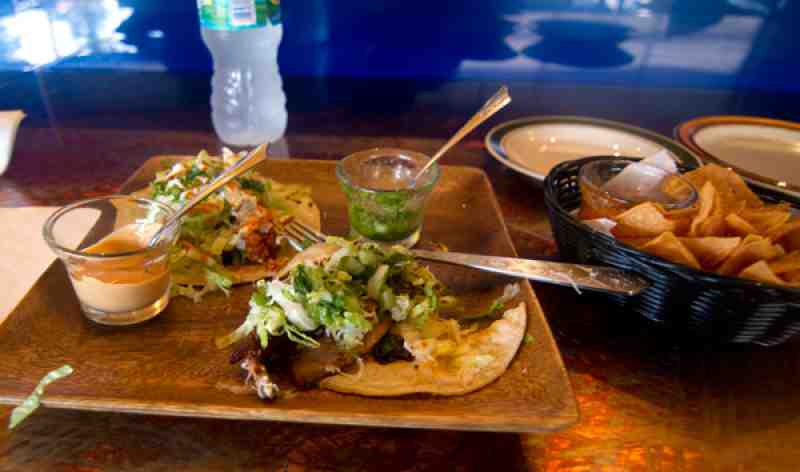 They bring over the tacos on a wooden tray along with the sauces that you chose. The tacos are placed right on the bare wood, which I'm not particularly cool with. I'd like to trust them to completely sanitize the trays, but I know enough about the restaurant business to know that dishwashers aren't always 100% compliant with the rules.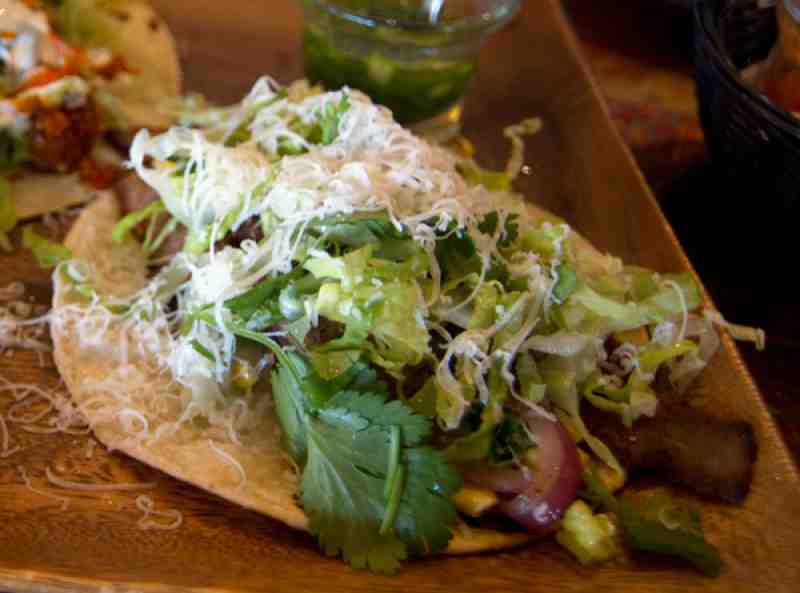 JoJo's Arranchera (flank steak) Taco
First I tackled the Arranchera taco, which is flank steak, corn, onions, romaine lettuce and manchego cheese and parsley. The Churi sauce, a chimichurri, was recommended and that's what I got. I sampled the Churi; it was a chunky version with rough cuts of garlic and parsley. While it was good, chimichurri works better when you make it in a food processor. The single, thin taco shell fell apart on the first bite, and by the time I was half done it ceased to be a taco and I had to eat it with a fork. From a taste standpoint it was pretty good, but it's not a taco experience when you have to eat it with a fork.
My second choice was sort of a buffalo shrimp variant, with 'flash fried" rock shrimp, celery, blue cheese and "new mexican" buffalo sauce. It comes with the crema azul sauce, which they call blue cheese sour cream. I tasted the sauce first, and frankly it tasted more like russian dressing than blue cheese. I'd ordered this as a default after rejecting the other choices; I'm usually not a fan of buffalo shrimp. Chicken just works better for me. This taco also fell apart and was difficult to eat. It was OK but I think you could have put just about any buffalo shrimp recipe on a taco and gotten a result pretty close.
While I was eating JoJo was chatting with another customer and he seemed to have some odd ideas about running a new business. He complained about people asking why he opened at 3pm, which is a pretty strange time to open. His reasons weren't very business savvy; something about wanting to have a life, and not wanting to work for 11 or 12 hours. All I could think of is that for me, tacos are much more a lunch food than a dinner food, so it makes sense to be open for lunch. You can't bring a date to this place, or a family. And you're in and out in 15 minutes. It just doesn't seem like a dinner place to me.
Now my 2 tacos and a bottle of water was $13.52, which just seems like a lot for a relatively small amount of food. While the tacos were unusual, I had trouble finding something on the menu that sounded like something I wanted to try, and the exploding tacos didn't result in a satisfying experience. There are "no substitutions"; so you're stuck with JoJo's recipes.
The best tacos I ever had I got at a little taco stand in Cancun, away from the malls and hotels, where a little man chopped up some chicken and grilled it with a bunch of chilies and spices and it was just crazy good. This just didn't rise to that standard.
JoJo hasn't changed his menu, prices or hours since he first opened; he must be a genius; he got everything exactly right on the first try.