Critic's Review
Max's Grille is one of the most popular restaurants in Mizner Park. It has an upscale atmosphere, indoor and outdoor bars and life music. It's a younger crowd; and the prices are moderate as fancy schmancy restaurants at big malls go. Inside there's a TV but this isn't the best place to come to watch a game.
As of 9/2012, they've remodeled the interior and now have a big open kitchen and a new bar.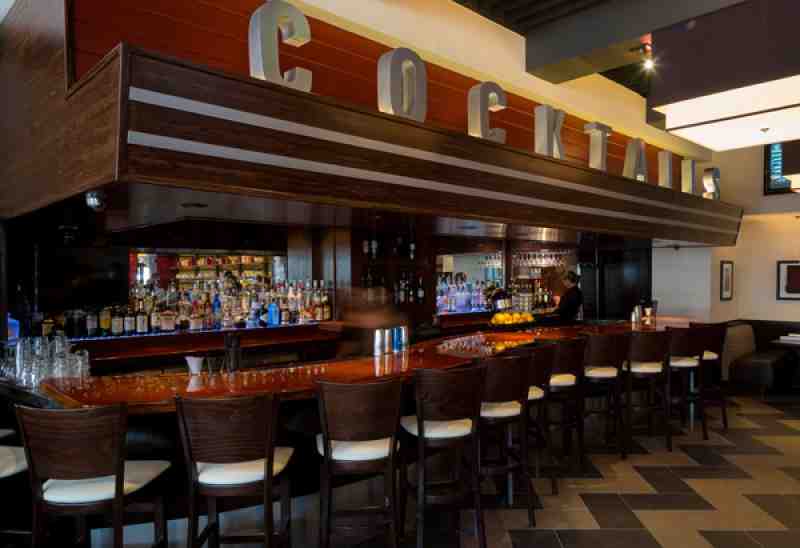 Max's Grille Bar
Max's Grille used to be all over South Florida, but now only the Boca location remains. It's one of those places that just works in this location; it's not great food or a great menu; it just fits into the Mizner Park concept. Their menu has "tapas" or small plates, and a good selection of entrees ranging in price from the low to high 20s. A veal chop milanese is $28.
On warm evenings you can sit outside or hang out at the bar and listen to live music.
Recently they've begun to offer breakfast and I thought I'd check it out. I arranged a business meeting, and at 10:15 we had the place to ourselves. Apparently it hasn't caught on yet.
The menu is a bit different, but you won't be getting sausage here. Bacon is the meat of choice for the standard breakfast. Since Max's likely had a better cook than the local diner, I decided to try the corned beef hash. My dining partner ordered a bacon and cheese omelet with home fries.
Max's Grill Corned Beef Hash
The hash was very good; a bit chunkier than others I've had with good, lean corned beef. The eggs were topped with a garlic cheese sauce with was very mild; it really didn't add much to the dish, nor did it have a negative effect. It was a good portion and I ended up taking enough home for another breakfast.
The bacon and cheese omelet was large and well browned but lacked taste; the home fries are served with caramelized onions.
Unlike breakfast, you can expect to wait for a table at Max's, particularly on weekends.