Critic's Review
Table 42 is another Karen Hanlon designed venue by Gary Rack, who also owns Rack's Downtown in Mizner Plaza. This place is the former home of Coal Mine Pizza, with the coal burning oven remaining.
It was a beautiful day so we opted to eat outside; perhaps a mistake as the couches don't have real tables. The wicker side table wobbled on the brick patio. We'd have to be careful when cutting things to avoid knocking things over.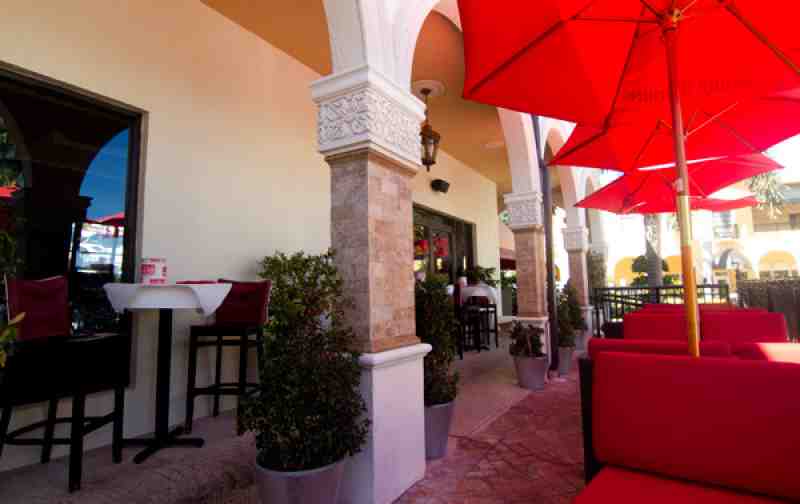 Table 42 Outdoor Dining Area
We'd sat there for a few minutes before someone came over to offer us a menu. I'd been over the menu beforehand; I definitely wanted to try the pizza. My lunchmate ordered the Hanger Steak Panini and we agreed to split the sandwich and both have some pizza. I also ordered the baked clams, which came out first.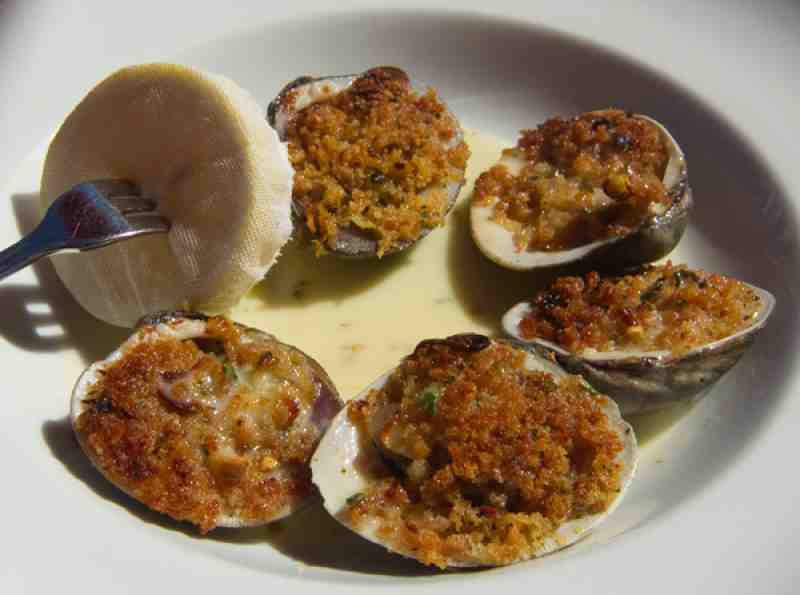 Table 42 Baked Clams
I don't know, but 5 Little Nick Clams for $9 seems like a lot. The clams were good, but there was a lot of breading and a lemon garlic sauce. They were pretty lemony without any lemon juice. Nothing groundbreaking here. They could have given us 6.
The rest came out together a few minutes later.
nextpage-->
The pizza, (A) on the menu, includes meatballs, sausage, red onions and ricotta. It also has a lot of shaved parmesan. It's unfortunate that they only have large pies. It's an oblong pie and they cut it in a way that the corner sliced are very large. The pizza overall is good; not the best sausage but good sauce. The issue is the crust; it just doesn't seem like a coal oven pizza. The crust isn't "well-done". It's way too soggy. It just flops when you pick up a slice. They also put some sort of waxed paper under the pizza which doesn't help; the point of serving pizza on a wooden peel is to absorb the moisture; they seem more concerned with preserving the wood than serving good pizza.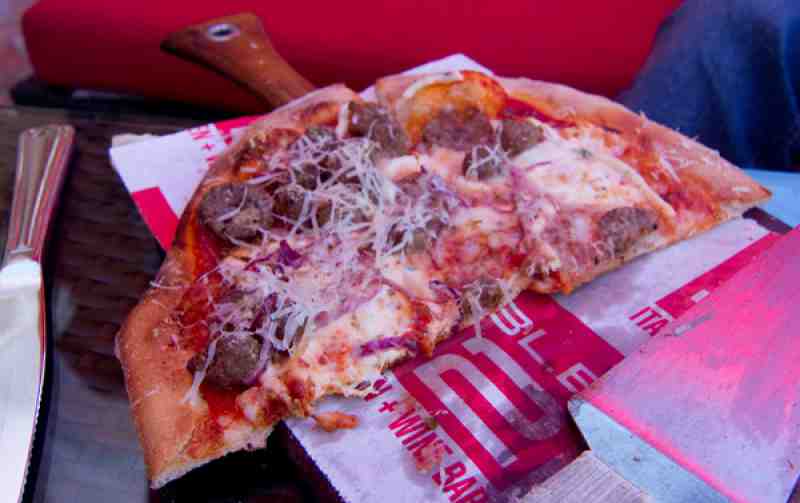 Paper underneath Pizza
The hanger steak panini is served with either a caesar or regular salad. This is not your pressed panini on flat ciabata. It's more like a regular sandwich.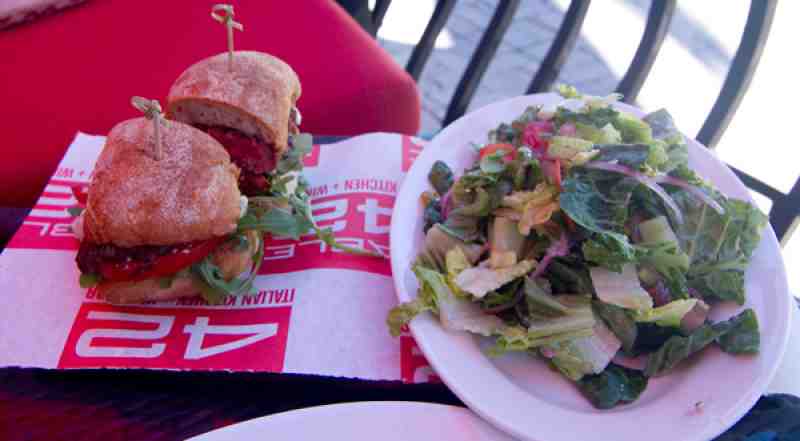 Hanger Steak Panini
The meat was quite rare. In fact I was surprised that they served it so rare. We both like rare meat so no big deal. It's a pretty meager piece of meat; barely two bites if you removed it from the sandwidth. Its made with argula, tomato and gargonzola cheese. Frankly I would have rather had it on a plate with some green beans. Hanger steak is a bit tough to eat in a sandwich; the reason you slice it across the grain is to loosen the tough fibers.
The bill came to over $50; we both had Peligrinos which were $5. each. I didn't really have anything that I couldn't get somewhere else. The ambience of the restaurant is nice. But it's a pricey lunch.
A bit of a discussion broke out when my lunchmate accused me of not understanding that the name of the restaurant was really Table For Two and not Table 42. We asked our server and he confirmed that it's Table Forty Two; and that there was no particular reason for the name. I paid the bill so I guess she won anyway.