Critic's Review
Sometimes you just have a bad day. Sometimes you cheat the wrong person. In both cases, yesterday was a bad day for Boca's Best Pizza Bar.jump-->
I'm not sure why I decided to get a pizza from this place. I was going to be in the area and I guess I was just lazy. I'd read some reviews; none too good, but none too bad either.
This place used to be a Big Louie's, who serves up some of the worst pizza in South Florida. One reason is that they don't have real pizza ovens, and they can't make a decent crust and the cheese doesn't cook right. These guys seem to be using the same oven. Worst of all the kitchen is open, so you can see them fiddling with this ridiculous looking thing, and you have to watch in horror as your pie comes out looking like a piece of junk.
The first thing I noticed was that the place looks nothing like I envisioned it. Always beware when there are no pictures of the dining room. I pictured a bar, where you could sit and watch a game and have a beer while waiting. But it's just a pizza counter. They have a counter, facing a wall, where you could eat. And a separate dining room. Calling it a bar is deceptive.
I called from Souvlavi Fast, which is pretty close by. I got here in 12 minutes, and the pizza was in the box when I got there. It seemed awful fast. They weren't very busy, but still. The girl behind the counter couldn't figure out how to change the paper in the register, so I had to wait while she figured it out. Finally they produced some crinkled paper and I signed and left. I looked at the pie real quick and I just cringed and closed the box. I knew it wasn't going to be a glorious night.
When I got home I took a closer look and I really got angry. Now I'm on like my 480th review, so it takes a lot to get me angry. There's a lot of bad food in South Florida. But this was different. This was personal.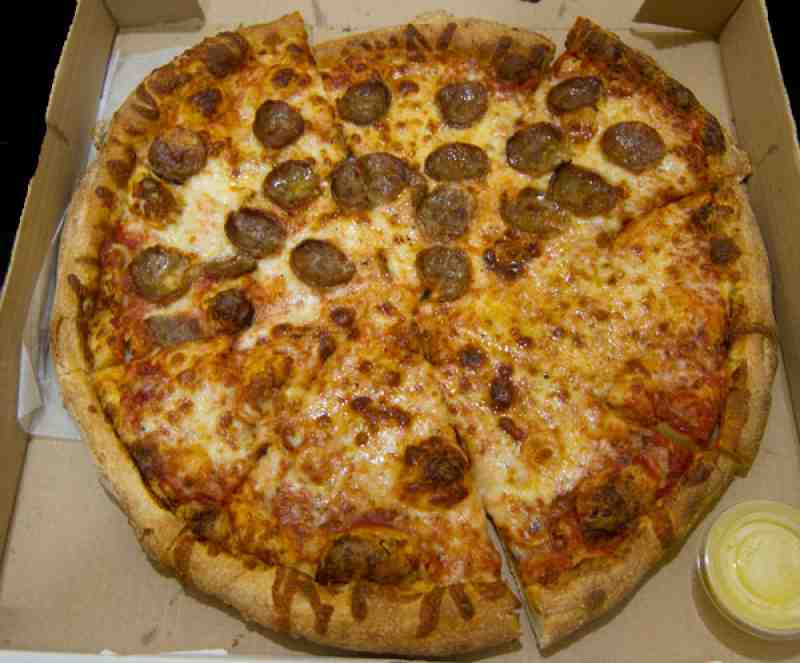 Bocas Best Pizza - Not a real pizza
At first glance I thought the pie looked a big wonky. But it was worse than that. The slices didn't fit together. This wasn't a pizza. They didn't even make me a fresh pizza. I can't exactly figure out what they did, but this is not just an optical illusion. The slices do not fit together correctly. This is the first time in many 100s of pizzas that I've had in my lifetime that I've gotten something like this. They also gave me a container with some yellow liquid. I have no idea what that is. Butter sauce? Who knows.
The reason I order whole pizzas is because I want a fresh pie; I'm not going to eat the entire pie. If I wanted slices I would order slices. But slices may be from some old pie that's been sitting around half a day. I feel like thats what I got here; some 2/3 leftover pie that they just slapped a couple of slices to make a pizza.
From a business standpoint, there are 2 reasons that you should throw out your mistakes and why you shouldn't cheat random people that you don't know. One, is that any customer can be a new regular, and regulars are how you make your money. The other is that the person might be a food critic, and instead of getting good publicity it can seriously damage your business. I'm usually concerned about the effect a bad review has on someone's business; but not here. These people deserve what they get. There is no excuse for this.
The taste of the ingredients would have been ok if it weren't for the crust, which was like biting into a moccasin. In fact, the crust looked a bit like a moccasin; or like an omelet that you forget about and leave it in the non-stick frying pan for way too long.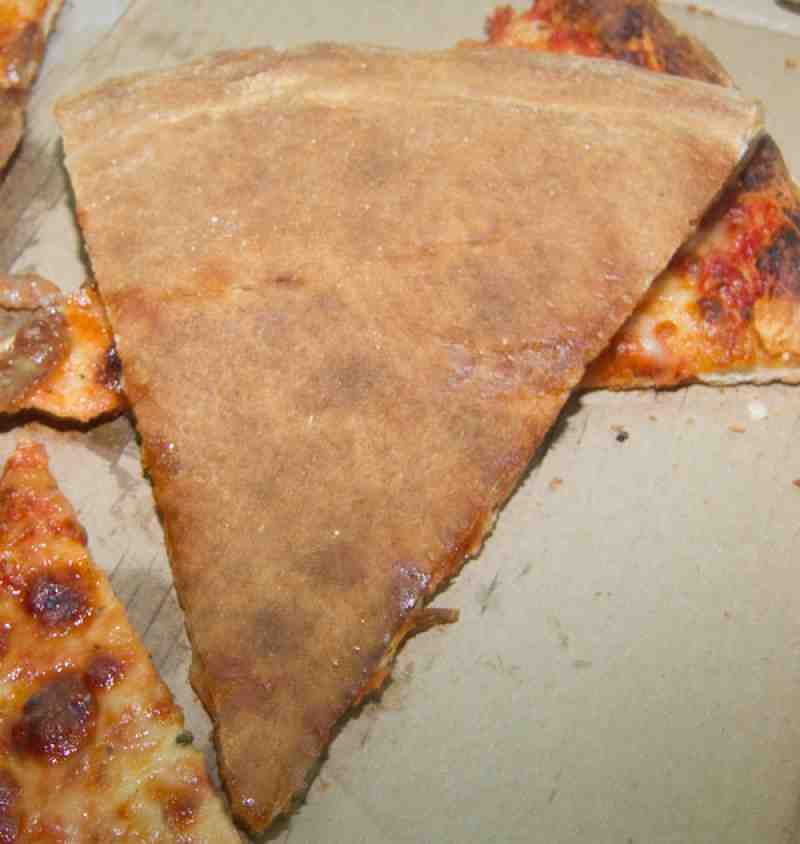 Bocas Best Pizza Crust
It's disappointing when you get a bad pizza, and it's even worse when you're not sure that you got what you ordered. This was more than just a disappointment.