Critic's Review
This place has built its business on the tall tale that NY water is what makes the food superior there. Of course those of us from NY know that there are lots of bad bagel and pizza places in NY also. So the water alone doesn't make a great or even good product.
Bagels can be particularly affected by water as the dough is first boiled; so the water can have a significant impact on the flavor and texture of the bagel.
I went into the Original Brooklyn Water Bagel Company with curiosity and doubt. But I was expecting a good bagel. I just wondered if it was really so much better than others more conveniently located. I ordered a sesame bagel with cream cheese. The girl behind the bar asked if I wanted it toasted; I said that I did.
Inside, the place looks much like a large NY deli, with maroon vinyl booths throughout the place.
Brooklyn Water Bagel Co Delray Interior
The bagels are very large; larger bagels tend to have less taste than smaller ones, but its pretty much standard nowadays. I took a bite; what was strange was that the dough didn't seem toasted. It was soft and not browned. Its like they toasted the bagel without cutting it or something.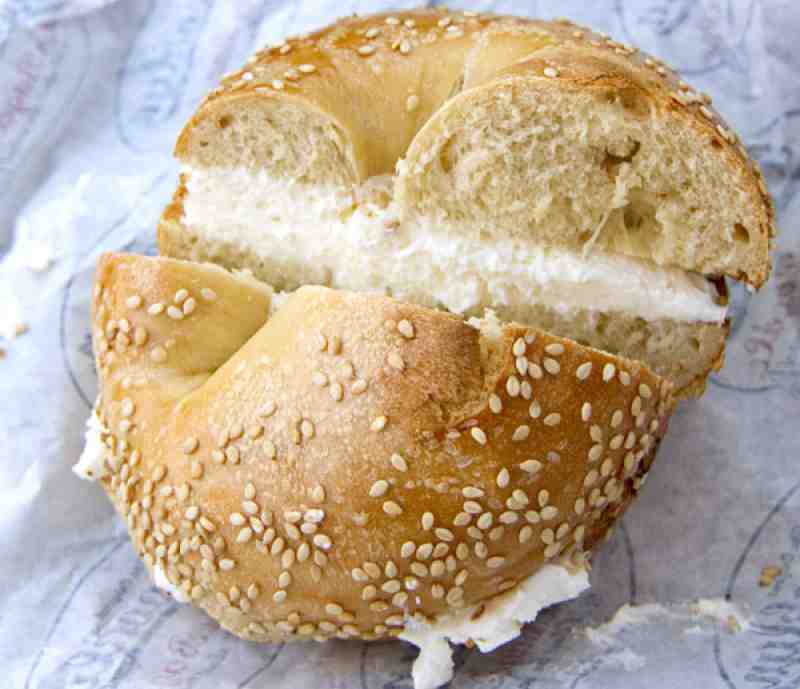 Brooklyn Water Bagels Toastes Sesame with Cream Cheese
Technically, you could argue that the bagel was just the way a bagel should be. The crust was very chewy. And I mean VERY. The dough was very soft. But to me, it lacked taste, and the crust was too chewy; almost a chore to chew. Considering that most of the people in this place were quite old; I wonder how well the chewy bagels went with the denture-wearing crowd. The cream cheese was whipped and not as good as the Philadelphia Brand that I'm used to.
Maybe I'm just used to Thomas' bagels with my Philly cream cheese. I think they have more taste than this. Toasting bagels gives the doughy interior a nicer taste; and I'm not sure how they toasted this bagel. I don't want my jaw to hurt after eating a big bagel. So I can't say I'll be getting one here anytime soon.