Critic's Review
Growing up on Long Island, I never thought about going to New Haven for a Pizza. While you can see New Haven from across Long Island Sound from certain spots on the Northern coast; it's 100 miles which is just too far for take out.
What's a bit baffling is why someone would open a "New Haven Style" pizza restaurant in Boca Raton, where people are more likely to be from Long Island than Florida much less New Haven. It's being marketed as some sort of a better thing, as if Boise pizza or Tucson pizza is something that should be embraced here in South Florida. To me, it doesn't mean a thing.
Nick's new 4,600 pizza restaurant is a lot nicer than your standard pizzeria; there's an indoor/outdoor bar (think YOLO), an open kitchen with 2 coal-fired ovens and nice booths throughout. They call it a "bar and lounge", but there's not much of a lounge. It's really just a restaurant with a bar. The ceiling is pretty cool; it's decorated with nostalgic newspaper ads.
You can tell that the place was designed by Karen Hanlon by the placement of the TVs; actually watching the TVs just doesn't seem to be a design consideration for her. You can't see the TVs at the bar unless you're sitting down and you're under 5'10"; and if you're in "the lounge" or standing at the bar you won't be watching the game.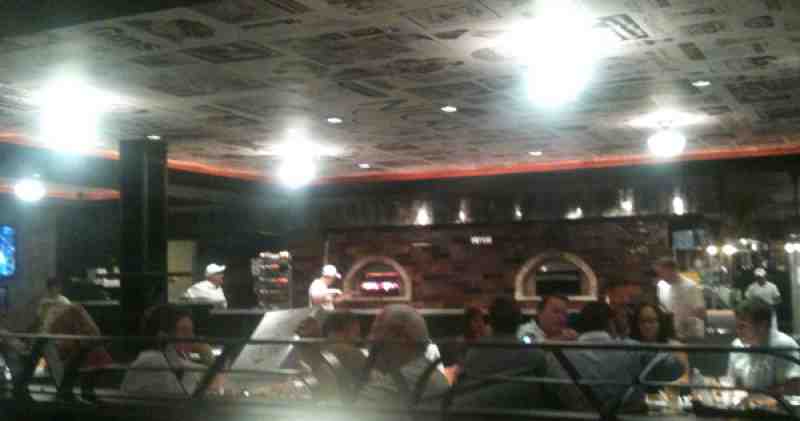 Following so many other restauranteurs, Nick spent a bundle on decor but didn't put up a web site or his hours or a menu on his facebook page. It's always amazing to me how such simple, basic things are overlooked; like people still think its 1995 or something.
I was ordering a take-out pie, so I had to order without knowing any of the options or the prices. The first annoyance came when they asked for a last name; like people are going to give them their real last name over the phone? They told me it would be ready in 30 minutes, which is about how long it would take me get there. It's always a bit baffling to me why coal-fired pizza always take longer to get (most places quote 15-20 minutes for a pizza), even though the pizzas cook in just a few minutes in the hotter ovens. I ordered my usual; a half-sausage pizza.
I got there 31 minutes later, and apparently I was the only one to order take out, because they didn't need to ask me for any info. They don't have a takeout counter; you have to pay at the bar and then wait for them to bring out the pizza. It seems they didn't bother to make the pizza when I ordered it, as I saw them make it and cook it while I waited for 15 minutes. The restaurant was less than half full, and although they have 2 ovens, only 1 was fired up. Tucci's only has 1 oven which explains the delays there, but the delay here was self-inflicted.
So I had to pay for the pizza before they even started to make it for me. The bill was $20.14, which is more than I've ever paid for a pizza in my entire life. 18" pizzas are still about $14 on Long Island, so I'm really thinking that paying more for inferior food isn't working for me. While I was waiting, I got a menu and checked out the pricing. The trick is in the concept behind "New Haven" pizza; a basic pizza doesn't include mozzarella cheese; So for $14 you get a pizza crust with some grated Romano. It's another $2.50 for mozzarella. So the price here is $1 more than the landmark New Haven Pizza restaurant; Pepe's in New Haven. They charged me $19 for the pizza, so I guess that they don't do 1/2 toppings at Nick's; the price of a full-topping pizza here is $19.
46 minutes after placing the order, I was out the door.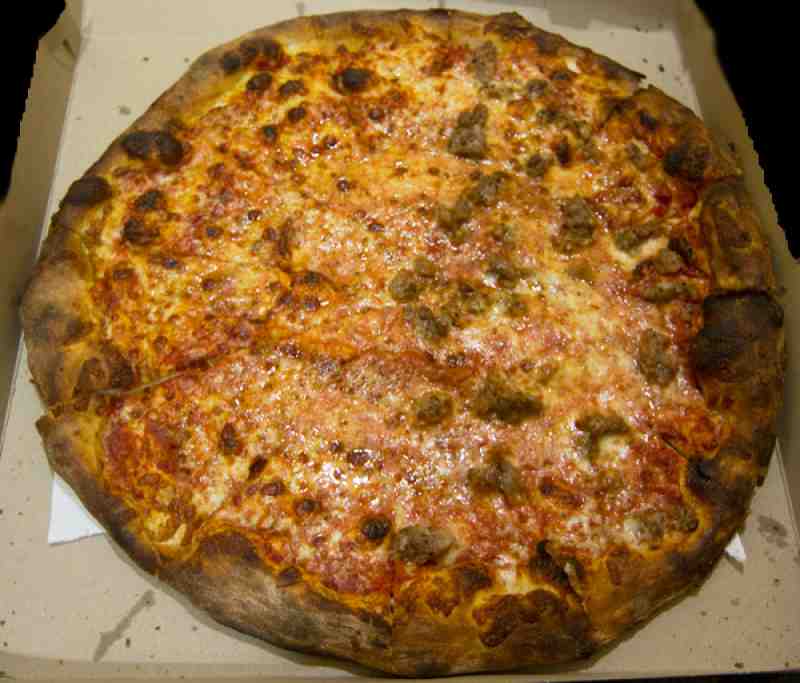 Nick's New Haven 1/2 Sausage Pizza
They need to get some better boxes; the ones they have aren't sturdy enough for an 18" pizza. Now usually when places don't "do" half toppings, they give you the same amount as a whole topping on 1/2 of the pizza. As you can see here, an argument could be made that they didn't even give me enough for a 1/2 topping. I don't see why sausage should cost more on a "New Haven" pizza than on any other pizza; so I was charged $3 for a small amount of sausage that I'd pay $1 or $1.50 for anywhere else.
They also cut the pizza into 12 slices, which I don't like. You can't properly fold 1/12th of a pizza. Frankly, there's no reason to get an 18" pie if it's not cut into 8 slices; the 18", 1/8th slice is the perfect size for a slice.
The crust on the pizza was done just right and was the best part of the pizza. The crust was very thin. The sauce wasn't all that tasty; but this was a pretty good pizza. A plus pie; but not worth $20.
It's a new restaurant so I'd like to cut them some slack on service issues, but there's no excuse for not even starting to make the only take out order of the evening for 30 minutes; nor is it ok to charge for a full item and then barely give an amount suitable for a half topping. While East Boca is well-known for really bad service; I'm not particularly used to it.
This place is too expensive for takeout; you can get as good a pizza at any number of places for a few dollars less; here in Fort Lauderdale Luigi's is priced more fairly and it's at least as good. This is a pretty nice restaurant for eating in. I never eat pizza in a restaurant; I'd consider coming back to try something else.