Critic's Review
Red, The Steakhouse opened their second South Florida location in the Wyndham Hotel. It's located on an annoyingly difficult to get to strip of Military Trail, in the former location of Bova Cucina, one of the restaurants that went down in the Rothstein ponzi scandal. What's annoying about it is that Military Trail runs under Glades just west of Route 95, and there's no direct way to get here. So you have to circle around or drive through Executive Center.
Their sister restaurant, Rosso Italia, shares the parking lot and for some reason they have 2 valet stations, even though the restaurants are about 50 feet apart and the lot is fairly small. jump-->Luckily they allow self parking, at least on a Monday, so you don't have to valet to save yourself walking 20 yards.
Outside there is a big temporary air conditioner that will knock out your eardrums as you enter, but the noise doesn't permeate into the restaurant. Inside there's a somewhat awkward lobby that's largely empty save a black couch in a corner, and a hostess stand at the end of the room. The walls are painted Red; they're rough in the lobby and covered with glass and highlighted with accent lighting in the dining room; the walls are lined with black leather booths.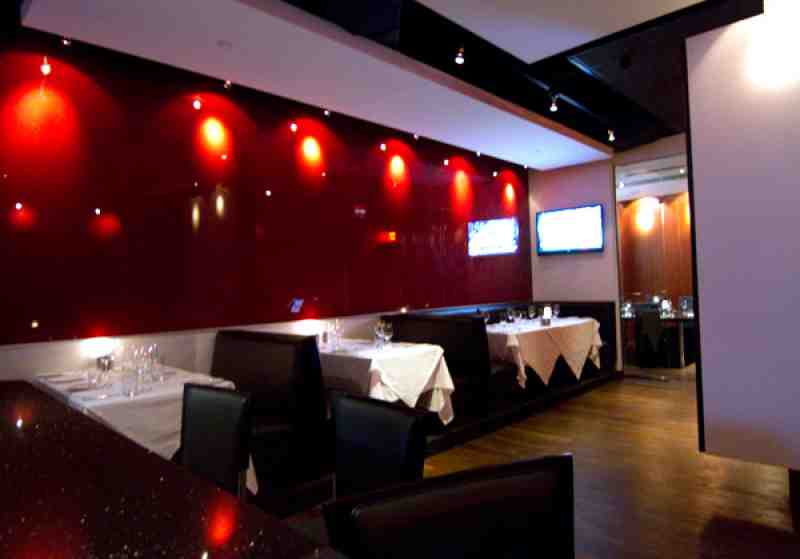 Red the Steakhouse interior
The bar area is tucked in a corner around a bend; it's a small area with a couple of full sized booths; there are no high tops or "tables for 2" here; with only a handful of chairs, this place will never have any kind of bar scene. With no happy hour, it's probably not their intention either. There's a big flat screen TV in the corner of the room, showing the hockey playoffs on this particular day.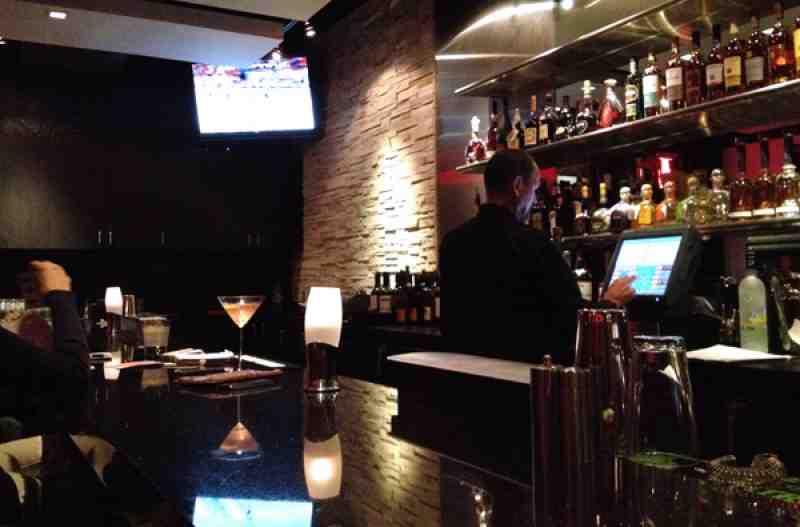 Red the Steakhouse Bar area
I'd seen a menu before the visit, so I knew the place was expensive. A quick look at the wine list and I didn't see anything I recognized; I don't like to pay $13.50 for a glass of wine that I'm not sure I'll like, so I opted for a beer. No Heineken lite, but they have Amstel lite. It's the same company, so I don't get it; Heineken lite is the power light beer that would seem to fit a place like this. I was only here for an appetizer; I did the $57 steak thing last week and they're only a couple of dollars less here, and I didn't want to order something ordinary. While I decided, some bread was dropped in front of me.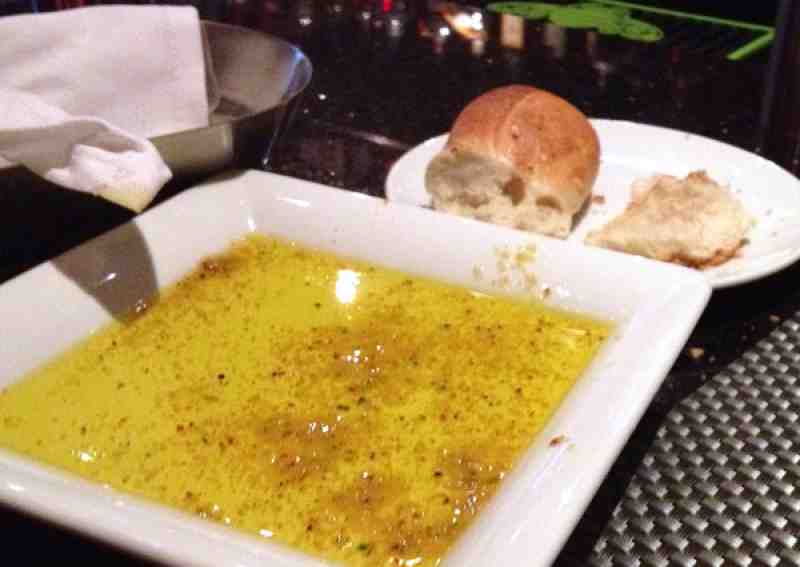 Red The Steakhouse Rolls and Olive Oil Dip
They have an interesting oil dip for the bread, a mix with red chili and parmesan cheese; no balsamic which is always a good thing to me. Unfortunately I didn't like the bread; it had a very stiff crust and it was mostly crust; crusty bread is good but there needs to be some bread too. This was more like dipping crust in oil, which is pretty hard on your jaw.
I ordered "Brad's Peppers", a signature item (Brad Friedlanderis the owner of the chain). These are not your standard bell peppers stuffed with ground beef and rice; these are hot finger peppers stuffed with sausage.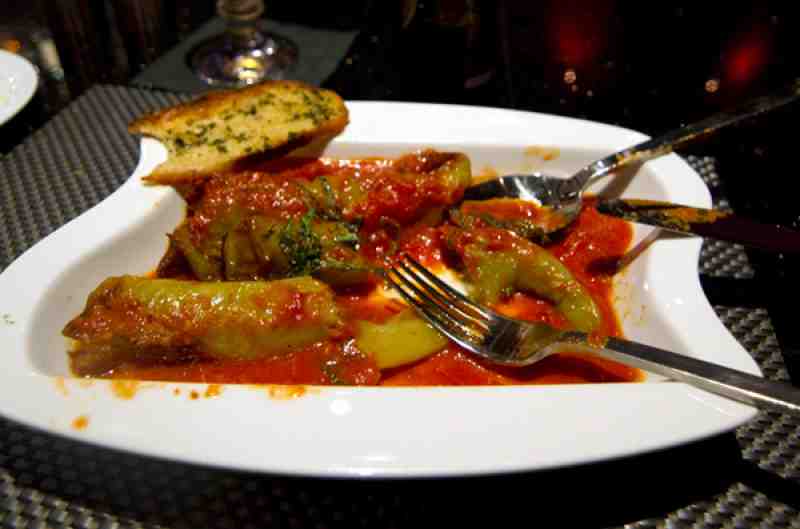 Red The Steakhouse Stuffed Peppers
The peppers were good; hot so be forewarned. Spicy Hot that is, and they're served with a good, light tomato sauce. When it was delivered my first thought was that it wasn't very much food for $16. Interestingly, I found this video after the visit. In the video, the portion is 5 peppers and 2 pieces of crostini; but the actual portion is 3 peppers and 1 piece of crostini. Frankly a piece of garlic bread would have been great with this dish; the crostini is just garnish to me. You can't dip it in the sauce, so it doesn't serve the necessary purpose.
Another annoyance is that the menu we were given is not the menu for this restaurant; or it's wildly out of date. The menu has the peppers at $14.90 instead of $16, and the steaks are substantially higher priced; if I remember correctly the 18oz NY Strip is $54. The menu they have on their website for the Miami restaurant has even lower prices ($13.50 for the peppers and $45 for the strip), so it's not like they just gave us the Miami menu because they didn't have one for Boca yet.
It seems that Red has priced themselves the same as in South Beach, which would be a serious miscalculation of what Boca is all about. Boca is a 'burb, and prices in the 'burbs need to be less. The free-spending jet-setters in Miami will pay to be "seen"; people in Eastern Boca don't flock to the early bird specials and half price happy hour apps at Truluck's because they can't afford full price; they do it because Boca is largely populated with baby boomers who grew up in a time when frugality was a virtue. We'll see how they do, but it's hard for me to fathom that they'll be stealing much business from Abe and Louie's or New York Prime, where prices are a bit lower and the scene much livelier.