Critic's Review
First of all, this place should not be confused with the Cafe Italia in Oakland Park, which is probably what most people who clicked on this thought they were getting. This is a very strange Cafe Italia; as you can see the sign says something completely different. It's actually both places; you can get a slice of pizza or have your wedding cake made at the same place.
Inside is an unmitigated disaster. There's a BBQ grill parked in the middle of the small room. There's a counter with a lot of crap on it; no menu in print or over the counter. Only 2 specials are noted; 2 slices and a soda for $4.99, and $7.99 for a 12" pizza. Of course their website says the special is 2 slices and a soda for $3.50. I asked how much the slices were without the soda; same price. Ok, so I'll take 2 slices, I say. The grumpy dude behind the counter heats them for about 10 seconds and puts them in a container for me. He really doesn't have time to heat them properly. It was clear that my presence was annoying him. He pushed the container towards me, turns and disappears into the back. So where is my soda? I wait a few moments until I see him in the back and I say that I thought I get a soda. "You said you didn't want it", he says, and then he points to the clock. It's 3:30, but I don't see anything on the sign that says there's a cutoff. I get a pepsi and out the door; never to return.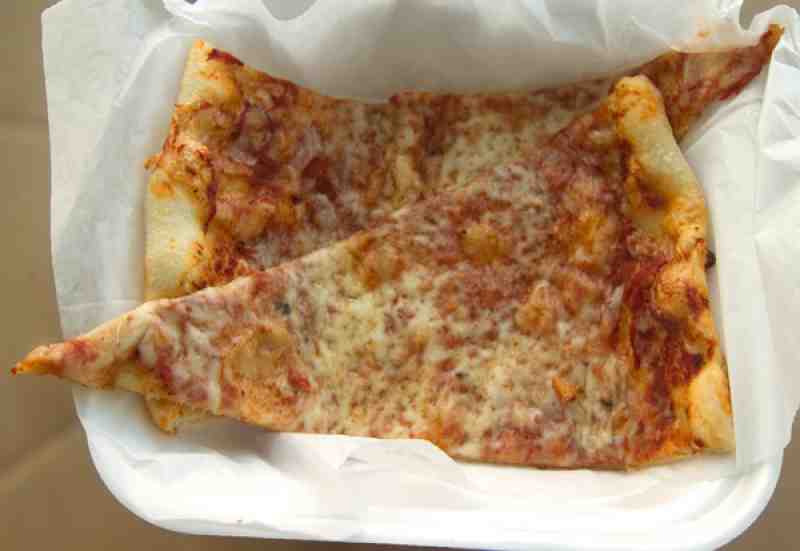 Cafe Italia (Andrews) Slices
It's too bad, because the pizza wasn't terrible. It seems to be cut from a 20" pie; they only have up to 16" on the menu I found online. I would have gotten a large pie at some point as I live nearby, but I'm not going back to this place.