Critic's Review
O-B House, which is some sort of odd shorthand for Old Fort Lauderdale Breakfast House, opened just under a year ago. I tried it a few times when it first opened, and I thought it was a nice little place with quality food and fairly high prices. It was about time for a re-visit.
They have a section of a big parking lot that's also used for parking for the museum and iMAX; just pull into the section closest to the restaurant. There's an attendant who is just there to make sure you go into the restaurant. There's no charge for parking.
Inside, it's a pretty nice place. It has a New England feel; It reminds me of a place in Newport, RI.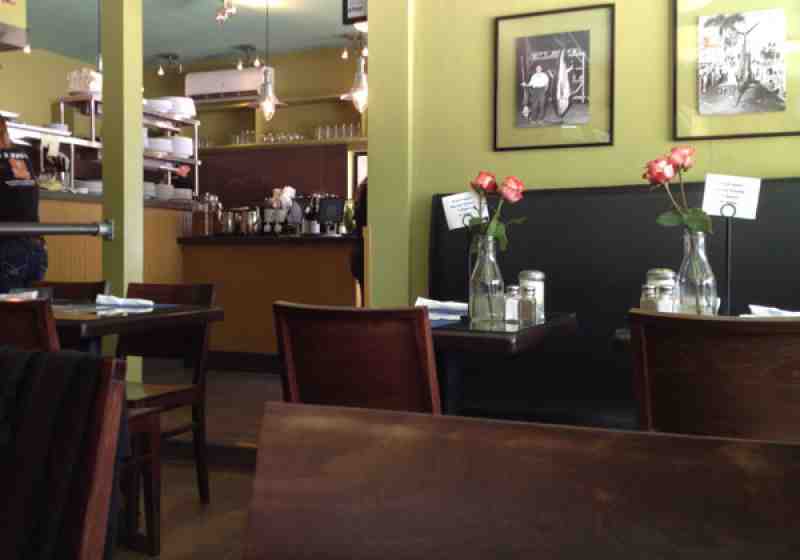 The tables are close together and you'll feel like you're dining with the people next to you; the big flowers in oversized vases take up more table space than they should ; the tables jump-->here are tight for 2.
They have a good sound system and the music is pretty good: Jack Johnson, Blind Melon and Eric Hutchinson. The kitchen is open, and the place is well-staffed on a Saturday. Different servers will come by and during your meal.
When they first opened, the small coffee was $2.50 and it was $.75 for a refill. Now, its $3 and you get refills. One thing about the owner Rodney Eli is that he's set in his ways. Water still comes with unwanted lemon. There's no swaying him on this.
On my first visit here I ordered the O-B House breakfast, 2 over-easy with sausage and yukon gold potatoes. For toast your choices are multigrain or white; I opted for the multigrain.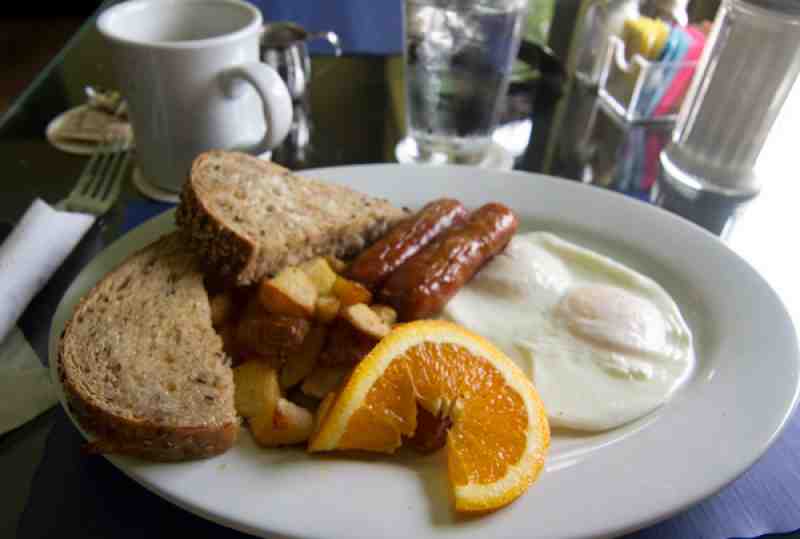 O-B House Breakfast with Sausage, Yukon Golds and Multigrain Bread
They have good sausage here. This was $9 a year ago; now it's $10. I had an omelet my next time, and for $12 I didn't think that it was big enough to justify the price. Frankly their omelets are stingy and not enough food for me. I thought about eggs benedict but they don't have it here; their O-B House Hollandaise doesn't have any meat and I can't see paying $12 for spinach. So I thought I'd try the Mexican Shipwreck, which comes with black beans, guacamole, salsa, and sour creme. The food came out pretty quickly.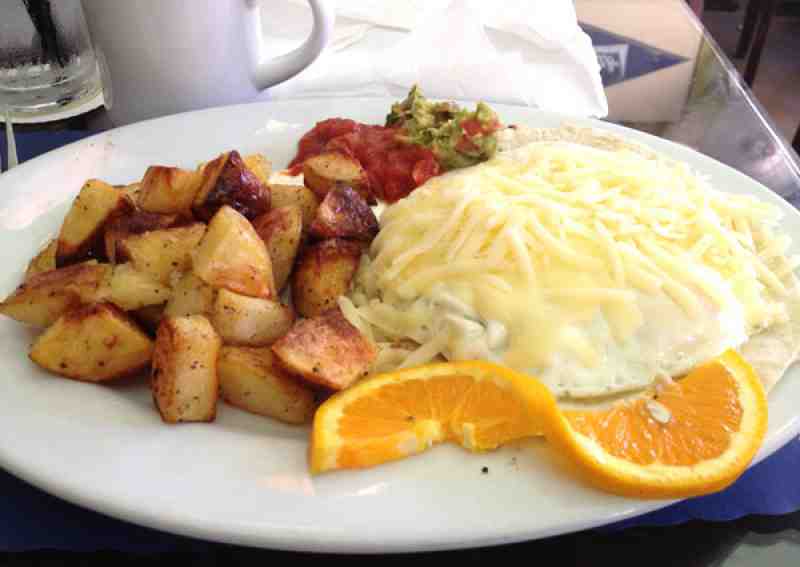 O-B House Mexican Shipwreck
The menu doesn't say that it comes with cheese, but it does. This is kind of a strange dish; the black beans are inside 2 soft tortillas, with the eggs and the cheese over it.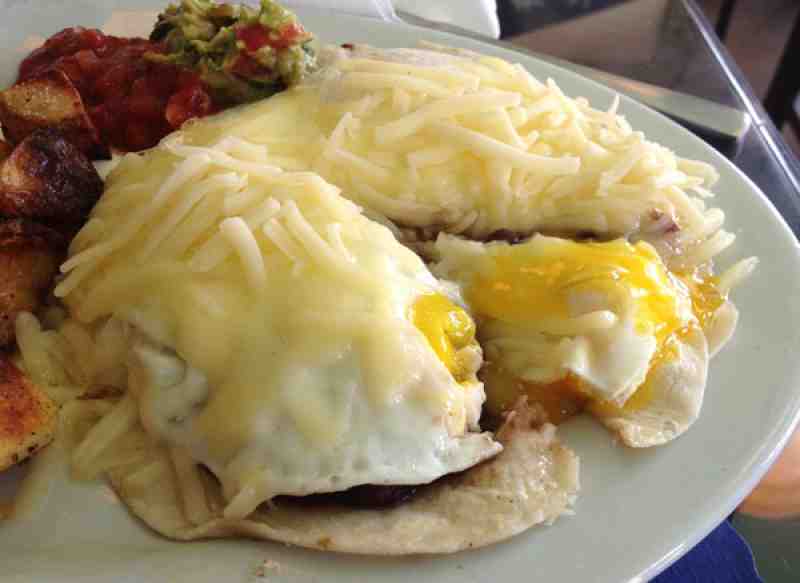 O-B House Mexican Shipwreck cut open
I can't say that this recipe excited me much. The tortillas and beans didn't taste like much, and I think it would be much better with Pepper Jack cheese instead of the plain jack. I like their version of guacamole, which has chunks of red onion. It was enough food; I was pretty full when I was finished.
If you go to their web site and go to the OB-House & Owner section, there's a fairly rude About writeup that's also on the front of the menus. He tries to explain his rigidity in preparation; there aren't a lot of options at the OB-House; bacon is served well-done ONLY. Frankly, I find the pricing explanation a bit insulting, as if I've never been to the supermarket and I don't know that even the best, organic eggs are only 35 cents a piece, and how much butter do they really use to make an omelet? Even if you're paying $12/lb for coffee, it's still only 30 cents a cup. The truth is that a totally organic, free range breakfast might cost $1 more than what everyone else uses; but they charge about $4 more here for the food. So it really doesn't fly.
Places are entitled to charge what they want without having to explain it. They take care in the preparation and the place is nicer than your typical diner. Just think of OB-House as a place where you can get brunch 7 days a week. Most places offer some fancier recipes for an extra couple of dollars at brunch; OB-house just does it every day.