Food trucks are all the buzz among the little people, which is precisely why I haven't covered them before. The only food I want out of a truck is ice cream; there are 75 other places that I can go to get a taco or a burger. But this particular gathering was a "pre-theatre" event, so it started at 3pm. Let's face it, there's not much going on in Fort Lauderdale on a cloudy summer Saturday at 3pm, so I thought I'd check it out.
I don't even bother reading what the other bloggers are writing about Food Trucks, because to me it's just Herd Mentality. Sort of like doing a barbecue without having to shop or fire up the grill. I figured it was just cheaper than a restaurant so it would appeal to the young and the poor; and I have to admit that I was only half right.jump-->
I did see one post about the Dim Ssam a Gogo Truck, which I mistakenly thought was Dim Sum. It's actually Korean, and I was disappointed with their menu. There wasn't much I wanted. Most of the trucks just seemed to have junk; Tacos, Grilled Cheese. I saw a lot of people eating Tater Tots. The notion that these Food Truck people consider themselves Foodies is just plain hilarious. I thought I saw an ice cream truck; but alas it was just shaved ice. Refreshing, perhaps, but not quite what I had in mind.
The one thing that struck me is that I was wrong about the prices. These trucks are just as expensive as eating at a casual restaurant. The Tacos were $3 and $4; no bargain. And the sandwiches were mostly $7 to $8.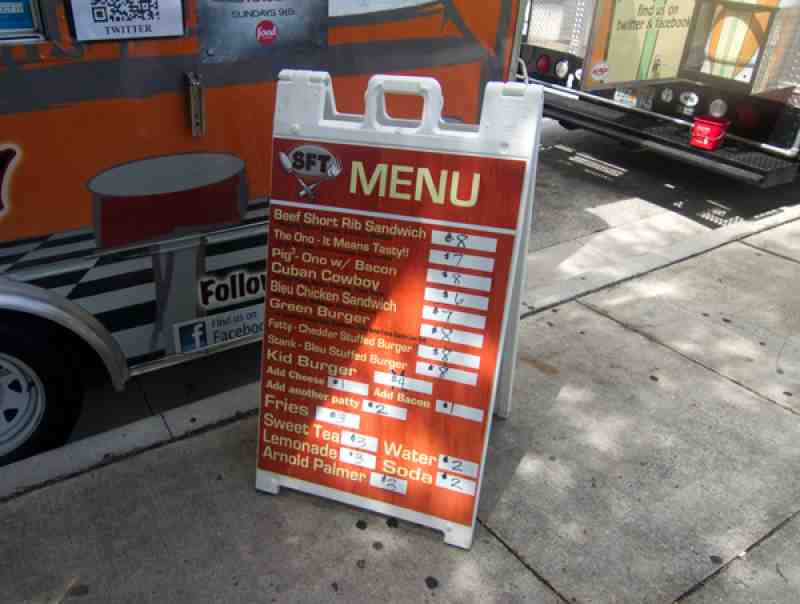 I went from truck to truck, looking at the menus; all the while trying to figure out what all of the hoopla is about. I mean, is this just something for bloggers to write about because they have no ideas about what to write about? I almost got sausage and peppers on a roll, which would have been a complete cop-out, but then I decided on the Rolling Stove.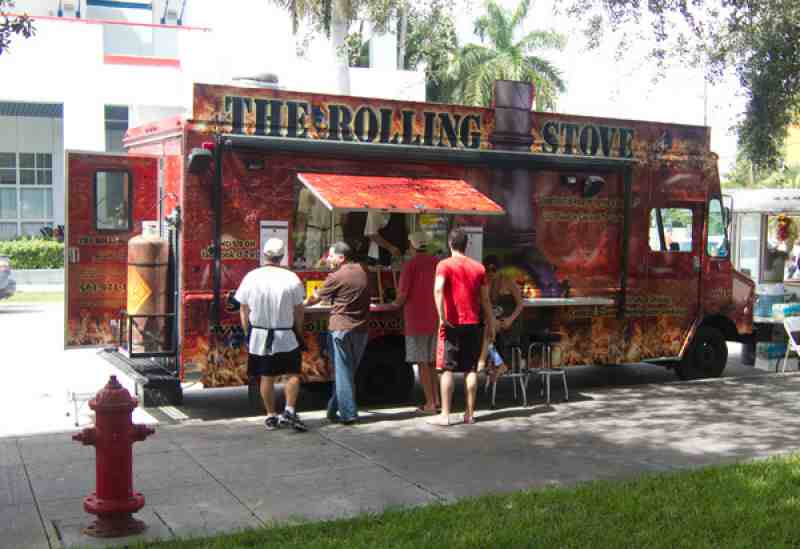 Rolling Stove Food Truck
While the prices didn't exactly excite me, they had some jerk offerings which I thought might be a bit different than some boring taco. They get $8.50 for a sandwich, which just seems like too much for me. I can get a jerk chicken platter that's good for 2 lunches for $6.95 at one of those Caribbean places. I also noticed that they only make their burgers "medium-well", which means that they're not an option for me.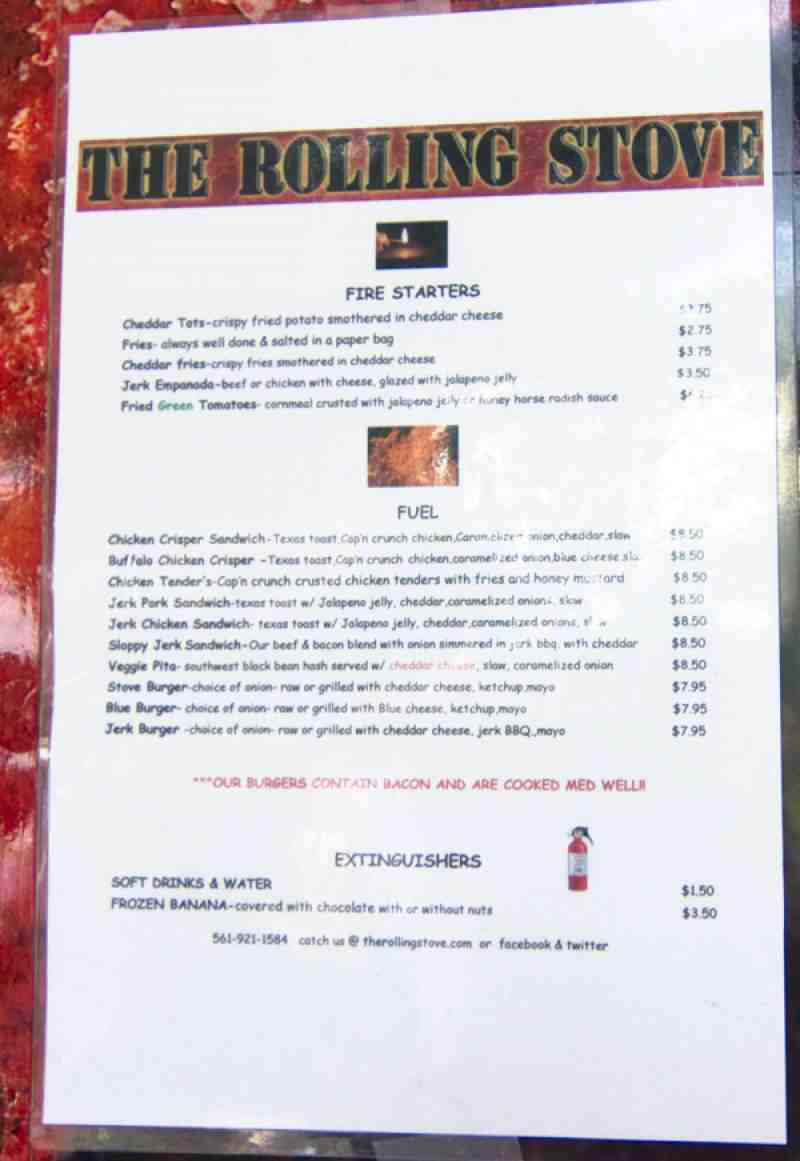 Rolling Stove Menu
It took them quite a long time to make each sandwich. There were 2 orders in front of me; I watched them make the sandwiches. They have the "cheddar" in a big pot and they just spread in on the bread. Obviously all of the "jerk" stuff is pre-made; they heat this on the grill with the "Texas Toast". The result is a pretty big, but not overstuffed sandwich. They don't cut it in half, which makes it pretty difficult to eat.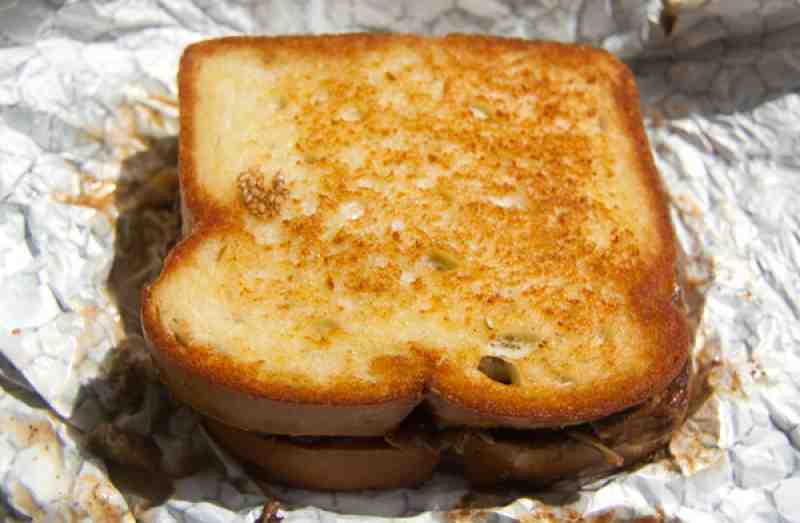 Rolling Stove Jerk Chicken Sandwich
For this entire "event" there were like 3 small card tables set up, and most people were eating while sitting on a curb. The Rolling Stove had a couple of stools but I really didn't want to eat among the people at the truck waiting for their food. I found a ledge, but it was pretty uncomfortable.
If you look at the ingredients, you can tell that there are no Euro-trained chefs here; but you really don't have to go to school to know that if you mix chicken, onions, and cheese and put it on buttered toast you're going to have a pretty good tasting sandwich. The ingredients don't make a lot of sense; why put "jalapeno jelly" on a jerk sandwich where scotch-bonnet heat should dominate?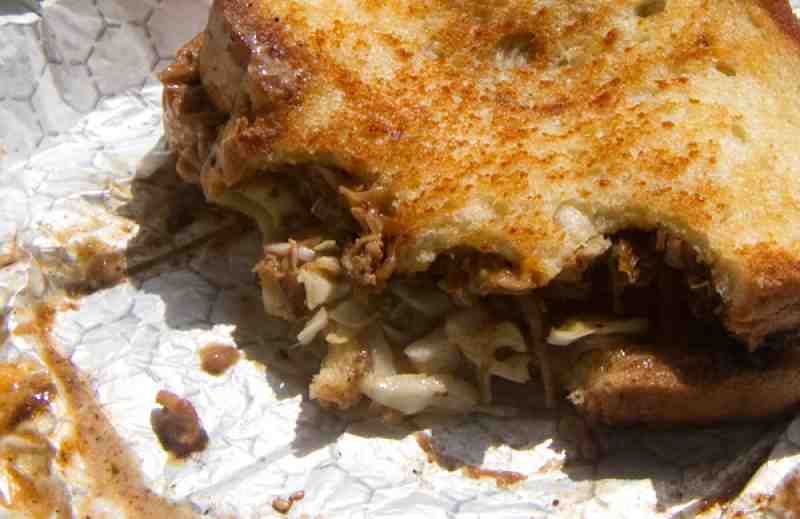 Rolling Stove Jerk Chicken Sandwich
Aside from not slicing it, they gave me 1 napkin; this sandwich was one sloppy eat. My sandwich didn't have any onions on it; I found a picture on the Burger Beast site which had a pile of onions on it. I guess you only get the onions sometimes. The bread also wasn't as thick cut as it was in the picture. This sandwich didn't really taste like jerk. It wasn't very spicy hot; it was more like a BBQ; more sweet than hot. It was very tasty. A LOT of calories. This isn't health food for sure.
When I got home, I checked out their facebook page, where they have a menu from last year. I was surprised at the prices.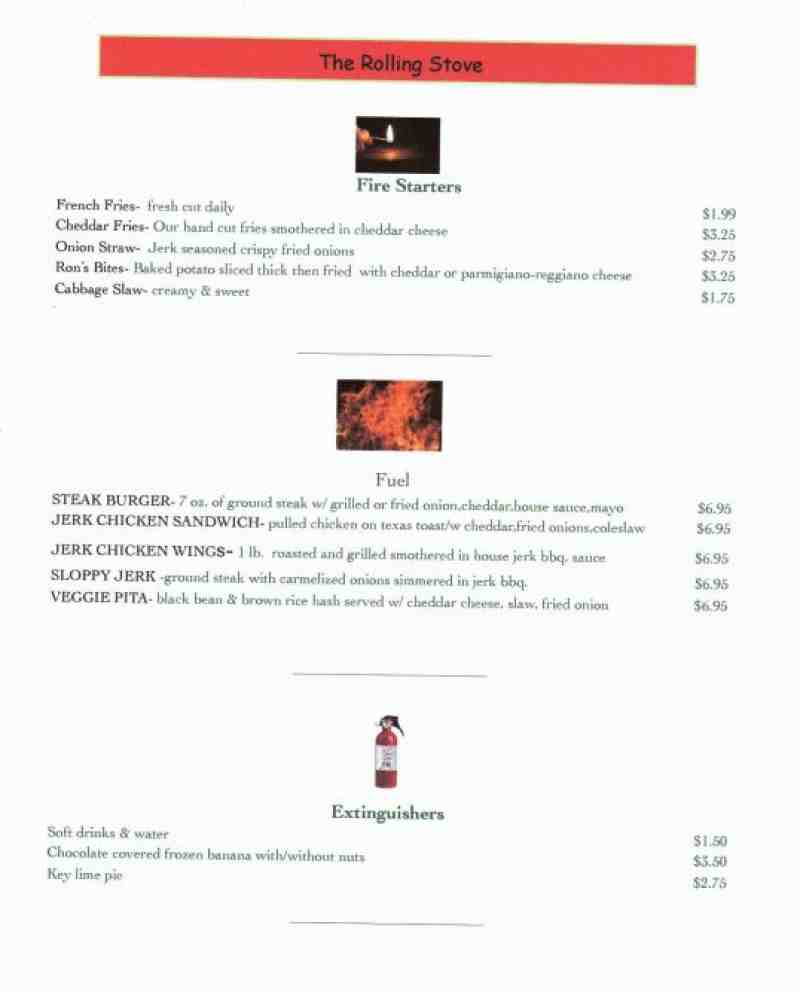 Rolling Stove Menu Summer 2010
It seems that they've raised their prices 20% in a year. You know what; good for them. If they can get the Herd to pay more in the worst recession of our lifetime, more power to them. The old prices are more like what I'd expect to pay at a food truck. The new prices are more about riding the wave than they are about the value of the food.
Personally, I'd prefer to get an authentic Jerk Chicken Sandwich from Rock Steady Jamaican Jerk Cafe for $5.95. In fact, I think I'll check it out soon.