Critic's Review
UPDATE: The ice guy and "chef", David Berman, is no longer with Tundra. Word is that he was bought out by his partner who will now transition the restaurant to a new concept. So don't expect any ice sculptures; in fact, the entire original concept of the place is now a lame duck. They'll continue to operate through season.
***
A couple of people have asked me why I hadn't reviewed Tundra. I planned to on more than 1 occasion, but something always stopped me. I'm getting pretty good at knowing what a place is like before they even open; the way they conduct themselves, the menu they offer and whether their prices are competitive. Tundra was a sea of red flags; some guy with money who opens a restaurant with an unappealing theme, appoints himself as a top chef and then charges the highest prices on the street.
Another red flag is when a place hires a PR firm; it usually means that they're more interested in glitz than substance. Their menu is littered with gimmicks; the $60. "tour", "kobe meatballs"; and everything is overpriced. The "tour" is the big push; 10-12 items (it keeps changing); sample plates that come out every 5 minutes. The problem is that the sample plates are only worth $3-4 each, so it's just an overpriced gimmick for people who can't do math in their heads.jump-->
But the kicker came this past week, when a puffy review in the Sun Sentinel was followed by an amateurish PR piece by Justine Griffin in the same publication; in the latter Tundra claimed to have "lowered prices 20%" to help out the locals. It would have been nice if she checked the claim before parroting it; so it motivated me to seek out some truth.
First, the claim that they've lowered prices 20% is reminiscent of Philippe Chows false claim that their Boca prices were 30% less than Miami. In Tundra's case, it's just plain disingenuous. While Tundra's prices dropped on some items for the summer season; it's hardly across the board. Some items, such as the Tundra Hamburger, went up from $12 to $14. and scallops are up $1. But what really happened is that Tundra raised their prices for season, and now they're just reverting to a menu that gouges less. And they've also changed the menu, so you can't make the claim that you've lowered prices when you have different recipes. While they've lowered the price of their caesar salad from $14. to $12 (a 15% reduction), it's still more than the $11 they were charging in November. Their dinner menu has the same properties, with almost all items either the same or higher priced than they were in November, when just about everyone thought they were overpriced. So the idea that there's any neighborhood altruism here is just about completely contrived.
I wandered in for lunch at about 1pm and got a table close to the sidewalk.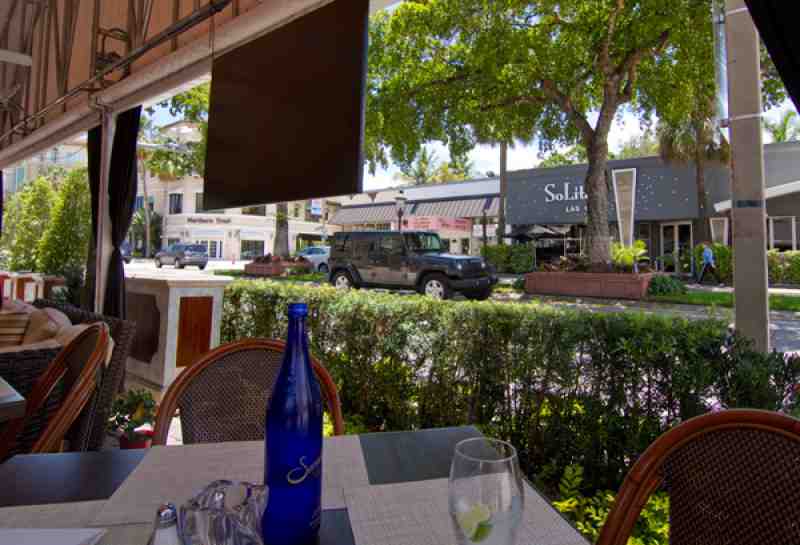 Against my better judgement I ordered a bottle of sparkling water; i figured they'd charge alot for it but I did it anyway. My initial server (he bolted mid-meal) was personable enough and brought out the bottle while I looked at the menu. I decided to try the artichoke fritters and the salmon sandwich. I wasn't going to get the "kobe" meatballs because you can't sell $200/lb meatballs for $11, so it's obviously just a trick. Plus are you really going to grind a perfectly marbled steak? Of course they were out of the artichokes and he tried to sell me on the goat cheese, but I didn't want fried cheese. So I ordered the meatballs and the sandwich.
Now if you don't know about this place, the whole idea is that it's an ice sculpture theme. The guy who owns the place is in the ice sculpture business, and they truck in sculptures at night and I guess they're something to talk about. You don't get any of that ambiance during the day. They have a strange mix of antique chandeliers and modern ceiling fans and some miniature shrubberies; the music ranges from the Goo Goo Dolls "Iris" to Christina Aguilera's "Moves like Jagger". Eclectic is a word created to describe Tundra.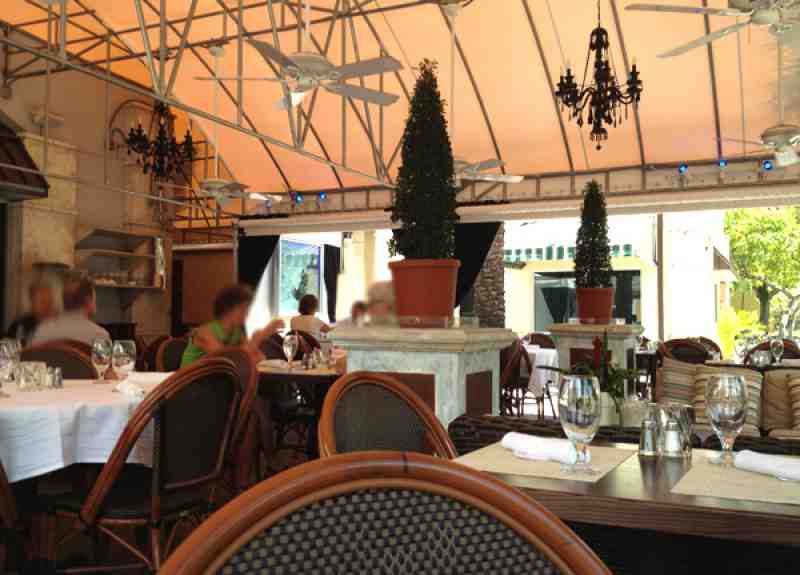 photo by paul gorr
Things took a little longer than they should have here; there's only 1 server but also only 5 tables occupied. The meatballs were smaller than I expected.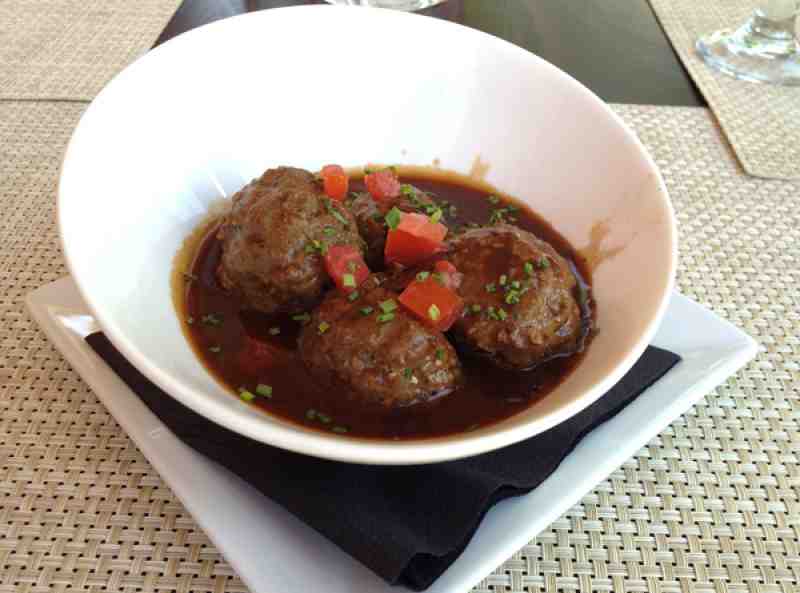 Now we know these aren't really kobe beef, but I guess that's the reasoning they use to make them so small. The gravy was good, and needed, as the meatballs have little taste on their own. This dish is a trick; a lot of fancy words to describe meatballs with gravy. Not bad but not worth $11 either ($12 at dinner).
It took me about 3 minutes to finish the balls, and by now my water was getting warm, so I asked for some ice. My server (still server #1) had another idea; he took my bottle inside (I'd only had 1 pour from the bottle) and he came out with a glass of chilled water. claiming that it was a fresh bottle. But then he took my half full glass of warm water away. I figured he was chilling the rest of the other bottle and I'd get it later. No ice was delivered.
A few minutes later, server #2 came on the scene with the salmon BLT sandwich.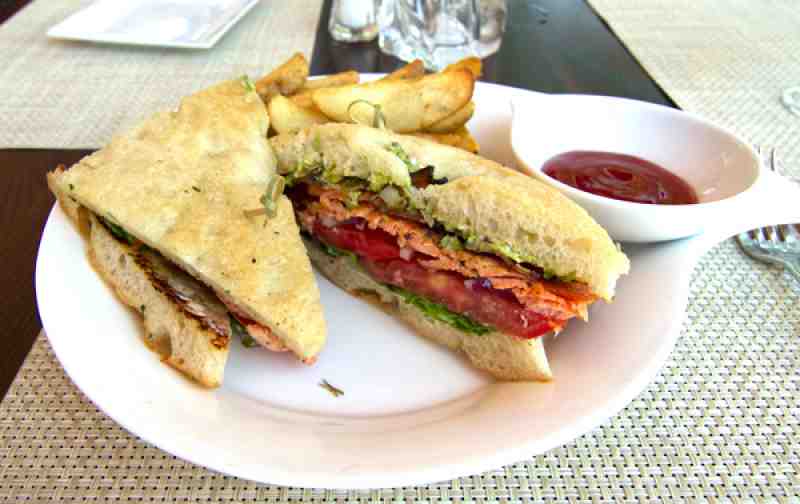 I was wondering how this sandwich was going to be constructed, but I didn't anticipate that the salmon would be a thinner slice than the tomatoes. The sandwich was difficult to eat and very messy; I had to steal a rollup from the table next to me for an additional napkin. There was some sort of pesto on it, and rosemary bread. With the bacon and the raw onions there were a lot of flavors; but the fancy lettuce was made limp by the other ingredients so it failed to really be much of a BLT. It was pretty tasty; I think it was just a misguided idea.
While I was eating server #2 came over and started to add water to my sparkling water but I stopped him just in time. Having multiple servers can be a problem.
So I was thinking that this wasn't all that bad and I asked for my check, only to have the bad restaurant feeling return. They had charged me $12 for the meatballs and the sparkling water, which I never got to finish since server #1 took the bottle, was $7.50 for a 28oz bottle. They took off the extra $1, but I suggest you check that they give you the "new" prices.
A $34. lunch isn't exactly what I would call wallet friendly. I did save a bit on the tip. Price does matter; this lunch was worth maybe $24. So that's 50% too much.
If they want to "keep the locals coming", they'd better come up with something better than a $14 hamburger.