Critic's Review
The Las Olas Cafe was forced out of this location last year, but the potential tenant backed out and the space has been empty for over a year. Last Friday, the Las Olas Wine Cafe opened. The courtyard remains a nice, little hideaway.
The interior has been modernized with blacks and stone and crystal chandeliers. They have 3 flat screen TVs.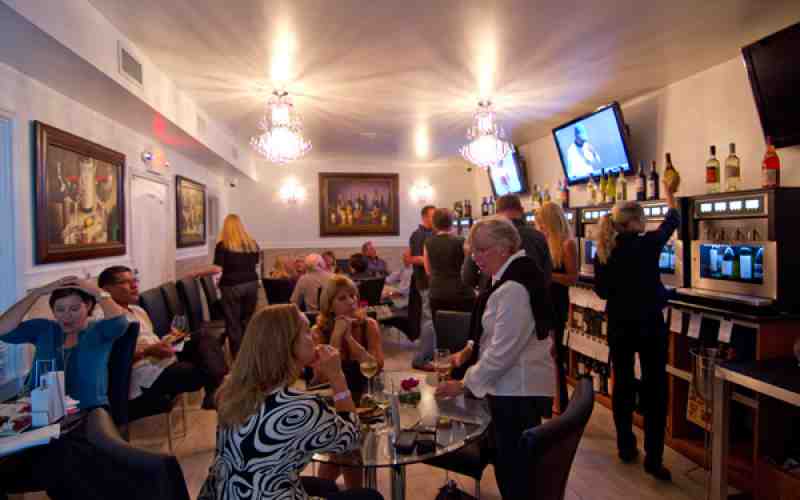 There's a bit of a disconnect between the old-world style outside with the sleek decor inside. I guess they're trying to give you a choice of ambiance. On a hot day, inside is the only choice of course.
The people who work here are very enthusiastic and helpful.
They have wine machines here, and you have to buy a card for $2.50 to use them. A friend summarized my feelings on this "Do you mean if I fund the card with $100 they're really going to charge me $102.50"? Actually, it would be $108.50 because there's also tax.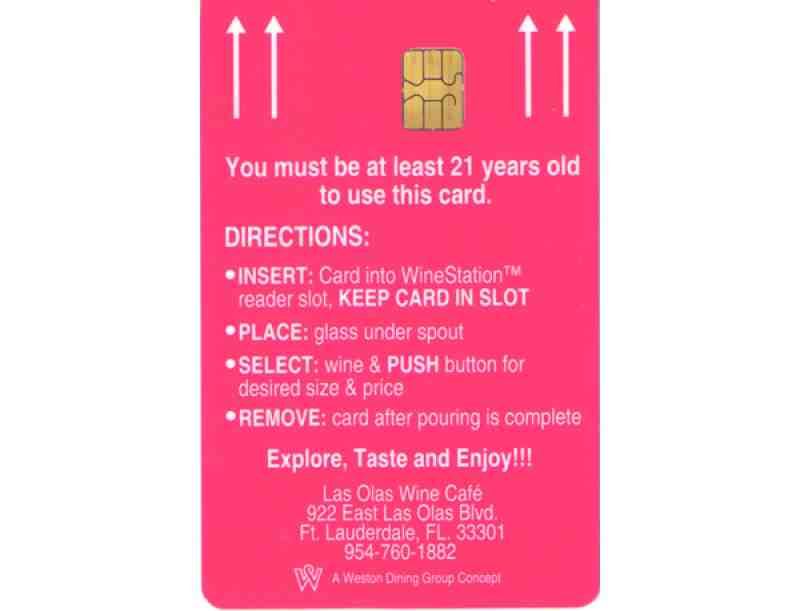 The machines allow you to get a "taste" (1.5oz), a half glass (3oz) or a full glass (6oz). The pricing of the splits is exactly proportional, so it costs the same to get 2 half glasses as 1 glass. An issue is that anyone who knows wine isn't going to be pleased with the pricing, as prices are generally quite a bit higher than you'd pay even in the best restaurants. A Luigi Bosca Malbec is over $14 for a glass (about $18 retail, $12 is a fair price), and Stags Leap Liparita Cabernet is a whopping $28 per glass; I found this on several menus for about $68, which puts a fair price at about $18 for a glass.
I personally don't like the card concept; I particularly don't like that you have to buy it, considering that in a tourist town many of their customers won't ever be coming back. They do give you "grace", so if you have $1.17 left on your card you can buy a taste for $2.50 and they'll give it to you; but it's more likely that you'll either have 1 more drink than you want or you'll leave some money on the card (and in their pocket). I'd prefer a concept where they give you a card and you give them a CC, and then when you're done they charge you for whatever you had. That would be fun without the feeling that you're getting cheated if you don't return. I don't need or want to "own" a card.
The best strategy seems to be to buy $10 at a time, figuring you'll get $11.00 or more worth with the grace. There's no penalty to re-fund the card.
Another caveat with the machines is that you're not getting the generous pour that many Las Olas restaurants give to offset the higher prices. You're getting exactly 6 oz of wine. Of course there's no tipping, so you save a bit on that.
At an event I sampled a few menu items; from the menu I could tell I wouldn't like many of their recipes. They put raisins in their chicken salad, cranberry jam and blue cheese on the roast beef and fruit chutney on the turkey. I was accurate in my assessment; I didn't like any of them. Their bruschetta sounds good on the menu, but what they served was ruined with too much balsamic vinegar. Hummus was fine, served with mini pita triangles. If I ate in here I'd likely order a cheese plate so I could select items that I like.
Previously, I had gotten a take-out sandwich here. I asked for the "Spicy Southwest Chicken Breast", which they told me wasn't very spicy. Good enough, but why call it spicy chicken then?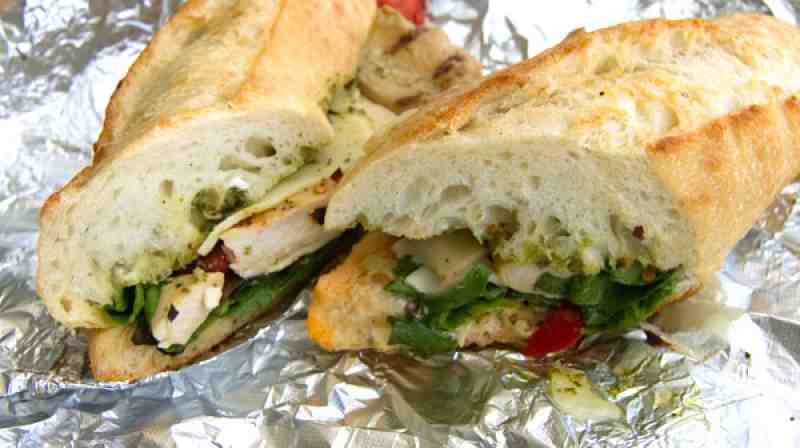 The first thing is that the girls were wrong; the sandwich was indeed sort of spicy. Not Jerk spicy, but spicy enough. One thing is that the sandwich is listed as a "Hot" sandwich, but there was nothing hot about it. I guess they cooked the chicken, but the cheese wasn't melted and it wasn't pressed panini style either. Taste-wise, the sandwich was very good, but eating it was difficult. The bread was all wrong for this; the chicken kept slipping out and I had trouble getting all of the ingredients together all at once. I liked it but eating a sandwich shouldn't be so difficult.
This is a nice little place; a nice place for a date or for a girly lunch. It would be a lot nicer with fairer wine prices, because given the guaranteed weak pour, it's probably the most expensive place on Las Olas for wine.