Critic's Review
I thought I'd do lunch at Tap 42 as I haven't been there in a while. I turned into the lot and saw that the 5 spots available all had something in them as if they were reserved, which seemed strange to me. I went around the back of the lot and their were no spots. I then noticed the valet. Great. I don't want some slug driving my car, nor do I want to drag my big camera into a bar. My 3rd time in a row that I've come here and left without sitting down.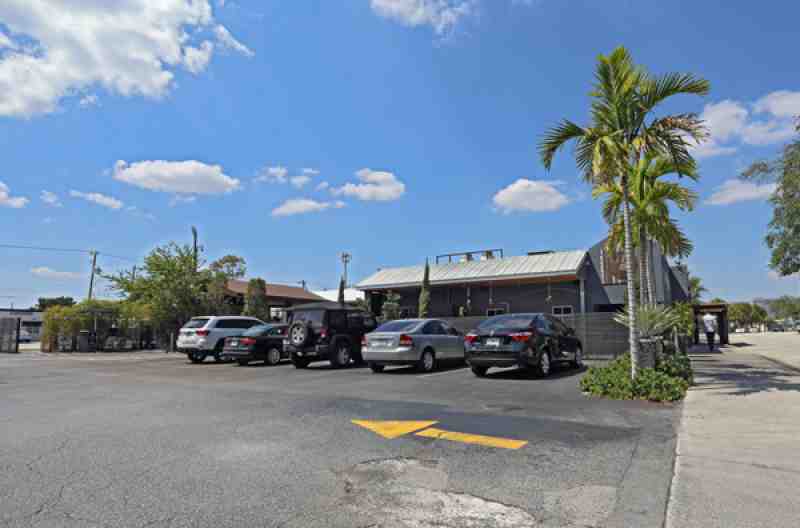 Another stupid restaurant trick; the free valet. What's the point of it? Stupid people will tell you that it's just the restaurant doing something nice for their customers, except if that were the case, they'd let you self park if you DIDN'T want to use the valet; but they don't. An optional free valet is the only legitimate policy to have if you have your customers in mind. A lot of people don't want some kid driving their $100K car.
One of the only good things about Tap 42 was the free and easy self -parking. Now I have yet-another reason to go somewhere else.
Review 7/23/12
Tap 42 opened last fall and I went there just after it opened. Most people agreed that the service was terrible, and that chatter continued for months. jump-->They don't really have any dinner entrees, so I never thought of going there for dinner. I recently saw that they had a Beer Cheese soup, which reminded me of a place called the 56th Fighter Group on Long Island; the only place that I can remember on LI having it. So I thought I'd do lunch.
Something unexpected is that the hostess is by the patio and not the front door, so when I went in the door there was no-one to help me. I asked an employee and she said she'd seat me; I grabbed a seat inside. They've changed the inside a bit, all of the tables are pushed against the wall to create more space between the tables and the bar.
Overall, the bar is a very attractive space, and the outside patio is a lot nicer than it was before.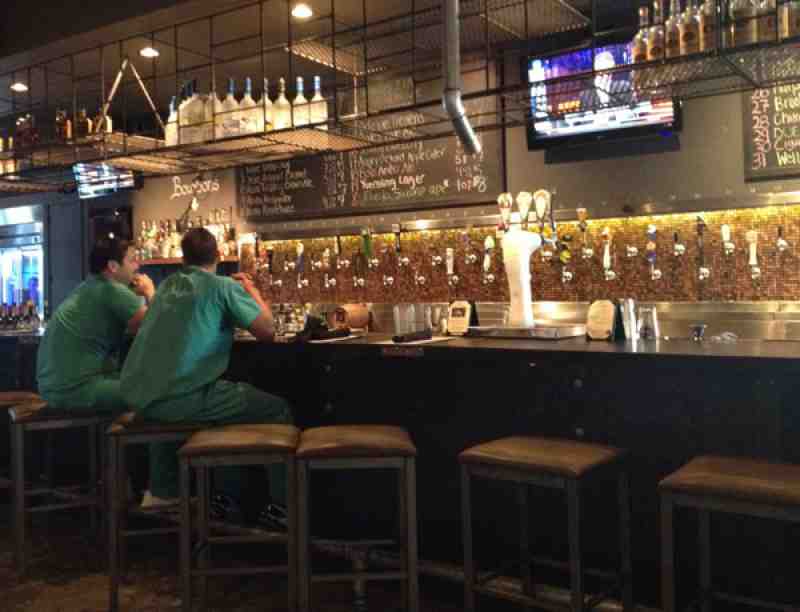 There were only a few tables so I didn't expect service to be a problem. They gave me their massive beer and bourbon menu, but I was just having iced tea today. I wanted something other than the beer cheese, but they have limited selections under $10. Prices are up across the board from November, $1 or $2. I wasn't previously terribly impressed with the food, but they got a new chef in April. Everything on their menu had something I didn't want. The Dip Duo has a corn dip, the Mussels and Fries had fries, and the Kale Caesar just seemed like a bad idea. Why ruin a caesar with Kale? I decided to try the brussels sprouts; there was no description of how they were prepared and they were $5.50, so I figured it was a decent portion.
My server didn't mention any specials or the fish of the day, and I was surprised that after I ordered she didn't take the menus; they in fact stayed on the table for the entirety of my visit. She did ask if I wanted lemon, which is a plus. While I was sugaring my tea I noticed another positive; the salt and pepper grinders.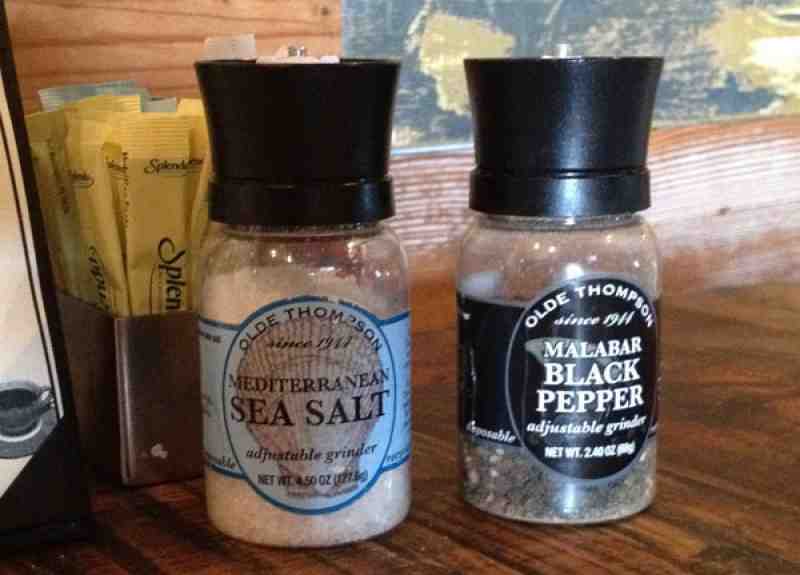 I've got a larger sized Thompson's salt grinder on my desk in my office and another in my kitchen; don't underestimate the goodness of freshly ground sea salt on a steak or eggs. They have wireless here, and the music is soft/garage rock. Jack Jackson, The White Stripes. Not bad, but I was hoping for something a bit harder.>
The food came out together.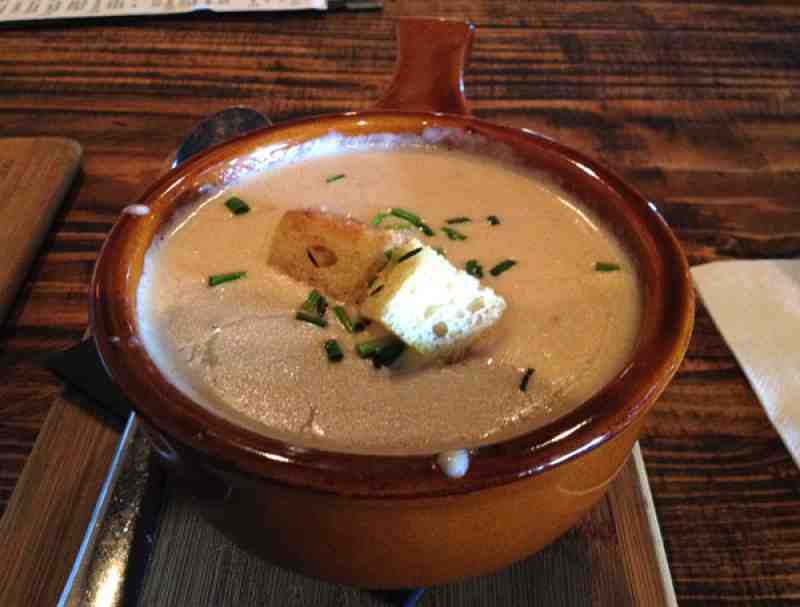 The menu describes the soup as "A medium bodied Amber Ale, Soppressata, Cheddar, Provolone and Swiss. The soup was smooth and had a mild cheese taste; I added some salt mainly because I wanted to use the grinder. I liked the soup. It wasn't as flavorful as the 56th Fighter Group version I remember; and it's not nearly as good as the Beer Cheese Soup at Big Bear Brewery. One thing about it was that it had pieces of soppressata in it that was absolutely unnecessary. The soup would have been just as good without it.
The brussels sprouts were another matter.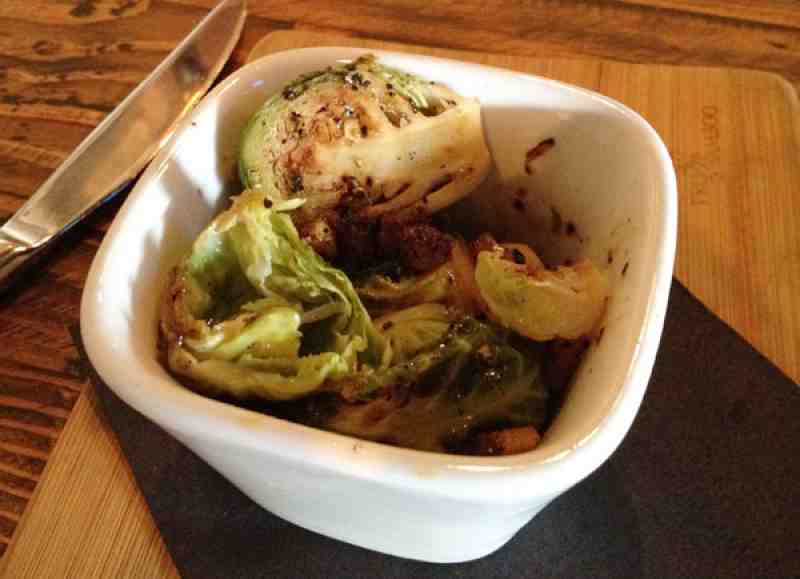 These reminded me of why most people can't stand brussels sprouts; they were just awful. First, they were undercooked, and uncooked cabbage balls are bad news. Second, they didn't core them; normally you'd either cut off the bottoms of the sprouts or if you're halving them, cut out the core with a V cut. You can't chew undercooked brussels sprouts that haven't been cored. It's not clear what they were cooked in (my server didn't know), it wasn't enough to overcome the bitterness. And $5.50 for 4 brussels sprouts is a ridiculous price. Even good restaurants give you a decent sized side for that price.
8 months later, things still seem forced and overdone in a way that doesn't make sense here. They serve the food on warped, cracked bamboo cutting boards with no side plates, so there was little opportunity for me to perform the necessary surgery on the brussels sprouts.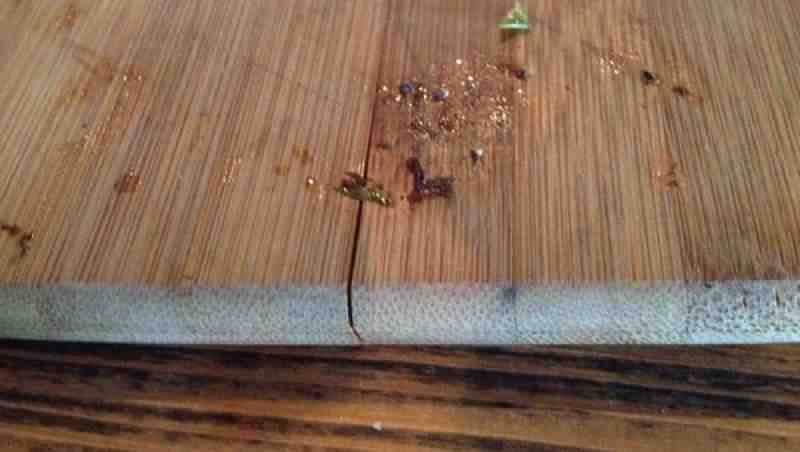 The iced tea was $3, no bargain, so the bill came to over $15. They didn't seem too well organized in getting me my bill; I sat there with empty plates and glass for awhile before someone showed up.
On my previous visit, I had the Ropa Tacos,which are no longer on the menu, and the Mac and Cheese. I mentioned that it had too much stuff in it, and it seems that they've taken the mushrooms out of it. Good move.
I was going to check out their brunch, but their prices are so stupid I decided against it. $13 for eggs benedict. $5 for home fries? $4.50 for sausage? Really? What are they, the Ritz Carlton?
I guess if you're looking to have a burger this place is Ok for lunch, but my impression of the place is about the same as before; this is a bar that's trying to be a restaurant; stick to the booze and the ambiance and don't expect much from the kitchen.
Review 11/28/11
Tap 42 is now open on Andrews Ave in a part of town where you wouldn't expect to find a decent bar or restaurant. With 42 Tap beers, 103 Bottled Beers and 50 Bourbons, it's a place where you can try something different every time you go. Or you can get a Bud lite or a Corona.>
The long, narrow room features a long bar and pub-style tables, with TVs and good, eclectic music playing on a good sound system.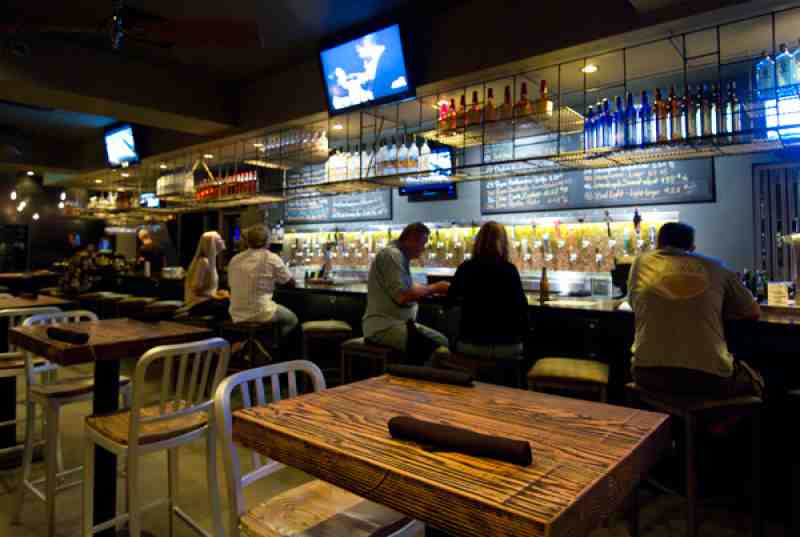 The first impression is that it's a pretty attractive space. At night, you can't really tell that it's located in the bowels of south Andrews avenue where buildings are more likely to be abandoned than occupied. There's also a sense that they're a bit disorganized, and it's apparent that the owners are feeling their way through the process.
After months of buildout and planning and 2 weeks in operation, their policies seem to be a moving target. They started opening at 3:30 claiming that they'll open for lunch "at some point". They have a facebook page, but they don't seem to answer any questions from customers. There's a post about being open for lunch, but their hours still show 3:30. Their website seems a work in progress; without the information you need to make a decision about going there. There's some mention of a happy hour, but nothing official. So who knows?
Their menu has what I'd call a jumble of beer choices in no logical order; and without prices. If you're looking for something in particular, you'll have trouble finding it. On the waitress's 3rd pass we were still trying to decode the choices. I'd forgotten what I'd decided on before I left home; then I remembered; I ordered a Penn Dark Black Lager. My companion, who turned out to be the date from Hell, ordered Rogue Hazelnut Brown Ale, which should have been the first sign of incompatibility. I liked my choice; the hazelnut was just nasty to me. She loved it.
As for the menu, I think they're trying to be a bit too fancy. I didn't want a burger or a salad, which didn't leave me with too many options. The Ropa Braised Tacos was something I wanted to try; we decided on the Mac N Cheese, which has rock shrimp, bacon, mushrooms and a bunch of other stuff in with the Macaroni and Cheddar cheese.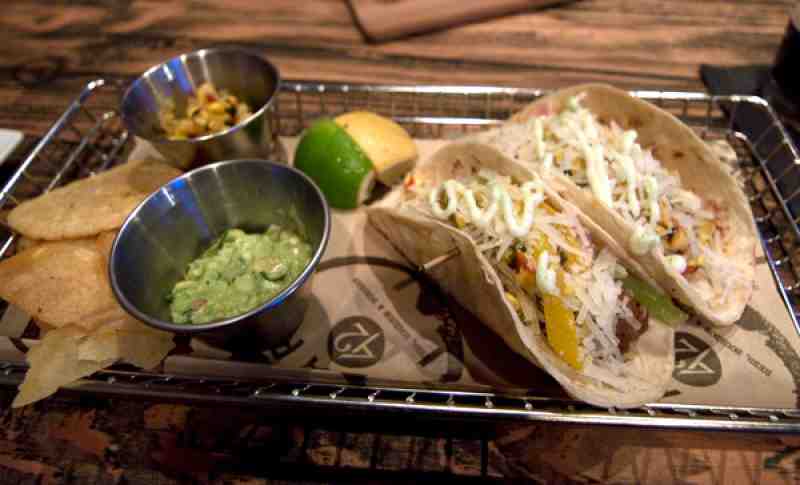 I don't get the whole taco thing; maybe it's a low-income thing, but taco shells never taste very good to me, so why everyone wants to put good stuff in a taco is beyond me. This ropa was pretty bland. The taco itself wasn't very memorable. The guacamole was good, however, but I didn't put it the tacos.
The mac and cheese was good, as cheesy macaroni usually is. My thought is that there's too much stuff in it; the dish would have been just as good without the mushrooms or even the shrimp.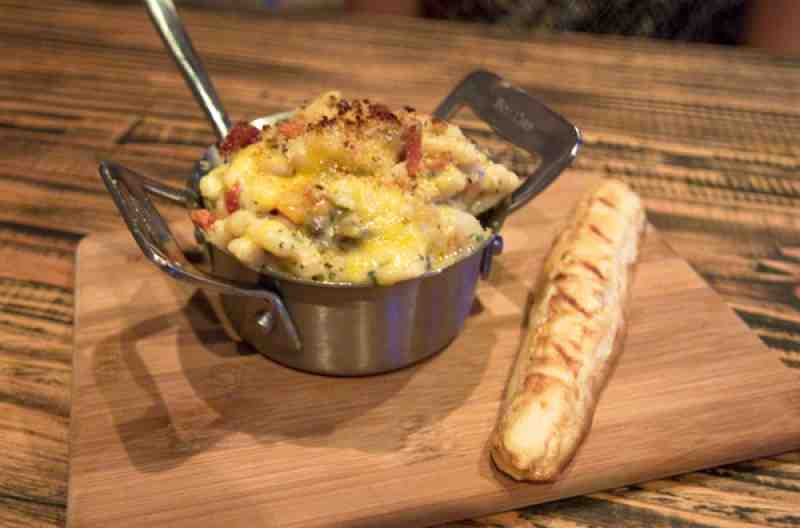 The appetizers are smaller versions for about an $8 price point, instead of the usual $12 apps which are way too much for 1 person. These apps are pretty good bar food.
When we got the check, I checked the prices since I had no idea how much the beers were. The prices are on a black board behind the bar; it appears that most craft beers are $6, some are $7; Bud Light is $5.
With free parking and food a couple of dollars less than on Las Olas, I could see some people opting to come here, but the menu isn't going to pull people from going to ROK or Big City where they also have craft beers and a scene that's worth the extra few dollars. The servers here aren't properly trained; they're not knowledgable about the beer choices and with craft beer many people are going to need help choosing.
When I first heard about this place in concept, I stated that it was going to be a tough sell to get people to come to this neck of the woods. Craft beer and burgers aren't unique enough to get people to go out of their way. They're going to need to establish an identity that's worthwhile and different; but more than that , they're going to need to get their message in order so people aren't completely confused about what they're trying to do.