Critic's Review
When I think of sports bars, I don't usually think of Boca Raton. So when I saw the sign for this place a few months ago I didn't think that a "microbrewery" would be a good place to watch sports.
When I walked up to the place, I was surprised to see the outside bar packed and nobody at the inside bar; particularly because it was under 60 degrees. There was one chair open at the bar; I started to sit down and a woman turned and snapped at me, "I'm saving that for someone". Ah, Boca.
The Saints/49ers playoff game was in full bloom, and there were plenty of TVs inside, so I sat at the empty bar and asked the bartender why everyone was sitting outside considering it was a bit nippy. "I guess they like to smoke". jump-->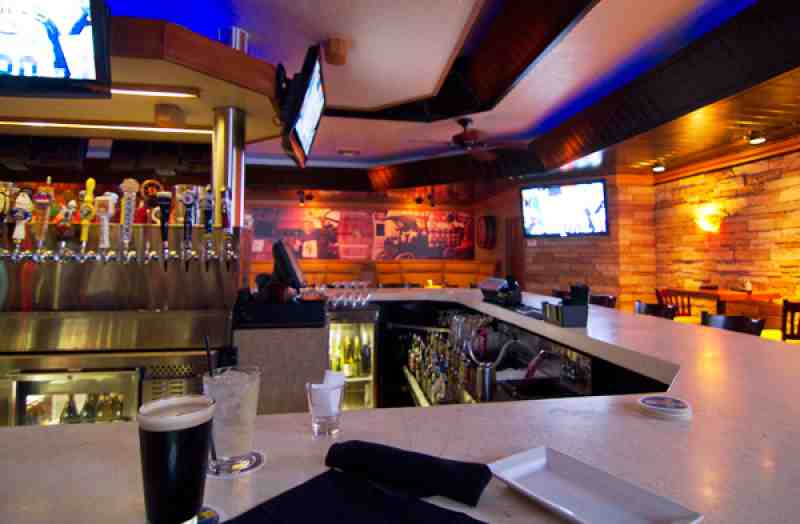 She handed me menus for food and beer (they have a full, 2 sided menu with their beer selections). I asked about happy hour, and they indeed have half price beer until 7pm. Except for the Belgians. Another silly policy, could they give maybe $2 off the Belgians if they don't want to do half price?
I decided on a Young's Double Chocolate Stout, a new favorite, and I ordered buffalo wings, medium. The menu says 14 wings for $8.49, which seemed like a lot of wings. I figured that they were going to be pretty small.
While I was waiting I had a lot of time to look around and talk to people; nobody seems to know much about the place, including the employees. They just sort of opened with no marketing, no website, no facebook page. I asked for the password to their wireless; nobody knew if there was a password or if it was their router. The place is very big, with an indoor/outdoor bar, a big patio and a big bar in the rear. Big Toshiba TVs are all over. The tables are far apart; it almost seemed like the place was too big for the amount of tables they have.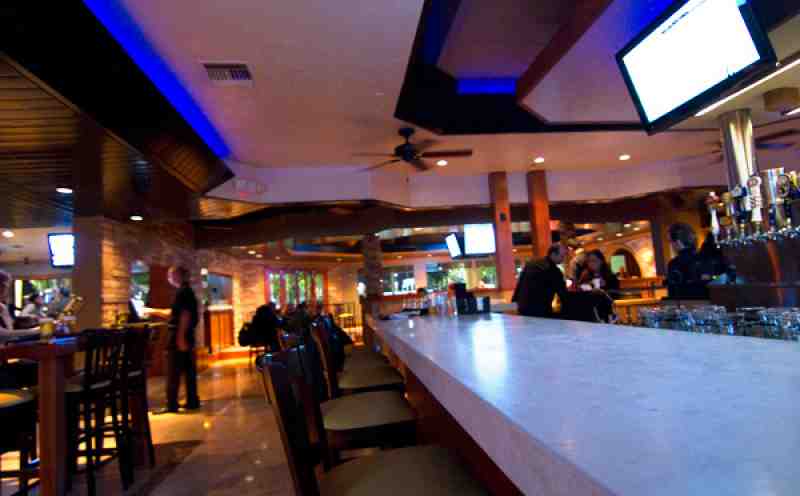 When a dude brought out the wings, I was pleased with the portions.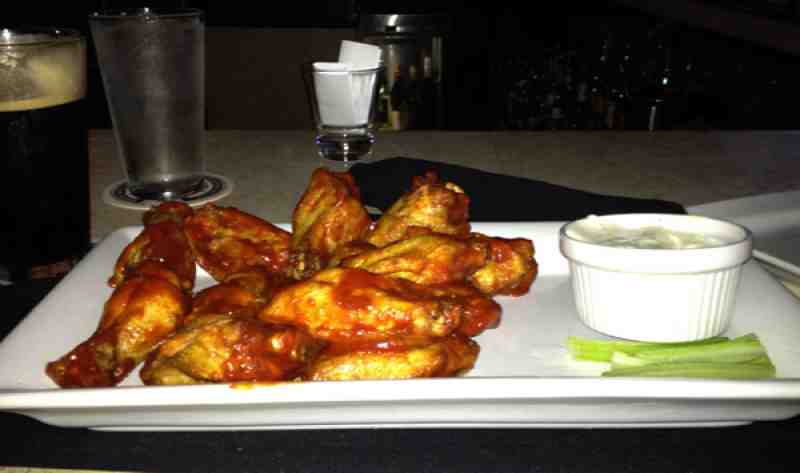 Brick Yard Micro Brewery Chicken Wings
Big wings with a big tub of blue cheese; it really bugs me when places give you big wings and a little thimble of blue cheese (are you LISTENING Duffy's?). So on the surface everything seemed great (the little celery sticks notwithstanding); except that the wings were awful. Not the wings themselves; they were just cooked; no noticeable flavoring cooked in. But the "hot sauce" wasn't actually hot sauce. It was more like a sweet BBQ sauce; like they just globbed it on with a brush right out of a bottle. It was too sweet, not hot and just nothing I could ever recommend ordering.
The service here is questionable; they have a bunch of people milling behind the bar, only a few of whom are actually able to pour you a drink or take your order. But they don't tell you which are which, and they're all dressed the same. They also don't know anything about food or anything else; a woman asked if they had chicken soup, and the bartender recommended the conch chowder. Say what? Yeah, that's pretty close. The fact that they didn't tell me about happy hour is a negative as well.
I asked the bartender if this was a chain, and she said that it was, but that they were on the west coast and this was their first Florida location. The truth is that this place is owned by the same people who owned the Porterhouse "Clubs"; and who now run Bourbon on Second and this place at the old Porterhouse locations. So either the bartender was lying or the people that work here have no idea who they work for.
Given the ownership, I have little expectation that the food in this place will get any better. People who run incompetent restaurants for a decade aren't likely to learn much all of a sudden. Despite that, the concept is good; it's sort of like a Yard House with all of the taps and TVs. The question is, once the Yard House opens in Mizner next spring, will all of the people who come here simply go there instead, considering that it's the same kind of place with much better food?