Critic's Review
III Forks is a Prime Steakhouse owned by Consolidated Restaurants, who also operate the Cantina Laredo next door. It's located at the front of the complex right next to the main parking lot (and the valet stand), so it's very easy to get to.
III Forks is a handsome place; Old School for sure, with dark woods and leather. It's a manly-looking place with clean lines and an uncluttered feel. The tables aren't so close together that you feel like you're practically dining with those at the next table.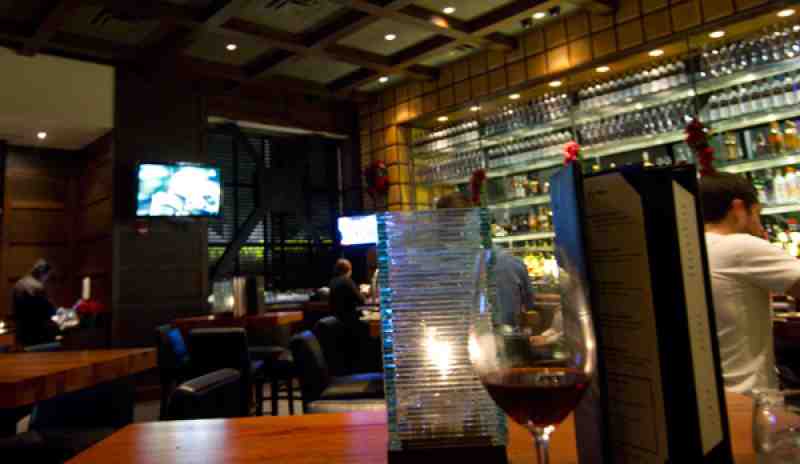 On a Thursday night the place was practically empty, which can be a good thing. Even with only a few tables occupied in the main dining room, the noise level was fairly high. The good news is that they have the NFL network; the better news is that they put the sound on the game in the bar area. The high top table are technically in the bar area; I grabbed one of those so I could watch the game without having to eat a big meal at the bar, which I wanted to avoid.
High tops don't have setups, or salt and pepper, or anything else, except for a drink menu. The drink menu doesn't include the wines by the glass, so I had to ask for the wine list. The wine list that they have on their website isn't up to date; I ordered a Chianti priced at $9.
Their regular menu is just about totally ala carte, except for a couple of items which include mashed potatoes. I'll say this for the first time now; this place is expensive. Considering that the entrees don't include any starch or vegetable, and sides are $8, if you want a balanced meal it will cost you, particularly if you're dining alone or you can't agree with your dining partners.
Bread and butter was supplied; the bread was like a big roll with a sweet taste. I wasn't eating a lot of bread so I just took a taste.
I started off with a caesar salad.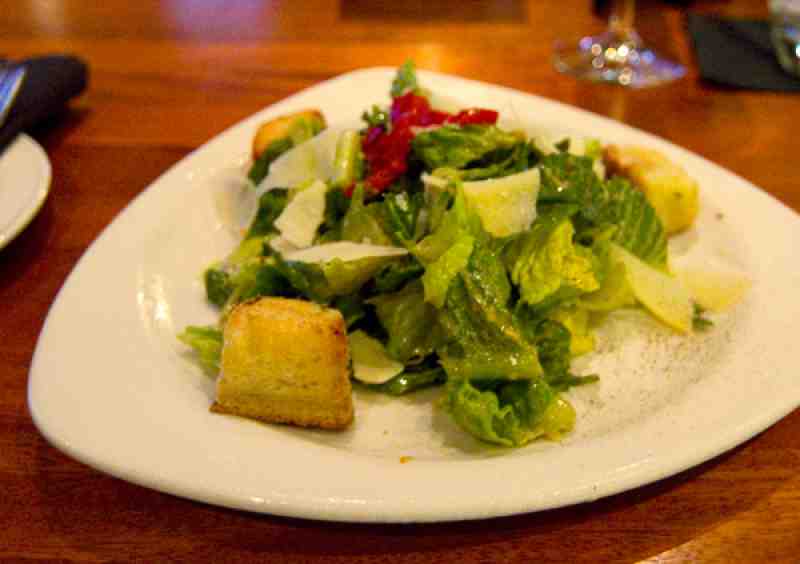 It's not a huge salad, and it has a very delicate dressing and large shavings of parmesan cheese rather than the thick, cheesy stuff you get at places like the Outback. The croutons were a bit large but I wasn't eating them anyway. The salad was good.
There was a lot of time between courses. The steak and sides weren't delivered for quite a while after I'd finished the salad. They did all come out together, however.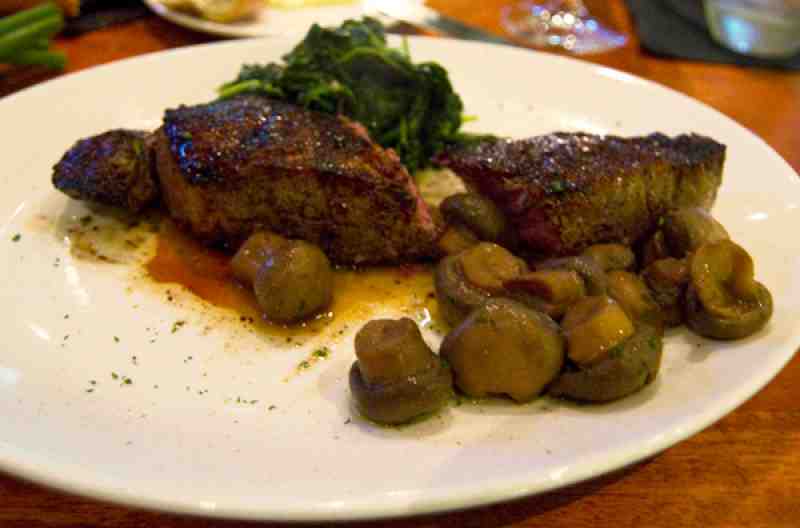 I'd ordered the 16oz prime NY strip; of course those of us actually from New York know there's no such thing; it's the short loin which is the big side of a porterhouse. Typically this cut is overpriced down here, but I didn't feel like a filet and I wanted to make sure I got a prime steak. They don't have porterhouse steaks. The steak is a big cut; 16oz with very little waste is a lot of beef. The steak was nicely charred on the outside and medium rare as ordered when delivered. It was still cooking so the thinner end was medium well by the time I finished.
The steak was very good, but I'm not convinced that there's much distinction with all of the wacky beef grades between prime and anything else. This certainly wasn't noticeably better. It's a big cut and you'll pay $32 for a non-prime 12oz strip elsewhere, of course you'll get potatoes and vegetables as well.
I ordered sides of mushrooms and sauteed spinach; a hit and a miss. The spinach was great with just enough garlic, while the mushrooms were bland and tasteless.
The biggest issue I had with the place was that the high tops don't really have a server; the bartender is your server if you sit in the "bar" area. The problem is that there's only 1 bartender, and she also has to work the service bar. There's really no way that she can properly service 3 tables and the bar in an acceptably timely manner. A table of 3 was seated just as I was finishing up, and it took way too long for her to close me out. In between getting my check and taking my card she was making drinks and taking orders. They should have at least one more person; luckily there was nobody at the bar so it wasn't as bad as it could be.
The tab for this steak dinner for one was $86 before Tip; steep considering I only had 1 drink. Sparkling Voss was $7.50; you don't want to come here unless you're ready to spend some money.
Photo Gallery
Related Articles
III Forks Free Entree for Veterans , (11/02/2011)

Disclosure: We received a Gift Card from the restaurant's PR company to review this restaurant