Critic's Review
I noticed a new place has opened in the space previously occupied by Angelo's in the Harbor Shoppes, so my plan to order from Vito's was changed on the run. I picked up a menu and saw that they had 18" pies, which is an element of authenticity. I also noticed that this place is owned by the same people who own Zuccarelli Pizza in Pompano, a place that I've been meaning to try.
Inside this place is small but manageable; you could eat in here, but it's really a pizzeria. The prices are medium/fair, with an 18 inch pie going for $13.50; one thing that I like is that they outline the 1/2 topping prices. $1.25 for 1/2 sausage is a fair price.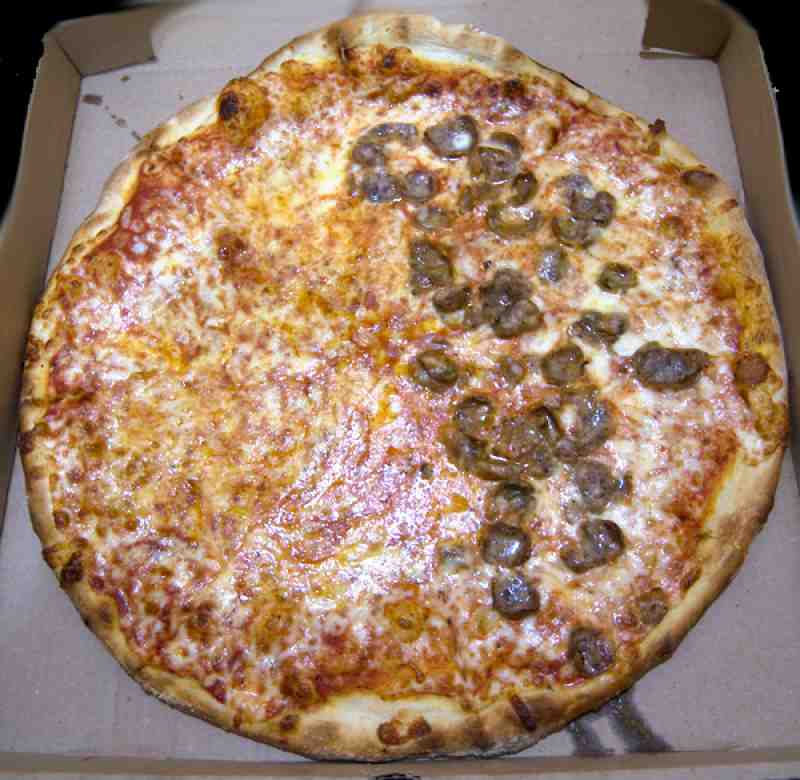 Giuliano's half sausage pizza
This, people, is pizza. The first couple of bites I took of this made me want to go out on my terrace, jump and do a triple pirouette. I'd finally found it; the holy grail of pizza. It was, imperfect, however, as in some places the crust was a bit too chewy. The crust/cheese ratio wasn't consistent. But this was a very good pizza. If the crust was a bit thinner throughout it would be as good as it gets.
They have a massive menu; Good sauce and good cheese make for a lot of good choices.