Critic's Review
When I first moved to Fort Lauderdale, LaBarraca of Hollywood was my go-to place for a first date; particularly since most of my "dates" seemed to live towards Miami and it was sort-of half way. It's a cool place to go during the week when it's empty; the authentic decor and personal service was more enjoyable than on weekends when the place was packed and they had the flamenco dancers.
Recently, the owners sold LaBarraca and opened this place in Boca. I was very interested in trying it, hoping to recreate some of the romantic magic of one of my favorite places up north; Barcelona in Stamford, CT. jump-->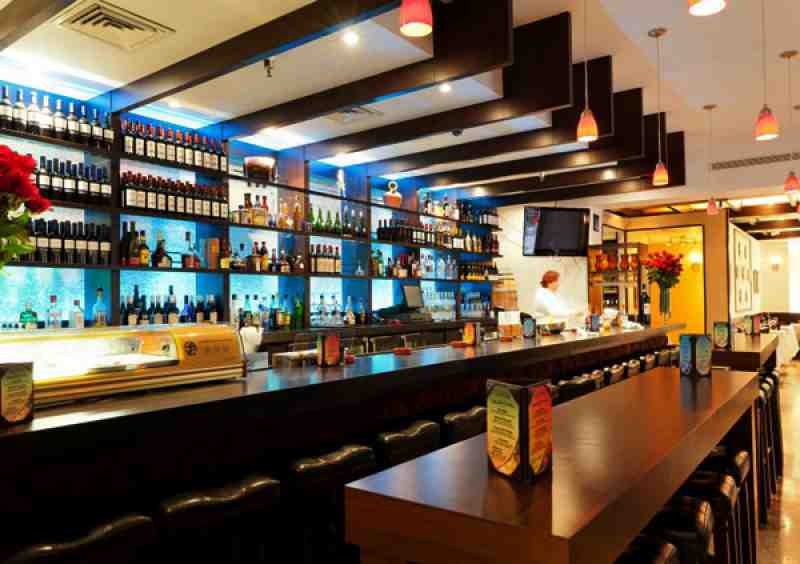 The bar area here is attractive but not very functional. The bar is too narrow, particularly on the left side where they have a serving display with olives and other bar nibbles. The long tables behind are also too narrow for a place where you're likely to have several plates and drinks in front of you. You'd need half of the table for 2 people. So we opted for a table in the dining room.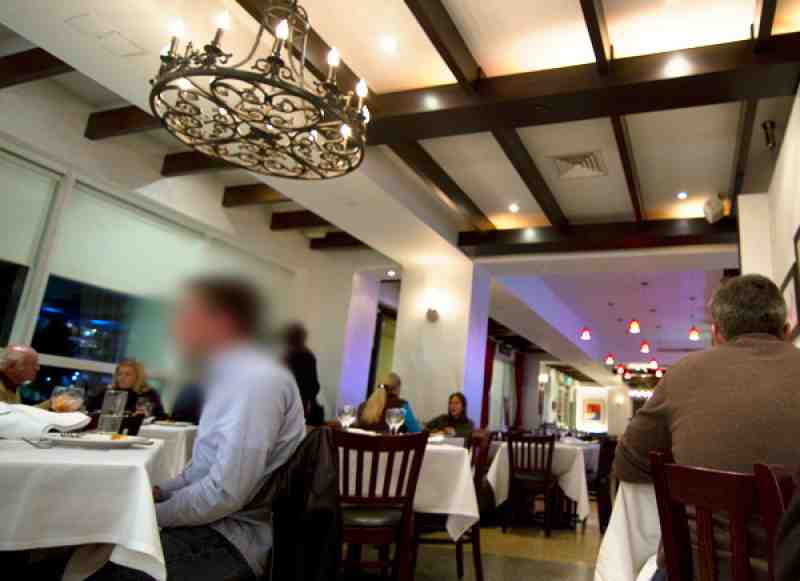 They have flamenco dancers Thursday through Saturday, but on other nights it's more subdued. There was authentic Spanish music playing, but the dining room seemed very sterile. Very "Boca". It's not a romantic place. I was with a friend and not a date, so no matter. But this isn't the kind of cozy place I'd hoped for; a place where you could get close to someone in a candlelit environment and share food and whispers. No booths. White walls.
There were only 2 tables when we were seated, and we were given menus. I was thinking of a glass of a nice Rioja, but they only had bottles on the menu starting at $39. We wouldn't be drinking that much. They only had sangria by the pitcher. So I asked if they had wine and sangria by the glass. "Yes, of course" our server said. Except at no time were we offered a wine by the glass list. Nor were we told what our choices where. He asked if we'd like water. "Sure". He poured the water and disappeared without asking if we wanted drinks.
A basket of bread was delivered with salsa; they were soft rolls and not the kind of crusty bread I'd want with salsa. The salsa was pretty good; sort of a pico de gallo without the cilantro. It was decent with the bread; but I didn't really want to eat bread.
We looked over the menu and tried to decide what we wanted to try. There's no menu on their website or facebook page; they only have a catering menu. So I wasn't able to review it beforehand. The menu describes the dishes with their Spanish names accompanied by vague english summaries. We ordered an "assorted seafood" dish that was describe as "in lemon juice", a Spanish Tortilla and marinated Skirt Steak. Dishes are priced from 8 to $12 mostly; they also have fixed price tasting menus priced at $49 per person which was more than we wanted; I'd hoped to get classic chorizo with manchego but it was only available on a combination plate with ham and olives for $20.
Finally our server returned, without a wine menu, so we just ordered our Tapas and a glass of Sangria and a Corona. I had no idea how much they'd be charging me for the Sangria, and I wasn't going to order an unnamed, unpriced Rioja. Our server mentioned something about the ceviche being very good; we thought he was making a suggestion, but we didn't really want ceviche. So when they brought out the seafood we were a bit surprised.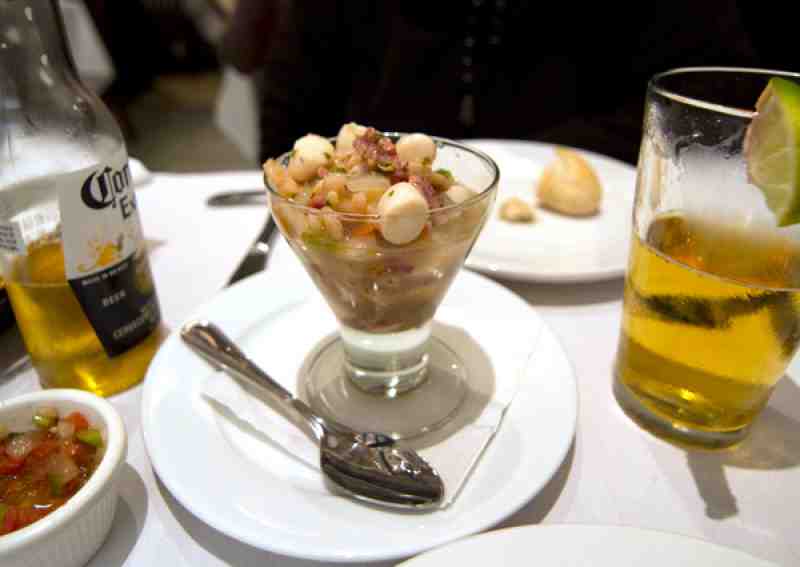 The Spaniard Seafood Ceviche
There was no clear indication on the menu that this dish was a "ceviche"; we thought it was going to be sauteed in oil and lemon. At first we thought the server had ordered something else for us. It didn't look much like ceviche, nor did it taste like ceviche. There was no citrus taste; no chili spice. Sort of like the kind of seafood salad you get at a deli. There were a few onion bits included; but overall it was just pre-cooked seafood in a vinaigrette. Not what we wanted; and not very impressive. Our server mumbled something about Peruvian ceviche; as he disappeared my Peruvian born companion shook her head, "No", she said. "This is not Peruvian ceviche."
Next was the tortilla, which is a spanish potato omelet. It showed up looking more like slices of cheesecake, and priced similarly. Are 2 slices of an omelet worth $8? You make the call.
The Spaniard Tortilla (potato omelet)
The tortilla was notably bland; this dish should get its flavor from flash cooking the potatoes and onions in hot olive oil, giving it an intense flavor. This was more baked and like eating a fluffy omelet at your local diner. My guess is that they saved money by not cooking the potatoes in olive oil. So why am I paying so much for this? You wouldn't pay that much for a complete breakfast with a big mound of potatoes and sausages.
The first 2 dishes came out quickly, but we had to wait for the skirt steak. I suppose it was the only thing we ordered that wasn't prepared in advance. It came out with a nice presentation; rolled up around sprigs of Thyme, with a mound of onions.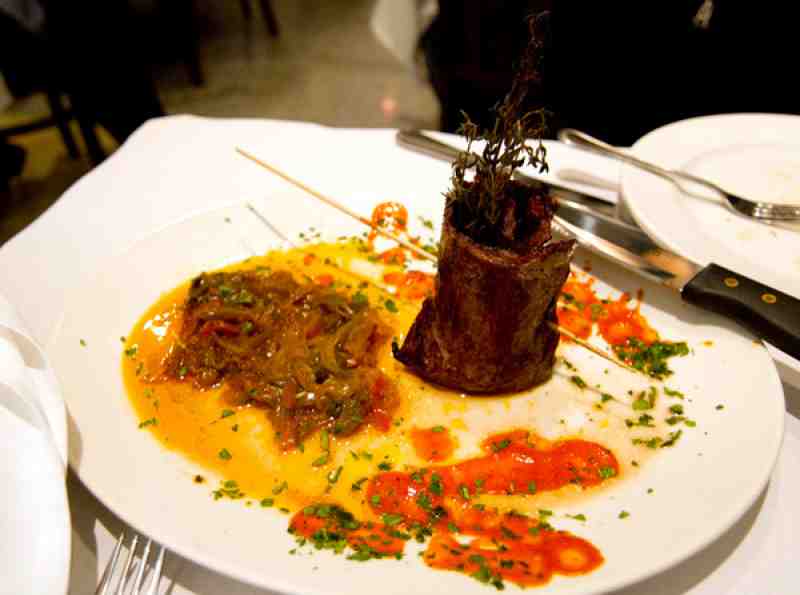 The Spaniard Skirt Steak
It was a skinny skirt cooked medium-well; it was certainly the best thing we had, but there weren't any particularly flavors that jumped out at me. The onions were "ok" but not memorable either. It was a decent dish that I couldn't get excited about recommending or ordering again.
When we asked for the check, Jorge himself (the owner) came over with the hard sell on dessert; but we were done. They seemed displeased with our miserable $45 tab.
There's a sort of hard-sell here that makes it feel uncomfortable. They want you to buy bottles of wine and pitchers of sangria. I shouldn't have to browbeat my server to find out what I can get by the glass. The Sangria was only $7, and it was pretty good. But I would have like to know my other choices.
Expectations are often your enemy, and this place failed to meet mine at almost every level. While the food wasn't bad, it also wasn't anything special. And given the too-bright lighting and uninspiring ambiance, it's not a place for a romantic date; not nearly the Barcelona-type clone I hoped for.