Critic's Review
You've seen the commercials. You know it's not as good as they say it is; yet they keep pounding you with advertising and it raises your curiosity. The kicker is that they're a main sponsor of the Super Bowl, and with my NY Giants in the game, I've been watching a lot of NFL network. I had to check it out.
You can just guess by the price and location that this place isn't going to be gourmet dining; the big question is just how bad is it? It's the question I set out to answer. The initial impression isn't so good; they make no attempt to tell you how the whole thing works. My guess is that most people who come here are regulars. They have a sign with prices; they have discounts for kids and seniors, so there are a lot of kids and seniors here. For lunch, it's 8.29 for an adult. Something like $6 for seniors. All you can eat for $6. We could solve the federal budget problems by just sending people to Golden Corral instead of giving them food stamps.jump-->
Inside the place is your typical fast food buffet. The entire length of the place is a series of buffets and seating is on the opposite site. No booths. You'll have families and people with walkers all around you. I had to go way into the corner to get some privacy; and then a family with kids and a baby sat right in back of me.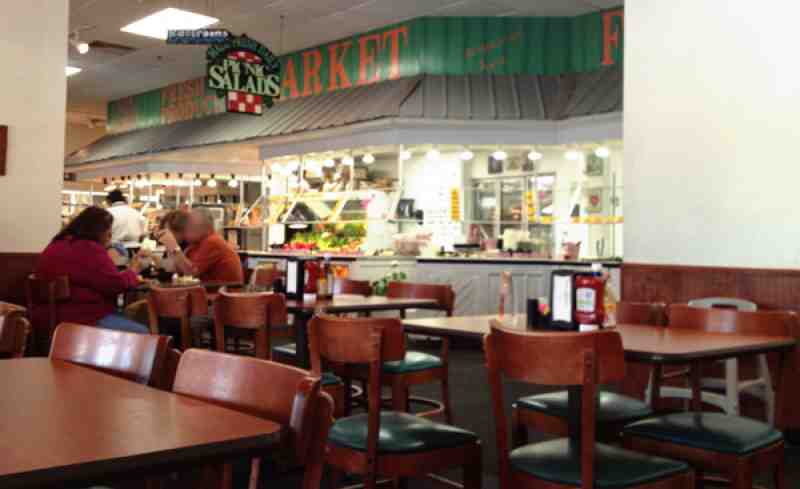 You can order your first drink as you enter; you pay your buffet fee and for the drink; a bottomless iced tea is $1.99. Once you're in, it's game on. Grab a plastic plate and some silverware and start grazing.
The way I look at buffets is not whether or not everything it's good or bad; it's whether or not you can find enough decent stuff to make it worth what you're paying for it. There's going to be some really bad stuff, and some stuff that's been sitting out way too long. You get that at any buffet. So it's a search for acceptable food.
I started at the salad bar; there was a lot of stuff, most of which was inedible. There were "slices" of green pepper 1/2 thick cut, some sort of tuna macaroni salad, cottage cheese, none of which I was touching. The onions where hacked into thick slices also. Deviled eggs; not in a place like this. The lettuce, however, was green and there were some cucumbers freshly sliced. There was a container full of cherry tomatoes, none of which were close to being ripe. In face most of them were more green than red. I found one that was more red than green. They have a few dressings; the blue cheese looked ok.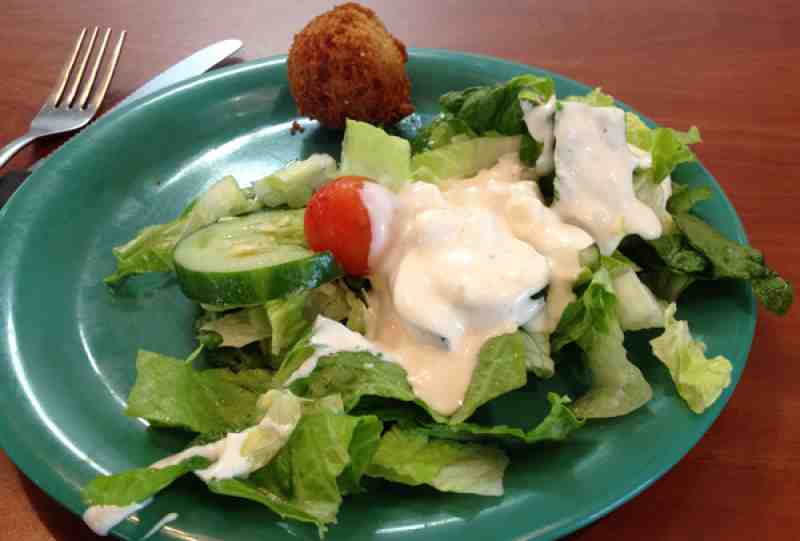 Golden Corral Salad with Blue Cheese and a Hushpuppy
That other thing is a hushpuppy. The salad was actually pretty good, although my effort to cut the tomato proved fruitless and it squirted out onto the floor. No matter. Just as I was digging in a women in an apron came over. "I'll be your server today". Say what? What will you be serving me, I thought. "I didn't know I got a server", I said. She then explained that she would get me refills on my drink; and your server is also the only way to get a straw for your drink.
The hushpuppy was Ok; they're not really my thing. Up for a new plate and pass at the buffets. There were a lot of empty pans, but they were constantly putting out new stuff. It's all about timing. Each time I got up for a new multi-colored plastic plate, I'd see what was new and fresh.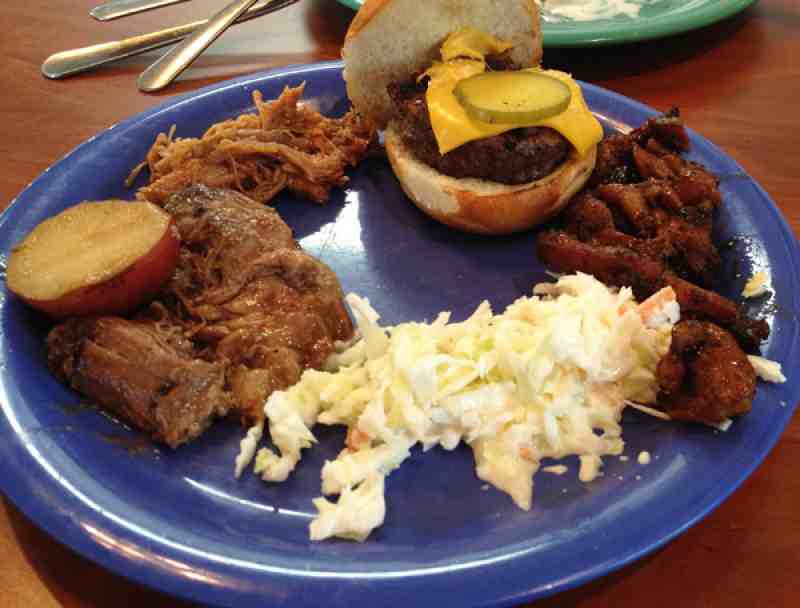 Golden Corral Cole Slaw, Pot Roast, Pulled Pork Slider and Bourbon Chicken
On this run I got some cole slaw, "12 hour cooked" pot roast, pulled pork, a cheeseburger slider and bourbon chicken and a red potato. The cole slaw was lousy, the pot roast good, pulled pork not bad and the slider and chicken were "eh".
I made 5 passes in all; 5 plates and 5 sets of silverware. The cajun potato salad was surprisingly good; as was the clam chowder. Some of the soups looked quite old; but the chowder was better than what I've gotten at some pretty good restaurants.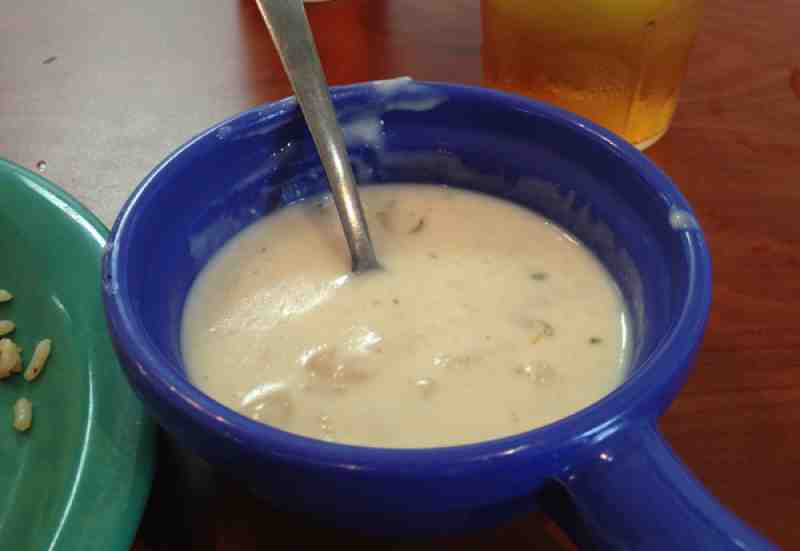 Golden Coral Clam Chowder
The rotisserie chicken was a tad underdone, but good, and the BBQ chicken was pretty good (and pretty messy; no wet naps here). Young kids might like the pizza but it's junk; the "steamed" broccoli and cauliflower was closer to raw but better than the overcooked green beans that I passed on altogether. The Cajun Whitefish was edible; suitable protein in a pinch. The Mac N Cheese wasn't worth the calories. I didn't like the greens. The stuffing wasn't terrible, as stovetop stuffings go. The fried rice; well you don't get fried rice any place other than a chinese restaurant. The fried chicken was good too; it reminded me of the Weaver's Batter Fried Chicken that my Mom used to buy when I was a kid.
In many ways, the Golden Corral defines low-end dining. With a fast food, "family" atmosphere, it's no place for a date and you're not coming here on Mother's Day. But in a time where restaurants are charging $10 for a salad, you can't really go wrong for the money. Heck, I've paid $8 for a cup of soup and iced tea more than once. There's nothing really great and a lot of stuff they have here will make you shake your head, but you can probably find enough to fuel a whole day of calories in one sitting.
And I didn't even check out the Dessert bar. Not as good as Isle Buffet,around the corner, but a good value.
Photo Gallery