Critic's Review
BurgerFI is now open across from the Galleria Mall on Sunrise Boulevard. This is the first Franchise operation in our area; the first and original location is in Lauderdale By The Sea, and I've reviewed it several times. The Franchisees, two brothers from Boca Raton, plan to open 7 BurgerFis in Miami Dade county.
This location is larger than the one in LBTS, but all of the locations are very similar sporting the same printed menu and prices. With music cranking from Pink's Fun House to Adele, it's a pleasant place to have a burger lunch. They have the same industrial decor, including the meat hook lamps and plank tables.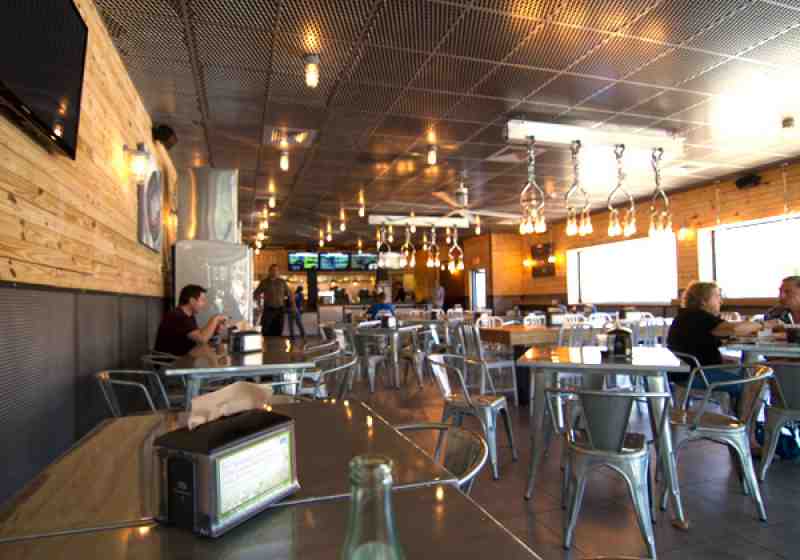 BurgerFi Sunrise Blvd Interior
Unlike other BurgerFI grand openings, there was hardly anyone in this place at prime lunch time (about 1:30pm). The main BurgerFi website still has this place as Coming Soon, so maybe they don't get much marketing with a Franchise.
I've tried a lot of their stuff, which you can see in the gallery. I felt like a hot dogjump-->, so I ordered a Chicago Dog, which are kind of pricey here at $4.27. I also got a single patty burger with cheddar, just to try a burger, and I got a "real" Coke, which comes in one of the old style Coke bottles.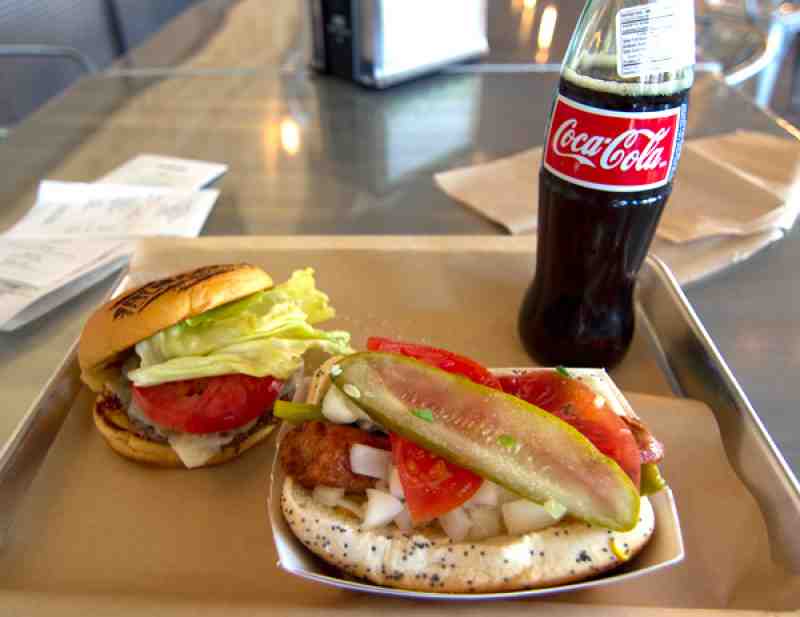 BurgerFi single cheeseburger, Chicago Dog and Real Coke
The coke is imported from Mexico; they don't have many rules in Mexico, so they have to put a sticker on the bottle with the "nutritional" information, as if sugary water has any nutritional value. It would have been nice if they put the sticker near the bottom rather than just slapping it on near the top.
Looking at the food, the first thing that's clear is that they haven't been properly trained to make Chicago Dogs, because this is just not right. You can see the difference between the one I'd gotten at the LBTS store, which was constructed correctly. Also, this Dog has a pickle; the menu specifies a cucumber slice and that's what I got before. I prefer a pickle. You don't just throw the pickle and the tomatoes on top of the dog; there's a method to the madness when it comes to Chicago dogs.
Additionally, they cooked the hot dog too much. This hot dog was cooked crisp; like one you get at the 7/11 that's been on the rollers for 14 hours. No hot dog should be cooked this much; Chicago dogs are just supposed to be heated. After I reassembled it, it wasn't bad. Too many onions and not enough mustard or relish. This isn't the place to come for your Chicago dog.
You can also see the difference between this cheeseburger and ones that I've gotten previously; There is one thin piece of cheese melted on the burger and a big glob of iceberg lettuce. I can't see why I paid $1.00 for that amount of cheese. One good thing was that the burger was actually pink, maybe a mistake, but it actually had some taste, unlike the other cardboard burgers I'd had previously.
One thing that I think they have wrong is that there is no salt on the tables; they have a big communal salt shaker with the condiments, as if we're supposed to guess how much salt a burger needs before tasting it. I know how much ketchup and mustard I want in advance, but there's no way to know how much salt I need until after I take a bite.
Prices are up at BurgerFi on Hot Dogs and Shakes 30 cents since they first opened. Burgers are the same.
With all of that, this burger was about as good as the burger I got yesterday at Jack's at about the same price. $11.50 for this setup is a little steep for a hot dog, small burger and a coke, but overall it's a decent lunch spot that's a lot better than most of the food you can get in the mall across the street.
UPDATE: Perhaps it wasn't fair to go in the first week they were open, so I stopped in to see if they've straightened themselves out on how to make a Chicago dog. I ordered one with an Orange Cow. They gave me a beeper and I sat down to wait. There was no music playing; just a soccer game on a TV with the sound turned up. Not exactly the ambiance of Manero's other BurgerFis. A dude brought out the hot dog, I'm not sure why I got a beeper, but he didn't bring the drink. So he had to go back for it.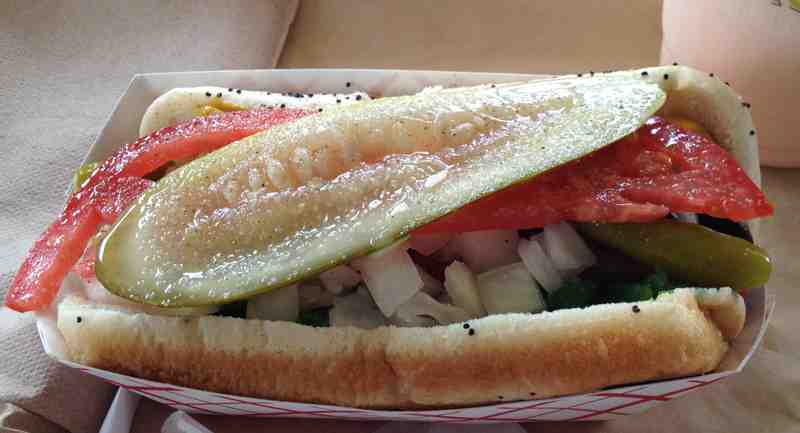 BurgerFi Sunrise Chicago Dog
As you can see, they still don't know how to make a Chicago dog. This time the dog was split and grilled, but its just a bunch of stuff thrown on top of a hot dog. There was too much celery salt. This didn't taste like a Chicago dog at all. It was one of the worst ones I've ever had.
The shake was good; I mean orange soda and ice cream, how could it not be good? They give you the rest of the bottle if you happen to like orange soda by itself.
I reiterate my original assessment; if you're looking for a Chicago Dog, go somewhere else.
Photo Gallery