Critic's Review
You know the building. For years, downtown residents drove by the building with the name, "Biagio's" hand painted on the front; wondering if it would ever open. Owner Richard Alteri finally obtained a license in December, but ran out of money before he could open. He sold the Business to Elliot Wolf, who also owns Coconuts and G&B Oyster Bar.
I have to admit; Foxy Brown surprised me. A friend who lives nearby has been waiting forever for this place to open, but I never gave it a second thought. From the outside, it looks like a little dump. Who's going to go there, I thought, the Waverley Crowd? Nobody knew anything about the previous owner, and newbies in this town have just opened up 1 bad restaurant after another.jump-->
With Wolf at the helm, I expected the food to be pretty good. The first surprise was the parking in the back. It's a pretty good sized lot. The buildings next door aren't rented, so the entire lot can be used for Foxy Brown.
They also have a small patio with 2 tables. Too hot during the day, but it might be ok at night; or if you bring a dog. When I walked inside, it was a lot nicer than I expected. And bigger. With a bar in the middle of the room, it feels no different than the lounge area of a regular sized restaurant. They have a big flat screen on the wall; but it's the glossy kind, so with the ambient light in this place it acts more like a big mirror.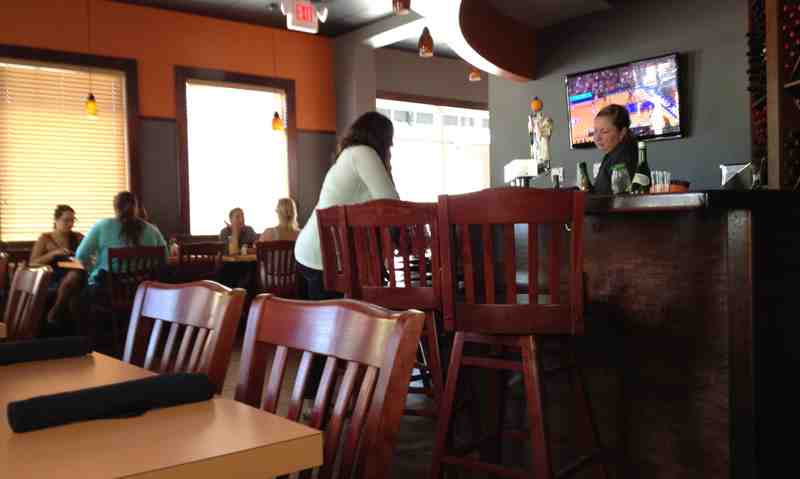 There's also a decent mix of music, with Marry You, Somebody Told Me and Like I Love You among the tunes I recognized. They have one menu for lunch and dinner, with the only changeup being the dreaded "fish of the day". Quite a change from the 20 or so specials they have everyday at Coconuts.
I looked at the menu for quite a while and I almost bit on the hanger steak, but I ended up going with the Patty Melt, adding a side of cole slaw. Some good ole comfort food. I got a sparkling water; they have the VERO system here so you can get unlimited water for $3.50; considering some places charge $5 for a 12oz Sole it's a heckuva deal. The sandwich came out in short order.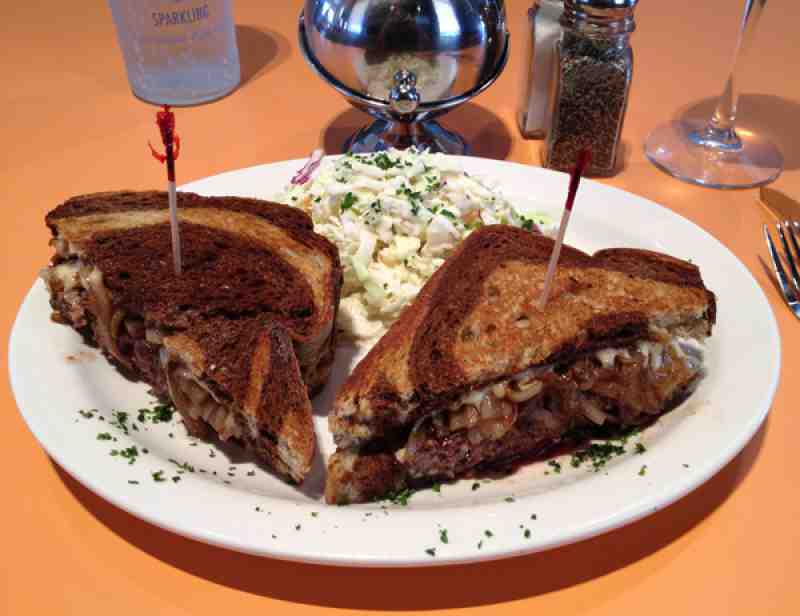 Foxy Brown Patty Melt
It was a nice looking plate. It wasn't a very big burger, maybe 6oz. I had to ask for ketchup and salt it. It was pretty good, but not as gooey good as some I've had. To me, a good patty melt is an oozing grilled cheese sandwich with a burger in it; this was more the assembled kind, or maybe it was made on a dry press rather than grilled in butter, and I think the bread was cut too thick. The cole slaw was well-made, not over-marinated and a good portion. I had to salt and pepper it.>
One thing I don't particularly like about the place is that there are more servers than there are places for them to stand. The women who hangs out in the middle of the room is strange. And there's a lot of people coming in and out and hugging right in front of the table.
They also serve brunch on Sundays from 10am-4pm, and there are a lot of good choices; in fact I had difficulty deciding. The english bangers (sausages) sounded good, but instead I went for the Short Rib Benedict. The entrees are all ala-carte, so their prices aren't as good as you'd initially think; had to pay an extra $2. for toast.
I'd ordered coffee, which is served in a big cup. It's also very good coffee. The eggs came out about a half cup of coffee later.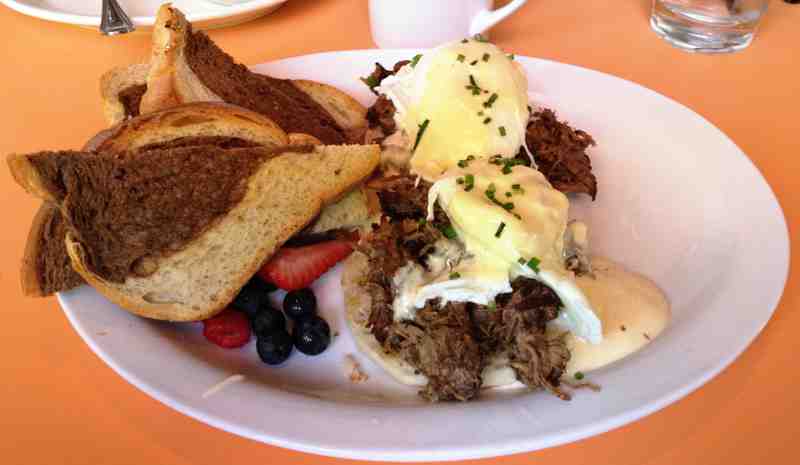 Foxy Brown Short Rib Benedict
The toast was served dry and sort of stuffed onto the plate; I asked for some butter and a separate plate.The eggs are served with a side of fruit; I don't mix fruit with protein, it would have been nice if I could have opted for some potatoes instead. The menu says that this comes with "chimicurri hollandaise", which I couldn't quite fathom; but this was really just regular hollandaise. It had chives or green onion, but it paired very well with the short rib. This would be a 5 star dish if executed properly, but one of the eggs was soft boiled and the other was cooked hard.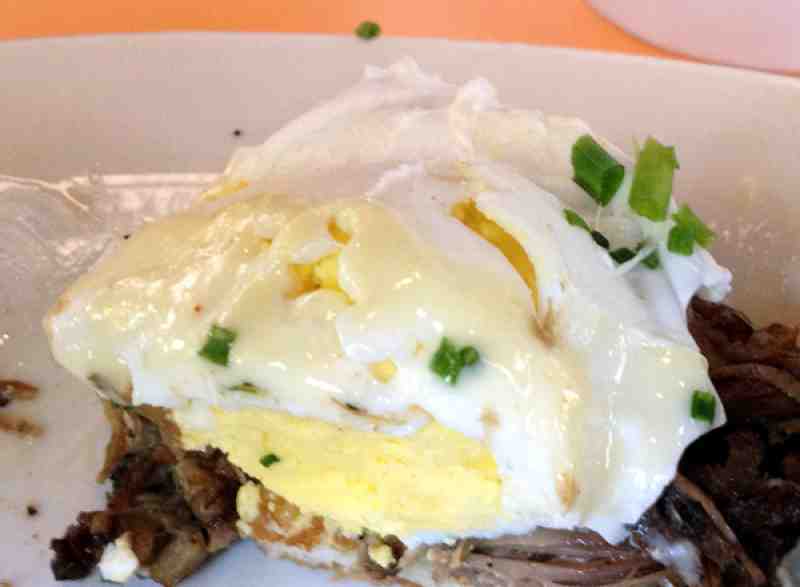 Foxy Brown Hard Poached Egg
I enjoyed it regardless. I didn't eat the fruit; so I had the shortrib benedict, toast, and 2 big cups of coffee and it came to $20, which is about the same as you'd pay at any high end restaurant. No bargain, but enough interesting menu items so that locals could come here often without getting bored.
I give the patty melt 3 stars and the eggs 4 stars.