Critic's Review
I went to Grille 401 on the day that they opened and sat in the dining room; They did a nice job; There are lots of booths and an attractive decor. There's nothing wrong with the dining room.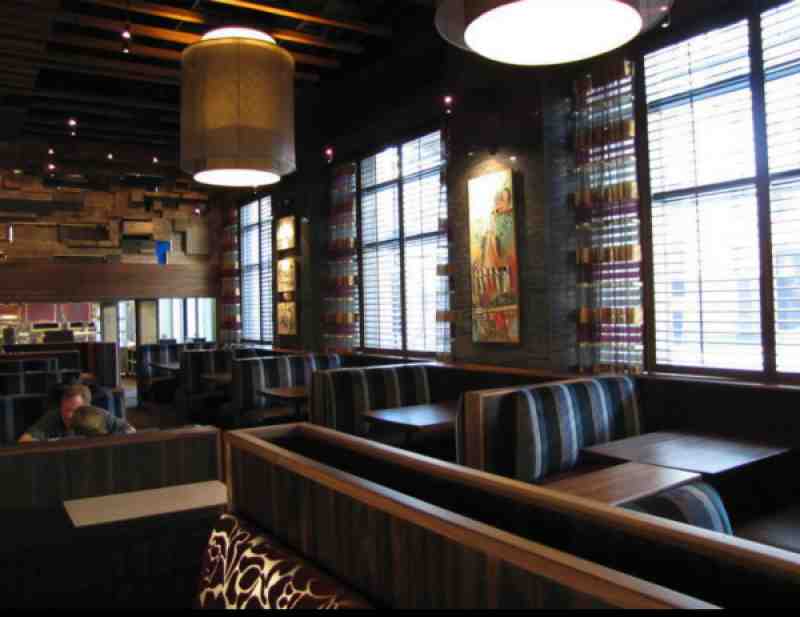 Grille 401 Interior
They recently came out with a lunch menu, which is basically the same as the dinner menu without the steaks; this is the most expensive lunch on the street.
I had some $8.95 ribs that cost $17 on that visit; not terrible but nothing I'd recommend or order again. Saucy, not very smokey.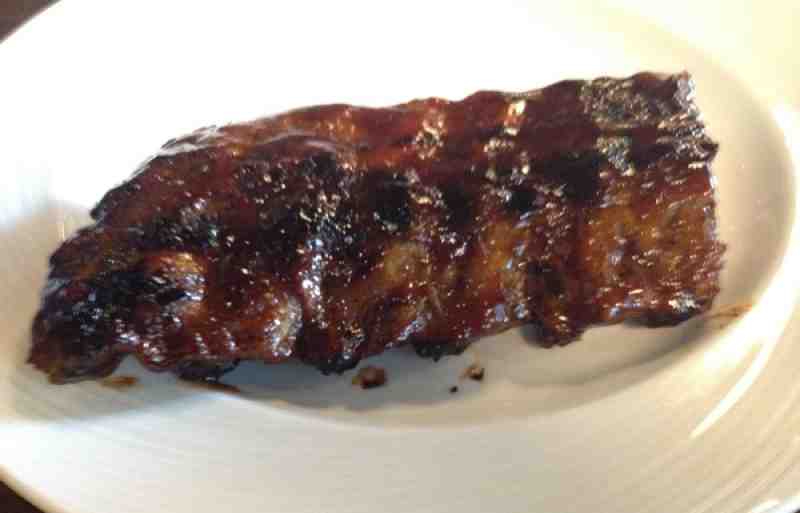 Grille 401 Ribs
>
I sub'ed out the Fries for the special of chilled Asparagus; a big mistake. First, asparagus doesn't go with ribs very well; second they put some flavorless, wonky sauce on it that didn't help.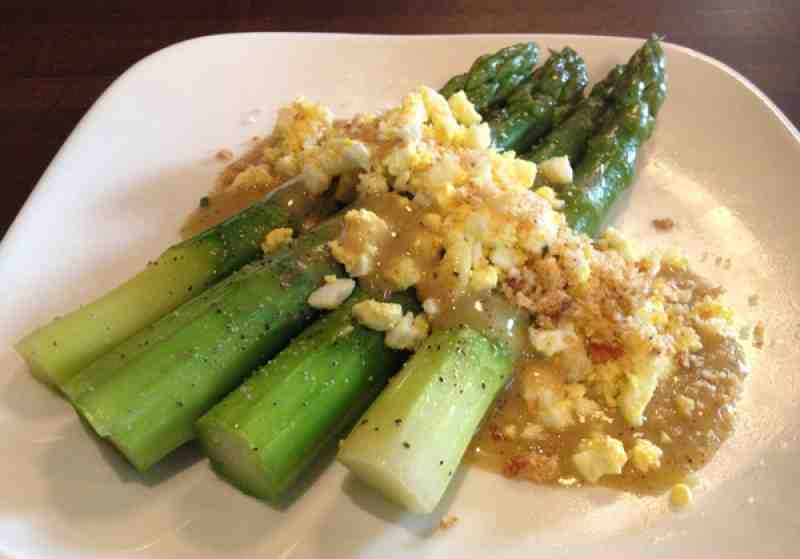 Grille 401 Asparagus
I've thought about stopping in for a re-visit multiple times as I live nearby, but never make it past the front steps. Bad music and an empty bar are like a forcefield around the restaurant; causing people to bounce off and head to YOLO or the Royal Pig. Why go in here when there are people at other restaurants nearby?jump-->
I can't express how much I hate the bar here. They've toned down the lights since they first opened, but it's still mirrored mania; too loud with a low mirrored ceiling and creepy mirrored posts; mirrors behind the bar. You'd think that this place was designed in the 80s, when mirrors where "in".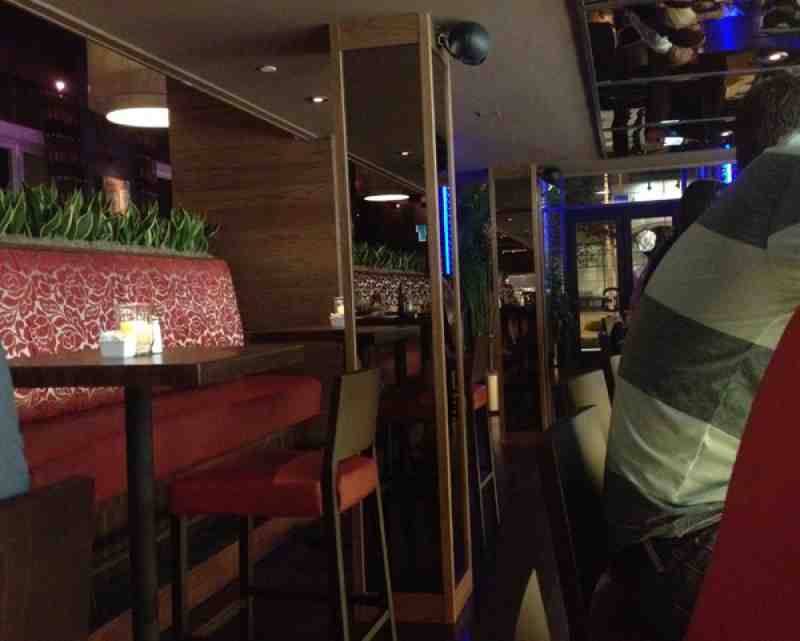 Grille 401 Mirrored Posts
What's really unfortunate is that sitting at the bar is eerily like being at the bar at Rare or Bova Prime, which is sort of like dating a girl who looks just like your crazy aunt. On a Thursday night there are 7 people at the bar, counting myself; a couple who clearly were there by mistake and 4 older dudes watching the Heat game. The TVs here aren't as good as they had here before either; even though they're pretty close to the bar I was having trouble reading the scores. Partially my fault; but I can read the scores at other venues.
To get an idea of the space without people or chairs, this is a shot from just as construction was completed.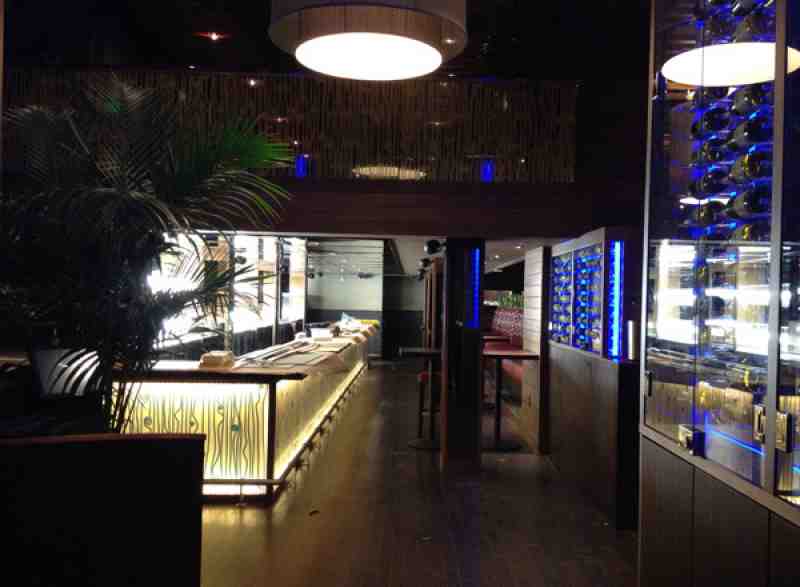 Grille 401 Bar Area after Construction
The bar ambiance is not inviting; the girls behind the bar are busy barking out orders and tasking and have no time to spend on their customers; it's more like boot camp than a pleasant place to dine or hang out. I asked for a wine by the glass menu and a food menu when I sat down; I guess they don't have any specials because they didn't tell me about anything. The wine list here sucks rocks if you drink red wine; one Pinot Noir @$15, nothing italian and nothing under $10. $10 a glass for wine that's $10/bottle. I ordered an Abita Turbo Dog and a "baby" wedge salad.
I can tell from the menu that there's nothing worthwhile going in the kitchen here; no chef with any self-respect would serve Cajun Pasta or Hawaiian Skirt Steak; This is a TGI Friday's menu. When there's a lot of asian influence you know that they don't have any real ideas. They use the CAB program for beef; and adhere to the usual trick of trying to pass off beef marginally better than choice at Prime prices.
Grille 401 uses a PR company known for "marketing" restaurants with false messages, and this restaurant fits the bill perfectly. They have 3 restaurants that serve similar menus, and now all of a sudden they're claiming to use "local" sources; except there's no specific commitment to what dishes are local. There's also nothing "seasonal" about the menu as they claim. It's a stupid concept that appeals to few and fools even fewer; why so many restaurants buy into using losing concepts is somewhat of a mystery, particularly as evidence mounts that it doesn't work. Their web site is riddled with questionable claims and "reviews" from the kind of publications that do friendly reviews for PR agencies. It's unfortunate that the "media" in South Florida has become such a joke. When restaurants can get rosy reviews from local clown-act critics they just get the false sense that they have a good restaurant, and everyone suffers as a result. If you wonder why there are few if any really good restaurants in Fort Lauderdale; the reason is the that all of the local "critics" care more about pandering to restaurant owners and PR agencies than they do telling the Truth to their readers.
There was a group of dudes from a bachelor party who were loud and stupid at some tables behind me; I was thinking why would someone decide to have a bachelor party at a frooffy restaurant bar with no man-food and no babes? The salad came out pretty quickly, thank goodness.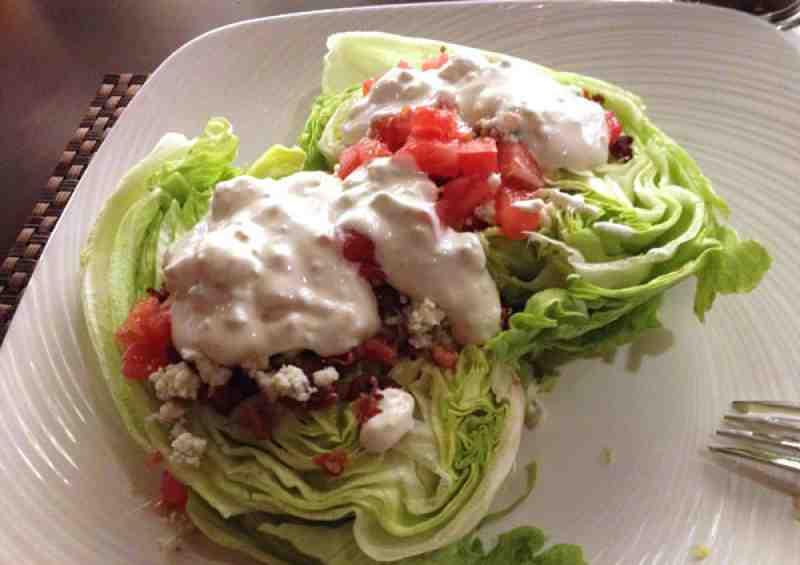 Grille 401 Baby Iceberg Wedge
They're making a mistake calling this a "baby" wedge salad, because the implication is that it's small. I doubt if many people know what baby iceberg lettuce is. This dish was a mixed bag; good lettuce and blue cheese dressing, but chopped tomatoes, no red onion and bacon bits that were more chewy than crispy. There was also a piece of bone; and we all know that real bacon doesn't have bone. Chopped tomatoes are usually an indication of lower quality; certainly not as good as a thick slice of a ripe beefsteak.
I could have used some more dressing, but I made due with what they gave me. Better than the junk I got at Rice and Dough and a lot more food than you get for more money at YOLO.
I couldn't wait to cash out and watch the end of the heat game at The Royal Pig, where a pretty, smiling girl would pour me a cheap but decent $8 Pinot Noir.
Photo Gallery
Related Articles
Brimstone Woodfire Grill 14575 SW 5th St Pembroke Pines FL, 33027 (09/15/2012)
Pinon Grill 6000 Glades Rd Boca Raton FL, 33431 (03/17/2012)