Critic's Review
Alice's is pretty easy to miss. It looks more like an office building than any kind of restaurant, without the Now Open sign and a faint memory that it was opening, I easily could have missed it. It was kind of late for lunch and I didn't really feel like a sandwich. I thought I might get a shake or something.
Parking is a bit tricky; by the time you get to a point where you can see that there are no spots near the place you've come to the end of a one-way parking lot and you have to circle around the block to get back in. They have the half free, half metered lot, so if you don't have a quarter you may find yourself parking further away than you'd hoped. Not a problem on a sunny, 80 degree day.
Inside, Alice's is pretty cool with icKle bar stools and oversized colorful chairs and booths; sort of an Alice in Wonderland theme. There are chandeliers over the booths. It's a nice place.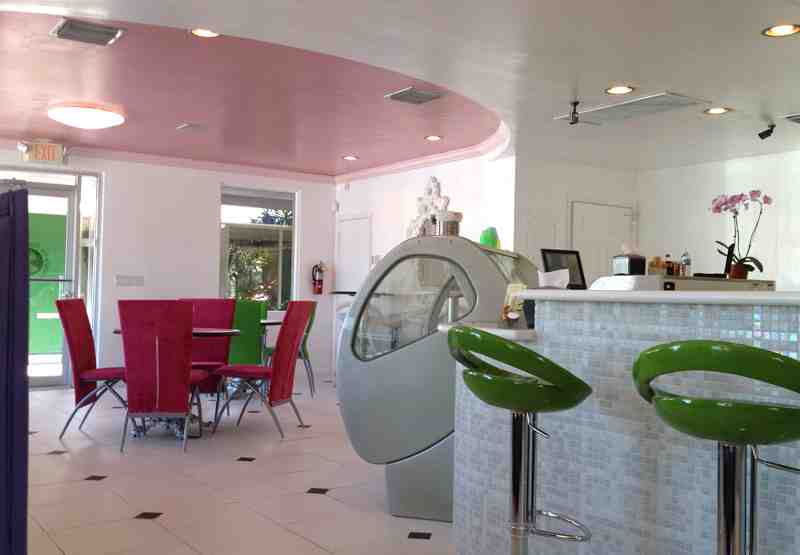 Alice's doesn't have printed menus and the board they have on the wall was a little hard to follow. They had some pastries out that didn't fit what I was looking for, and I was having trouble communicating with the counterperson for some reason, so I just ordered a small, dark chocolate gelato.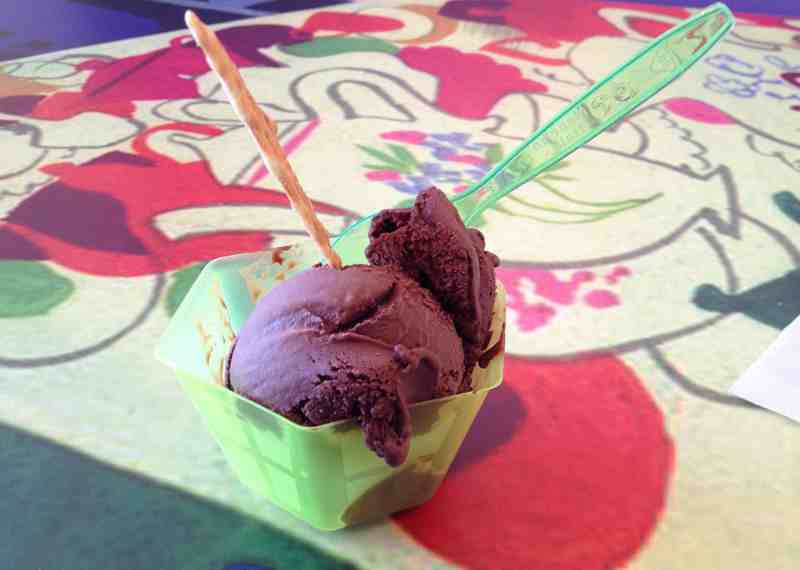 Dark Chocolate Gelato
Gelato, if you don't know what it is, is an italian frozen dessert that has a lower fat and sugar content than ice cream; in other words, it doesn't taste nearly as good. The idea is that it's denser, and it's supposed to have deeper flavors that aren't overpowered by sugar. My personal opinion is that I'll take a scoop of Baskin Robbin's over this stuff any day of the week. This wasn't sweet at all, and it wasn't particularly chocolatey either. I also think that a scoop and a half for $5.04 isn't a very appealing deal, even if I really liked it.
They claim that they make the gelato in-house, which seems questionable to me. Anyone remotely tuned into this town knows that everyone buys their gelato from Gelato Fino ; there's a reason that there's 24 places to get Gelato in a town that's 3 square miles. Maybe they make them here. If they do make their own, they need to add more sugar. Kids and the elderly like sugar, and you have to play to your audience and throw the snooty authenticity out the window if you want to compete. As Mrs. Field says, if you're going to indulge, make sure it's something that's REALLY good.
At this location, I have trouble believing that a place like this can do well. This is drive-through territory on the way to LBTS; with Pomperdale Deli now kind of sucking under new owners, there's little reason to "dine" in this part of town. It's too far to walk from the beach, and anyone at the beach is going to go to Kilwin's.