Critic's Review
I'm not sure why, but there seem to be a lot of really bad businesses in Eastern Boca. I've been cheated more times than I can count; and when I say cheated, I mean not given everything I was supposed to get. At the now defunct Pickle's Deli, I didn't get a side that was supposed to be included in a sandwich. At Fatso's the counter guy "Forgot it was Monday", when I asked why I didn't get the published Monday Special. And the previous place at this location had a big BUY ONE GET ONE FREE sign out, but I only got one pie at the regular price.
This place didn't really cheat me, but the whole way they do things just seems somewhat insulting. I had called last week about a pizza without having seen a menu, and the guy told me that they only have 20" pizzas. How stupid is that, I thought, that's the same as a supermarket only have cartons of 18 eggs. So I passed and got my pizza somewhere else. I was in the area today, so I figured I'd stop in for a slice.
Inside,the place looks like a small pizzeria. They have a bunch of tables, so you can eat in here.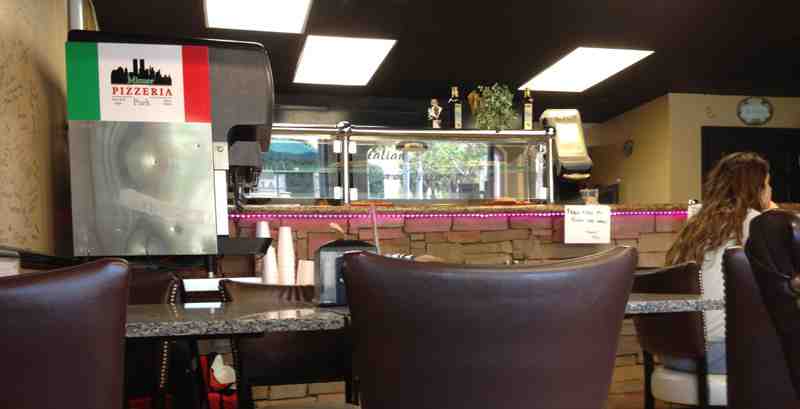 I went to the counter and got a menu; $3.00 for a slice, plus tax. Now if you get a big, gooey 20" slice, that's not bad. They had some pies on display. Now here's the kicker. Their slices aren't 20" pizzas; they were 16". And they didn't look so great. They were thin and they looked like they'd been out a while. I was going to get a pepperoni, but then I saw something flying around over it, so I just got a cheese slice.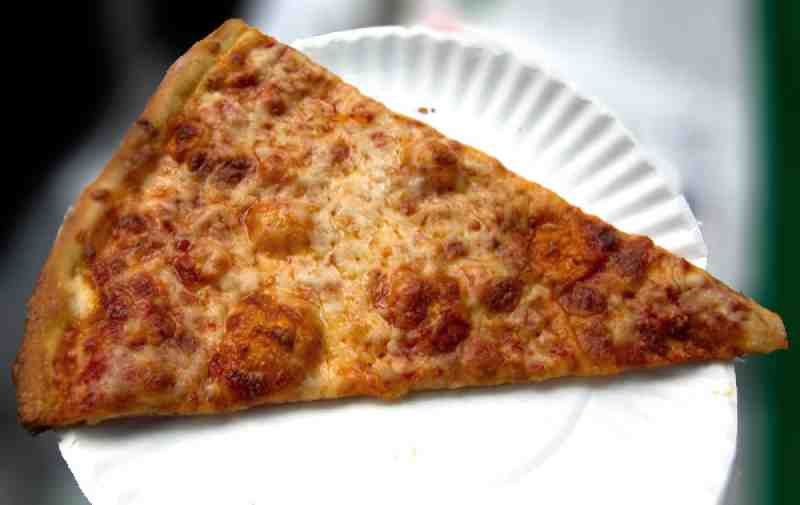 My problem here is that the owner had no problem charging me $3.18 for this thing, which is just kind of insulting. The fact that they only have 20" pizza is arrogant enough, but then charging $3. for a small slice with hardly any cheese on it is just bad business. Who is ever going to go back to a place after getting an old, wrinkled slice for $3.18? It's as if they don't even care.
5 5-star reviews on Yelp and not one vote on Urbanspoon. And they're an advertiser. Seems fishy.