Critic's Review
When Hickory sticks first opened, I checked it out and I thought the baby back ribs were terrible. The were overbrined; just way too salty for consumption. The sides were good, and the cornbread was inedible. I usually don't go back to a place so fast; not because I don't want to, but because there are just too many other places to try out. But I was lunching at Hooters down the road, so I figured I'd pick up some BBQ and have it for dinner.
Inside, the place is very rustic; with weathered woods to make it look like it's been around for as long as some of the other BBQs in town. Inside is well decorated; it reminds me more of an old time bar more than a restaurant, with a lot of space in the center of the room. I think they overdid the weathering.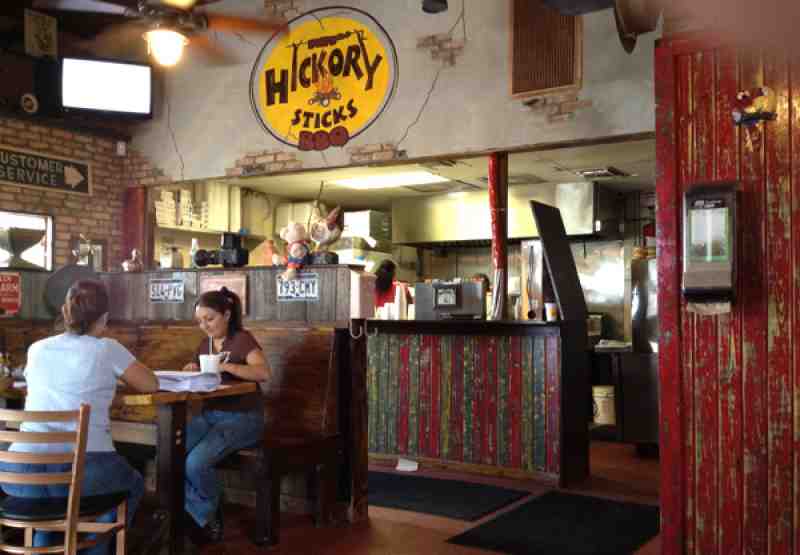 Hickory Sticks Interior
Their prices are fair; $10.95 for a half rack of babybacks and $9.95 for spare ribs. I thought I'd try the spare ribs this time. If was ready quickly enough, and it was a pretty heavy bag. When I got home, I opened it, and the ribs looked different; the babybacks and the sauce I'd gotten before had a reddish color. These looked better. The cornbread however, was a soggy mess, just like before.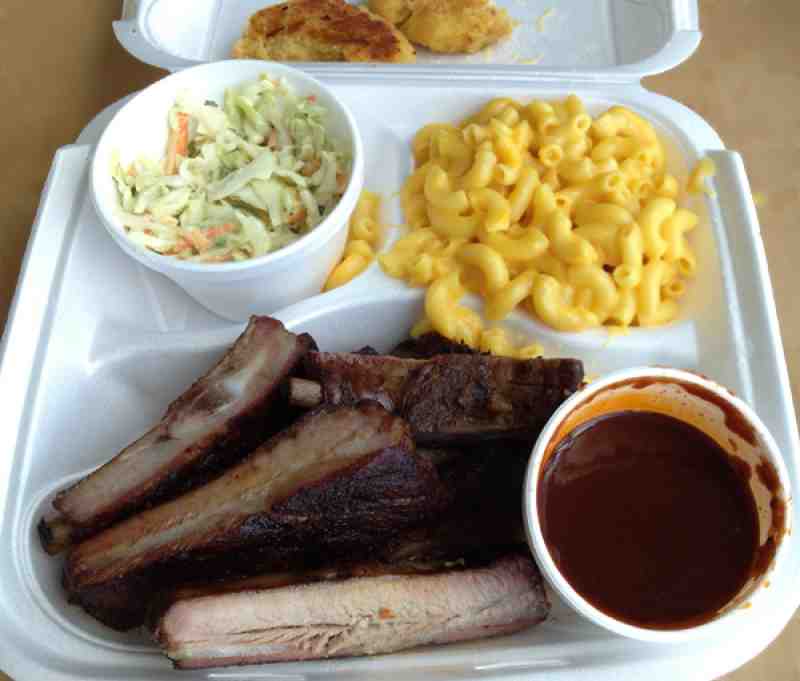 Hickory Sticks Spare Ribs, Spicy Slaw and Mac and Cheese
I got the spicy cole slaw this time, and the Mac and Cheese. I didn't really detect anything spicy in the cole slaw, but again, it's top notch stuff. These guys know how to make cole slaw. The mac and cheese, interestingly, had a bit of a jalapeno taste. It was a different flavor, not great, but I found myself eating more of it than I planned. The ribs were great; slightly smokey, just the right tenderness, and a good amount of meat. This is good stuff.
It's rare that I see this much change in just a few months, but they've clearly gotten their recipes down. Most places with good ribs have at least one bad side. Now if they could just give up on the cornbread and give some garlic bread instead; it might just be perfect.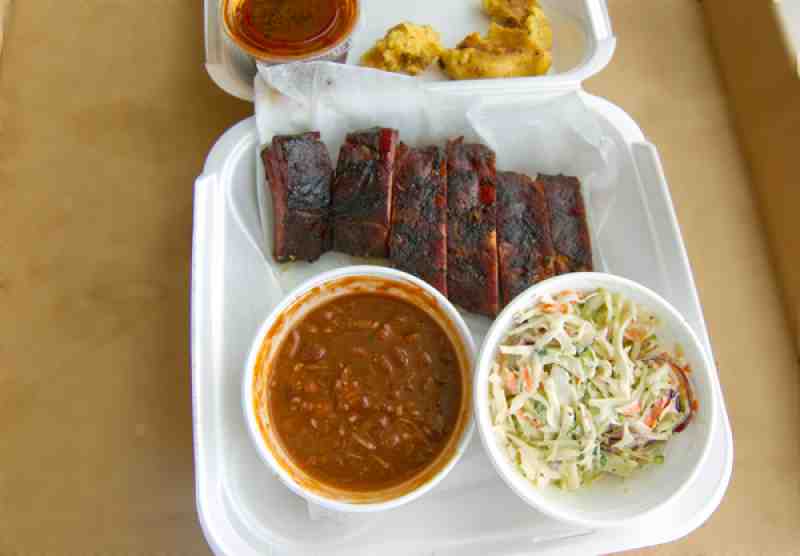 Hickory Sticks Baby Back Ribs, Beans and Cole Slaw