Critic's Review
My hope of having breakfast in Boca Raton was nixed when the diner-type place I was going to didn't serve breakfast after 1pm, and I didn't want to eat lunch there. So I figured I'd trek down US1 until I came across a diner. I remembered Marlee's because I had reviewed Little Havana next door a few months back, so that's where I ended up.
I admit that I almost walked out of Marlee's after walking in; I wanted to make sure they served breakfast all day (it was about 3pm) before I sat down, and even though there was only 1 person in the place nobody seemed to acknowledge my standing there. Finally I got someone's attention, and I decided to sit down.
Marlee's is your typical, small old time diner; it's kind of a creepy beige and stainless steel theme. There's nothing really wrong with it, but it's definitely a diner feel. There are lot of big windows so at least it's bright, and you can keep an eye on your car while you eat.
Diner's are less comfortable at 3pm, because they usually do the in-between meal cleaning. There's nothing different about Marlee's; there were a couple of seniors at the counter, servers who fit the diner/server mold perfectly, and a guy mopping the floor. I'm not sure why the napkins were on the booth.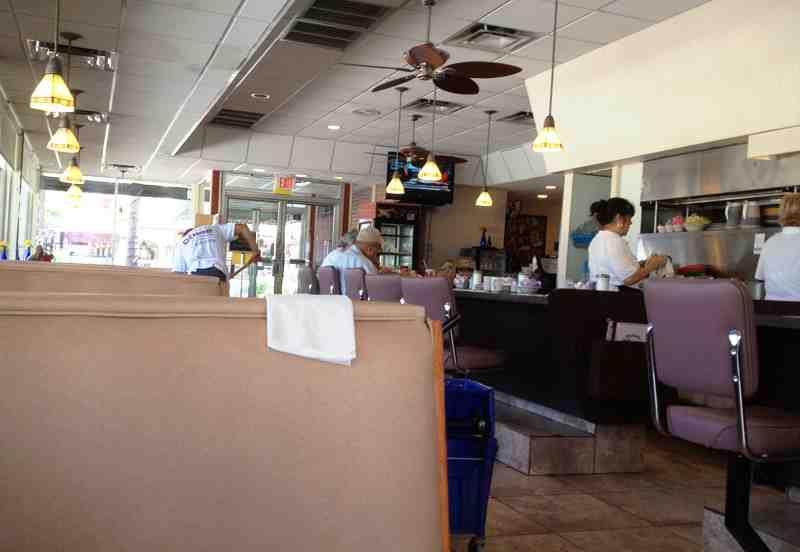 Marlee's Diner Interior
I wasn't going to be adventurous here, so I just ordered 2 over easy, sausage, home fries and rye toast. It took about 10 minutes for the food to come out.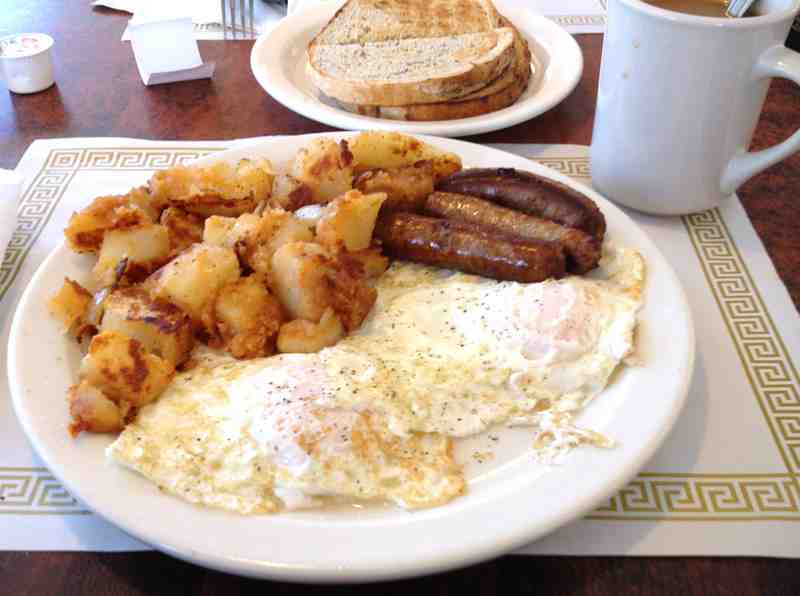 Marlee's Diner Breakfast
Now Marlee's tagline is "not your typical greasy spoon" and I'd have to say that's right. Of course greasy spoons have their advantages. The eggs were cooked properly and the home fries weren't the kind that have been sitting on the grill all day, but the sausages were so well done that they almost ceased to be sausage; or at least taste like sausages. The fat is part of the point of eating sausage, and every once of fat was drained out of these. Not a bad taste, but I like the bigger, juicier ones better. They had a good rye bread with just enough butter. Pretty good food all in all.
Marlee is the owner's daughter who had Diabetes, so part of the theme of Marlee's is healthier diner food. I don't mind greasy diner food; it's one of the reasons I go to diners. But I suspect you can get a pretty good meal here based on the breakfast.