Critic's Review
I have to admit that I was initially fooled by Laspadas; the sub shop that somehow got a 28 rating in zagat. How does one get a 28 rating when your main product is a sandwich? You stuff the ballots. There's no other possibility.
When I first moved here I didn't eat a lot of subs; it was a once in a while thing. So the first time I came to Laspada, with the encouragement of the masses who assured me it was fantastic, I fell in line. I was impressed by their showmanship; the way they toss the meat around and assemble the sandwiches with some gumption. When you don't have something specific that you want, having someone slap a sandwich together can give you what you want; a sandwich with a lot of stuff on it.
But the restaurant business is relative; it's not necessarily how good a place is; it's how good it is compared to your other choices. Now that I've been to about 20 places in the area, I have a bit more perspective. I also know what I want. I ordered an 8" Italian Special with mayo and mustard and everything except hot peppers; banana peppers on the side. Believe it or not, Laspadas sub shops don't have banana peppers, which is a huge minus. They also don't have fresh green peppers; they only have sweet, marinated peppers.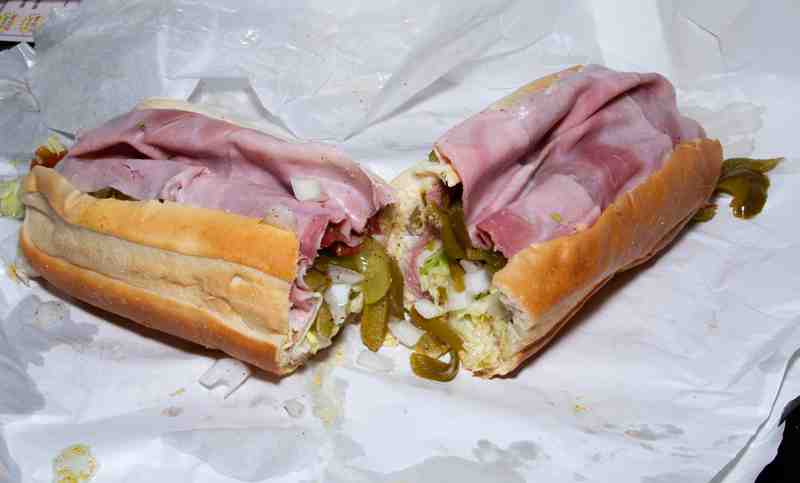 LaSpada's Italian Special
The sandwich features whisker thin slices of not-so-great meat, soggy tomatoes and pickles that couldn't be discerned from the peppers. It wasn't very good bread. As a whole, it's a bunch of tasty stuff on a bun, but it didn't have the layered flavors that a great Italian sub has. It's so overpowered with the oil and the peppers that you can't really taste the other flavors in the sandwich.
It had been a long time since I'd been to this location; I'd gotten a sandwich that I didn't think was so great at their new location, and I thought that maybe It was just due to training. But now that I've been back here, it seems that the issue is that my palate has evolved, and the big sloppy mess just doesn't do it for me anymore. This was just an "OK" sandwich.