Critic's Review
The bad economy has people eating more burgers and less steak, and there's no shortage of people trying to cash in on it. But with BurgerFi, CG Burgers, Steak and Shake and now even Don Shula getting into the game, you wonder if there's room for another.
Another burger place with CAB burgers; I saw a bunch of puffy reviews so it was time to take a drive up to Davie.
They advertise that their burgers are a "unique blend", but when some people on their facebook page asked them to specify the ratios, they deleted the posts. They also wouldn't disclose the fat ratio, which seems to me to be a lot more important than anything else.
There was one other customer in the place at 2:30pm, and there were so many employees that the place looked full. Employees were swarming. Knucklehead's isn't a big designer deal like CG Burgers and BurgerFI; the decorations are what I'd call free-standing fast food. jump-->No built-in plastics like the real fast food places, but more like a kids's playroom than a comfy dining room. At the counter, it's fast food all the way.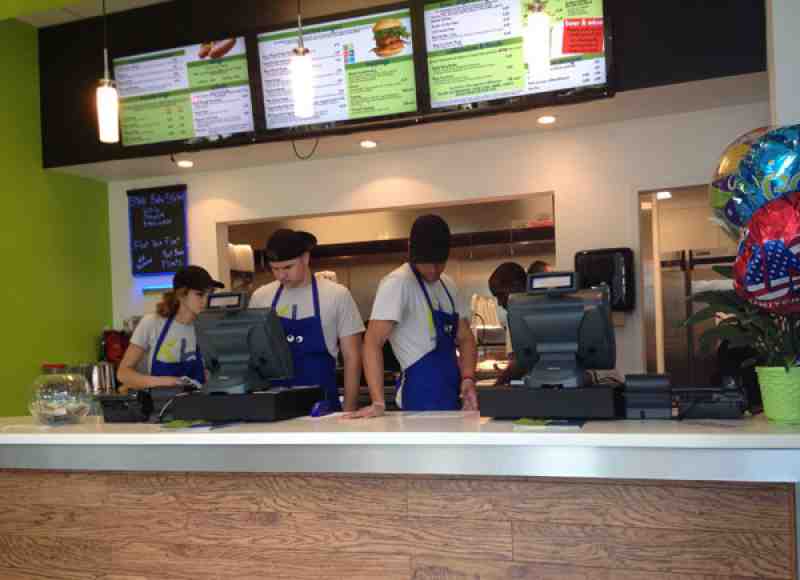 Knucklehead's Counter
I placed my order for a NY Dog no onions and a Keep It Simple burger with cheese and a bottle of water, for a total of $14.23. No bargain, although it would be a meal and a half. $1.95 for water, so bring your own. The plan was to eat the hot dog here and then have the burger later. I sat down and waited; it was a longer wait than expected considering that there was no-one else in the place waiting for food.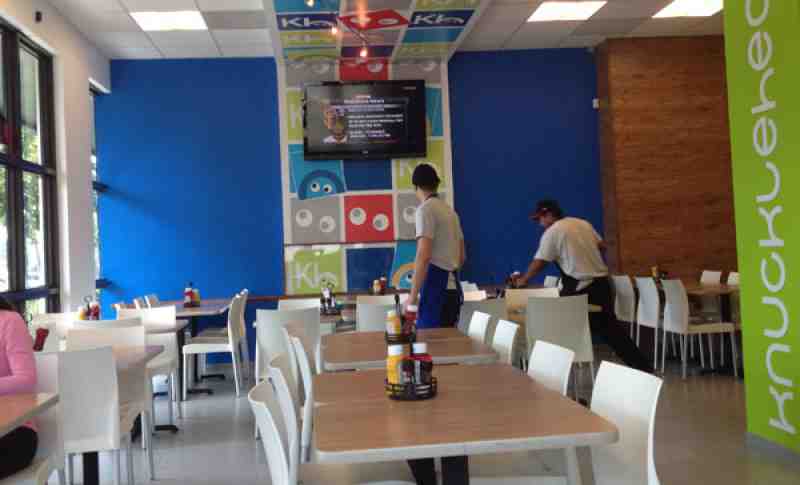 Knucklehead's Burgers Interior
I'd ordered it as takeout, and when it was ready one of the swarming dudes brought it out. I grabbed the bag and sat at a table. They failed to give me the water; the guy asked if I needed anything and I said that I didn't get my water; he proceeded to bring me a cup of water. "No, I paid for a bottle of water". They're still training here, obviously.
I opened the dog and it was split grilled with a good amount of sauerkraut. They only have Heinz yellow mustard here, if they're serious about selling NY dogs they'd better get some Spicy Brown Mustard.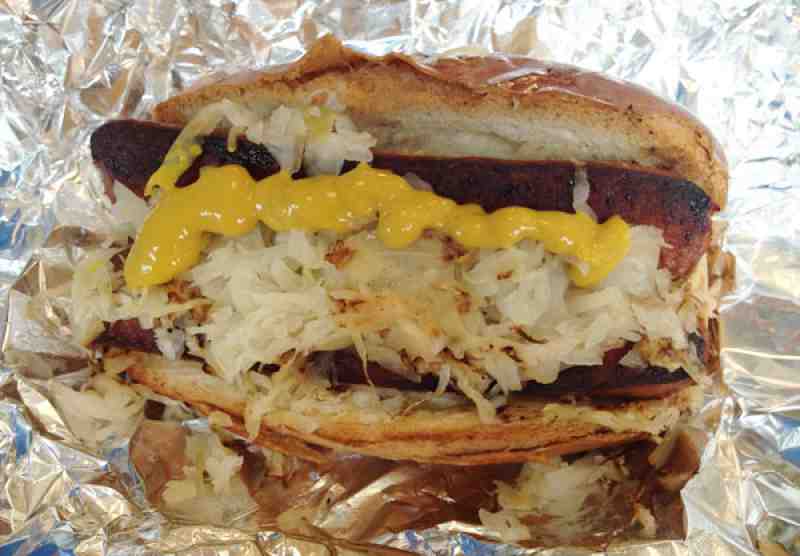 Knucklehead's NY Hot Dog
They claim to sell Hebrew National hot dogs, and I'd have to say that's what I got. The New England Style bun was a little bit too much bread, but it was a satisfying hot dog. Kind of pricey at $4.97 with tax. In fact, it's the most expensive hot dog in Fort Lauderdale. Did I really pay 30 cents for sauerkraut?
When I got home, I opened the burger.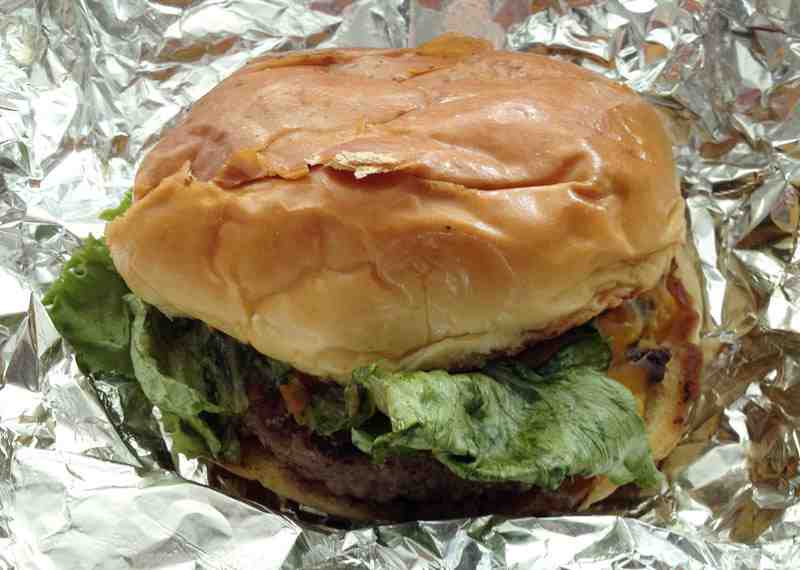 Knucklehead's K.I.S.S. Burger
The lettuce didn't survive the trip. From the outside it didn't look much different than any other burger.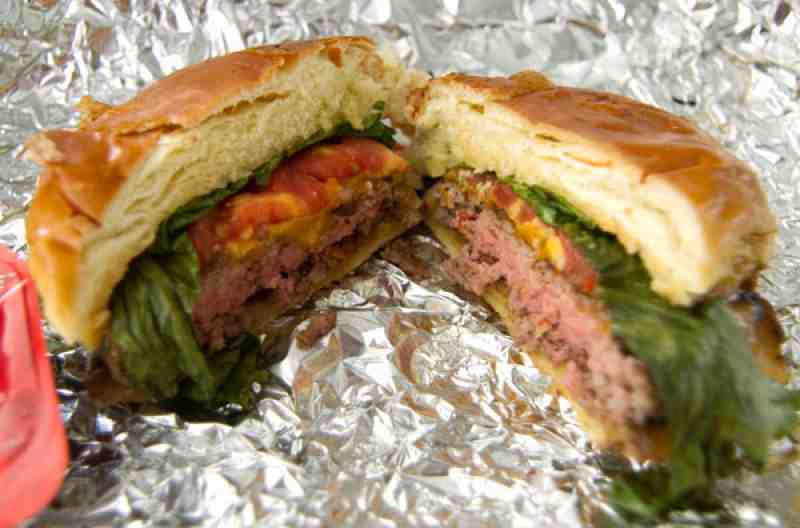 Knucklehead's Keep It Simple Burger with Cheddar
It was ordered Medium Rare, and that's what it is. Not a whole lot of cheese, and the lettuce had to go. It needed a bit of salt and some ketchup. It was a tasty bun, and a nice tasting burger. It wasn't the greasy kind of good; it was meaty and lean.
I ate half the burger and took the other half apart. They claim that their burgers are "hand formed". They must be pretty darn good at it, because this baby is perfectly round and flat. Hand made burgers are generally more wobbly. Maybe they have a mold, but then they're not really hand formed.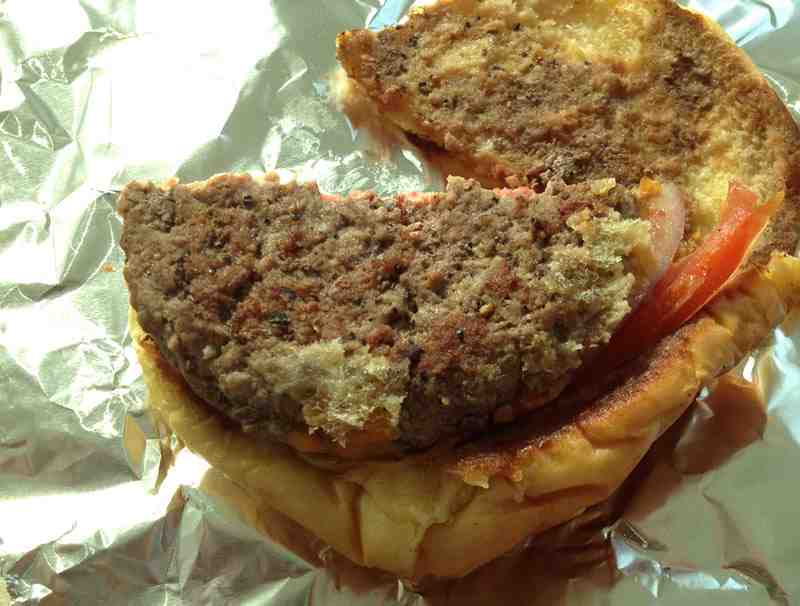 Knucklehead Burger Deconstructed
The burger and hot dog were good, but I despise the over-hyping of burgers and hot dogs. Can't just someone sell good hot dogs and burgers without trying to convince us that their meat is from a superior beast? Please?
There's a BurgerFi opening on S University in a few months; frankly I think the food is better here, but it should prove interesting to see how many burger places the area can support.